SSD Editor, Billy Tallis
With only a few months as an AnandTech Editor under my belt, this was my first CES and my first time in Las Vegas. The scale of the event is almost incomprehensible (I frequently relied on my smartphone's GPS to navigate even when indoors), and my schedule was packed with meeting after meeting and ten different companies in one day can get hectic. But it was worth it to meet all the company contacts I'd only been introduced to by email, meet most of my fellow AT writers, and get hands on with upcoming SSD technology.
While I would have loved to take the time to look at all the drones flying around (in cages, fortunately) or wait in line to try some of the VR demos, I only had about two hours to explore the CES show floor. That wasn't even enough time to walk past half of the exhibits. I stopped at a few booths to drool over FLIR's thermal cameras while imagining how a PCIe M.2 SSD might light up under their gaze, to gawk at wireless routers competing to have the most antennas, and to look for cameras worth upgrading to, but what I have to report on is just about SSDs.
For months, the SSD market has largely been in a holding pattern awaiting next generation components to make into products that are actually exciting. The high-end SATA market hasn't budged; the low-end market has seen gradual price decreases from transitions to TLC NAND, cheaper controllers and Toshiba's 15nm flash finally replacing their 19nm flash in volume. The PCIe SSD market still suffers from too few choices, such as expensive drives from Intel and Samsung, and a handful of outdated drives that don't support PCIe 3.0 or NVMe and aren't any cheaper for it. The doldrums will be over soon, as 3D NAND and NVMe are about to become widely available from every brand.
We've covered the announcements and roadmap updates from the SSD controller vendors, but haven't highlighted many of the retail products that will be incorporating them. Some of the products demoed were fairly unsurprising, such as Plextor's M7V value SATA drive and successor to the M6V (switching from MLC with the SM2246EN controller to TLC with a Marvell controller); they get to cut costs and have some more room to differentiate their product using in-house custom firmware. The OCZ Trion 150 improves on the Trion 100 by moving from Toshiba's A19nm TLC to their 15nm TLC, with no changes in performance specifications. Aside from cosmetic differences that aren't necessarily finalized, most of the new Phison-based products don't stand out from the crowd and there's nothing much to say about them individually.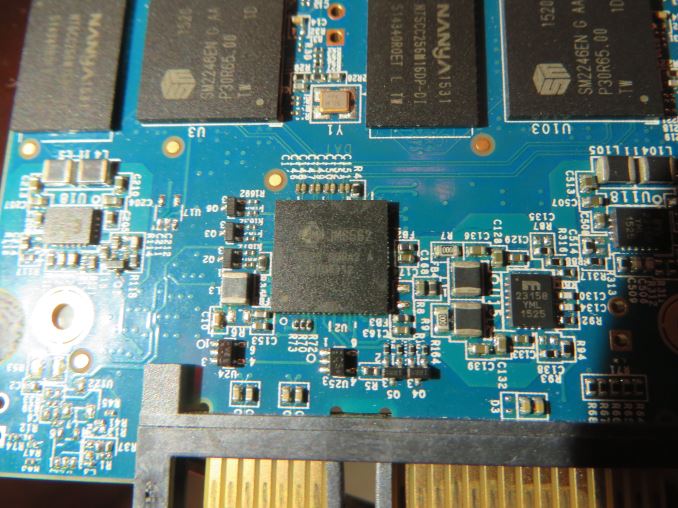 The most unusual drive was clearly Mushkin's prototype for a 4TB model in their Reactor line. In order to hit that capacity they're putting two SM2246EN controllers behind a JMicron JMS562. The latter chip is one you'd more commonly expect to find in a multi-bay USB hard drive enclosure, but it can use one of its three SATA channels as the host interface instead of USB, making it into a transparent RAID controller. This reportedly kills random access performance, but Mushkin is expecting to be able to ship the 4TB model for a mere $500, which will greatly help it find a niche.

Plextor's M8Pe NVMe drive using Marvell's 88SS1093 controller will be available as an add-in card or in M.2 2280 form factor. They had a mock-up of a wraparound heatspreader for the M.2 model with a similar motif to the add-in card's heatsink. This is the first M.2 drive we've seen with any sort of heatsink or heatspreader on it, which may become more important as performance increases.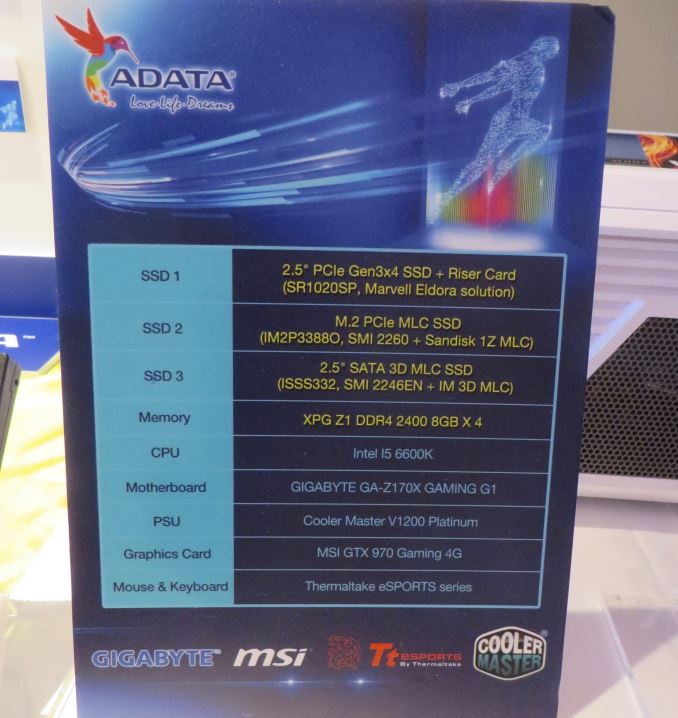 ADATA's exhibit impressed me with the sheer breadth of their product line. Between their consumer, enterprise and industrial SSDs they were showing off drives based on virtually every controller except Phison's. Their IM2P3738N industrial M.2 drive is using Marvell's low-cost 88NV1140 PCIe 3.0 x1 NVMe controller, the first deliberately low-end NVMe product. ADATA crammed all the other new stuff into one demo system: a 2.5" drive with IMFT 3D NAND, an M.2 prototype with Silicon Motion's SM2260 NVMe controller, and a U.2 drive with Marvell's 88SS1093 NVMe controller. The latter drive was in a PCIe to 2.5" U.2 riser card that looked like it would be a handy addition to my testbed. We've asked for a couple in order to do power testing!