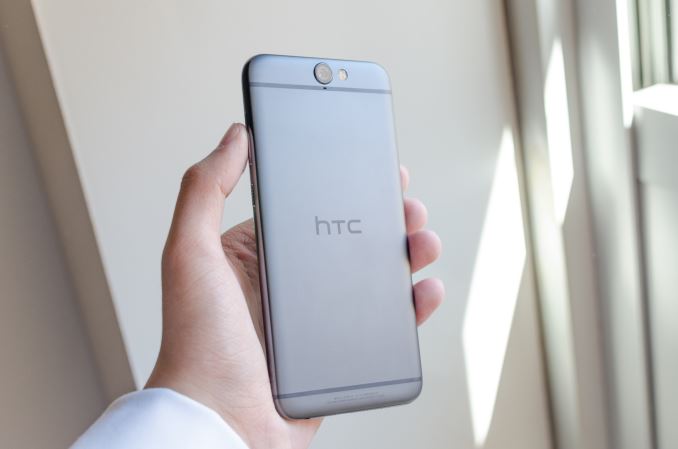 Today, HTC is launching their flagship smartphone for the holiday season. For those that have followed HTC, this launch shouldn't be too much of a surprise given that the CEO announced that they would be launching a hero product in October. This hero product is the HTC One A9, which brings a new design and a new product lineup for HTC. According to HTC, the new A series is intended to be a design-focused smartphone as opposed to the technological leader that is the M series. Of course, while design matters quite a bit probably the first thing that matters in a smartphone are the internal parts so the usual spec sheet is below.
HTC One A9
SoC
Qualcomm MSM8952 Snapdragon 617
4 x Cortex A53 @ 1,5GHz
4 x Cortex A53 @ 1.2GHz
GPU
Adreno 405
RAM
2/3GB LPDDR3
NAND
16/32GB + microSDXC
Display
5.0" 1920x1080 AMOLED
Dimensions
145.75 x 70.8. x 7.26 mm, 143g
Camera
13MP Rear Facing with F/2.0 aperture + OIS
4MP UltraPixel Front Facing with F/2.0 aperture
Battery
2150mAh (8.17Wh)
OS
Android 6.0 Marshmallow with HTC Sense
Cellular Connectivity
2G / 3G / 4G LTE (Qualcomm X8 Category 7 LTE)
Other Connectivity
2.4/5GHz 802.11a/b/g/n/ac + BT 4.1, GNSS, microUSB 2.0
SIM
NanoSIM
Price
$399
In some ways, HTC is really an outlier with the release of this phone. For the most part this year I've seen OEM after OEM releasing phones that are either uncomfortable or basically impossible to use with one hand with the rare exception of the Galaxy S6. In fact, the One A9 is almost identical to the Galaxy S6 in height and width, but is roughly half a millimeter thicker. However, the One A9 is noticeably thinner in the hand by virtue of a more rounded transition to the back of the phone.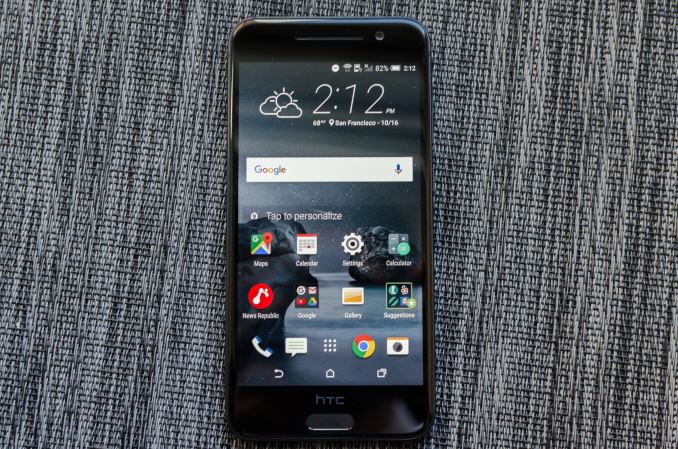 Since we're talking about the form of the phone, it's probably obvious by now that this phone bears at least a passing resemblance to an iPhone 6 or 6s. HTC claims that this design isn't designed to ape the iPhone, and in some ways they are correct as the antenna design is noticeably different when directly compared to the iPhone 6 and 6s. The sides of the phone are also curved differently and reminiscent of the Desire 800 series as the sides of the phone have a much less aggressive radius of curvature than what is seen in recent iPhones. These sides are also relatively glossy instead of the coarser sand-blasted finish seen on the iPhone.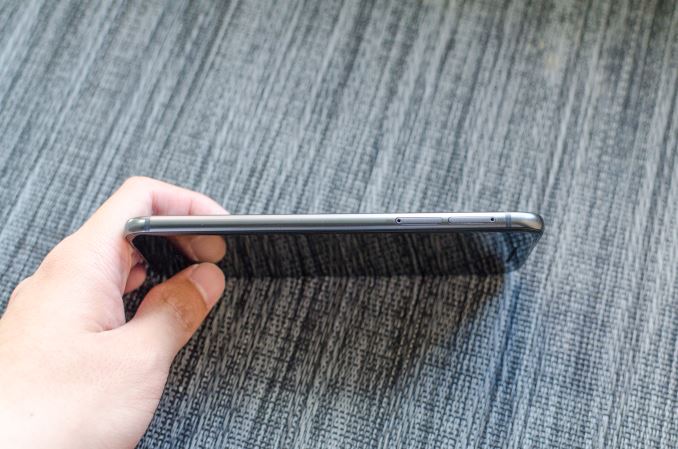 In some ways, the comparisons seem unavoidable. From the front of the phone, the design doesn't really look like a Desire smartphone due to the all glass design. The earpiece is also a departure from recent HTC designs, although HTC has used such a design before with the EVO LTE. The fingerprint scanner was seen as recent as the One M9+, but at the time it was partially shared with the speaker grille instead of part of the glass. The glass is also a 2.5D curved piece so edge swipes are smooth, which is something we saw with the One X but hasn't made a return until now.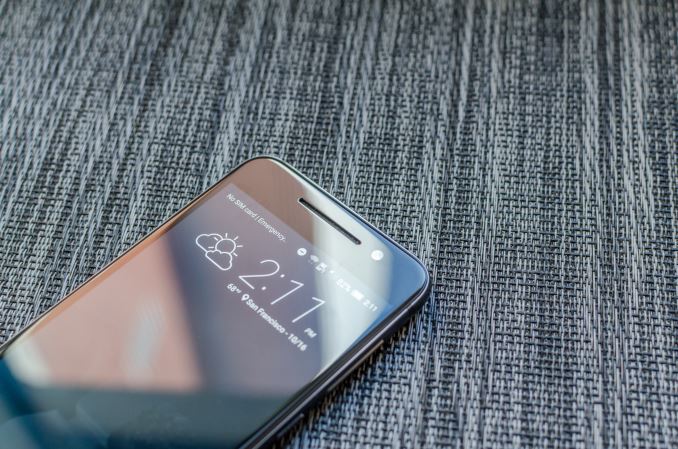 These are all design elements that we've seen in HTC phones before, but the sum results in a phone that looks a bit too close to the iPhone 6 for comfort. In practice, it does feel like a very different phone than the iPhone 6, but when only looking at photos it's probably hard to tell that this is the case. If I were to look at previous HTC smartphones, I do see a strong resemblance to the One S, but the design of the One S is still quite different from what we see in the One A9. Regardless of whether this is an iPhone-inspired design or not, the design is a breath of fresh air after multiple launches of 5.5" size phones with ever-increasing size.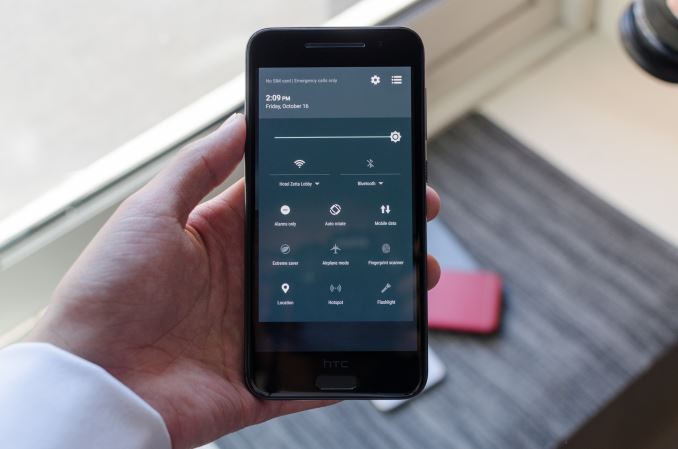 Putting design aside, there are some other major departures in this phone for HTC. The first is that this is a return to an AMOLED display, in the form of a 1080p AMOLED display. I wasn't able to determine whether this is equivalent to the Galaxy S5 or S6 generation of AMOLED but the display gives a noticeably blue reflection when the screen is off when compared to the Galaxy S6 and S5, which could be indicative of what generation AMOLED technology we're dealing with. Interestingly enough, HTC has included a display setting to toggle between "AMOLED" and sRGB mode, which could bode well for those that care about color accuracy in displays.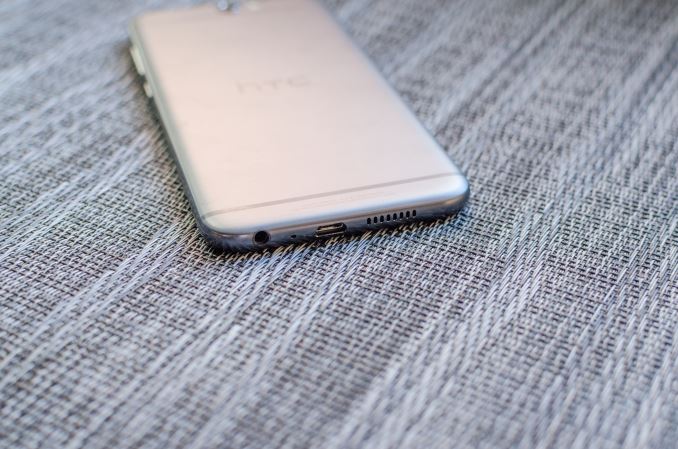 The SoC is also not exactly the definition of high-end, as HTC has elected to use a Snapdragon 617 which is likely due to issues with the Snapdragon 810 and 808. As far as I can tell Snapdragon 618 or 620 weren't possible at this time so it seems that HTC is in some ways stuck between a rock and a hard place when it comes to SoC choice. In some ways, I don't really see another choice here, especially given the price point that HTC is competing in. The SoC platform choice also means battery PMICs and handshake ICs with support for Qualcomm's QC 3.0 quick charge standard.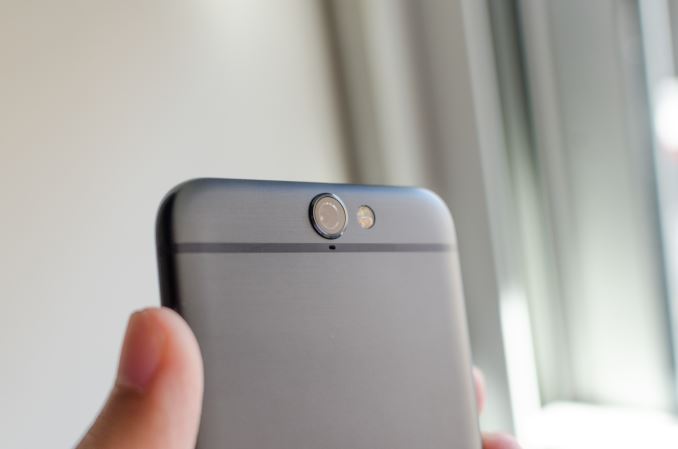 The camera is arguably one of the major notable points for HTC here, as it's a 13MP IMX214 sensor with F/2.0 optics and second generation OIS. This sounds kind of boring at first glance but taking some quick relative comparison shots indoors with the iPhone 6 and Galaxy S6 for comparison was shocking to see when the One A9 was comparable, if not even better than the Galaxy S6 in the dimly lit room in which I tried the One A9. There's also a feature that allows for automatic processing of RAW photos on the phone, which is impressive but processing a single photo took a significant amount of time relative to the near-instant output of normal photos. I would estimate that a single photo took as long as 10-20 seconds to process, which suggests that a better SoC would go a long way towards improving the UX here.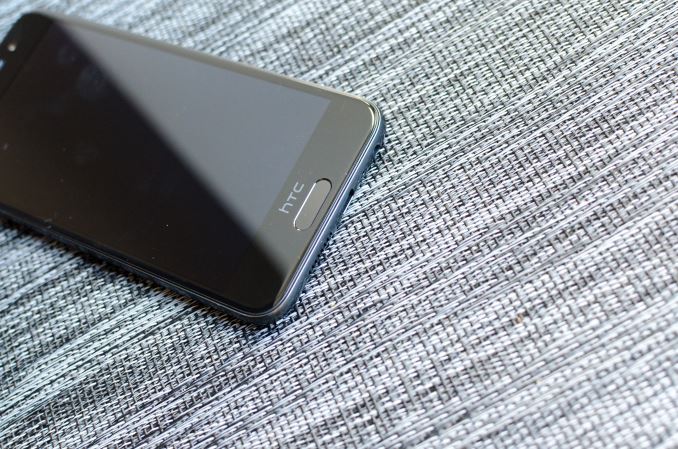 The fingerprint sensor is also surprisingly fast and accurate in my experience, and noticeably improved over the One M9+. HTC emphasized that this was necessary for a good Android Pay experience, which means that this phone also has NFC which appears to work off of the top metal antenna but lacks the boosting system seen in the iPhone 6 so NFC behavior is going to be similar to other HTC phones.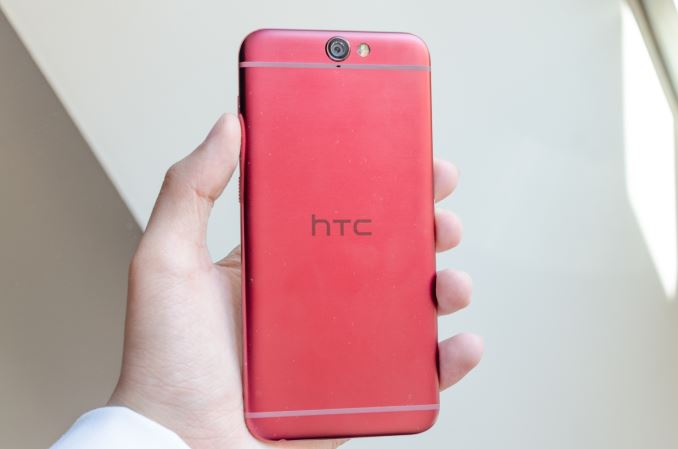 The software experience is also notably changed when compared to the One M9. Although many parts of the phone are still going to look like the same HTC Sense that we've seen since the start of this year, other parts like the notification drawer, camera app UI, multitasking menu, and the removal of a number of HTC Sense apps like the HTC Music and Internet apps and the HTC Calendar widget. I personally think HTC may have taken out too many HTC apps and widgets here, but the updates to make HTC Sense fit better with Material Design is definitely a good thing.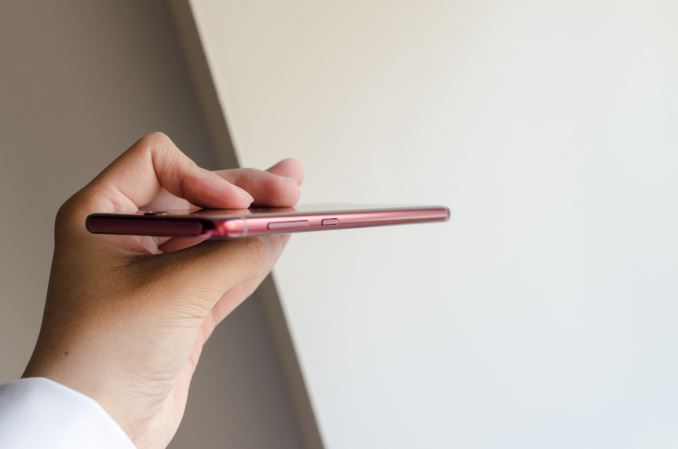 On the audio side, HTC is claiming that Dolby Audio enhancement and 24-bit 192 KHz will dramatically improve audio quality. I didn't get a chance to test these claims, but the headphone jack does use an RT5506 amplifier from the One M8 which had great audio quality from our testing. The speaker also has a TFA9895 amp on it which should help with quality but due to the downward-firing nature of this speaker the quality is likely to be worse than what we saw on the One M8.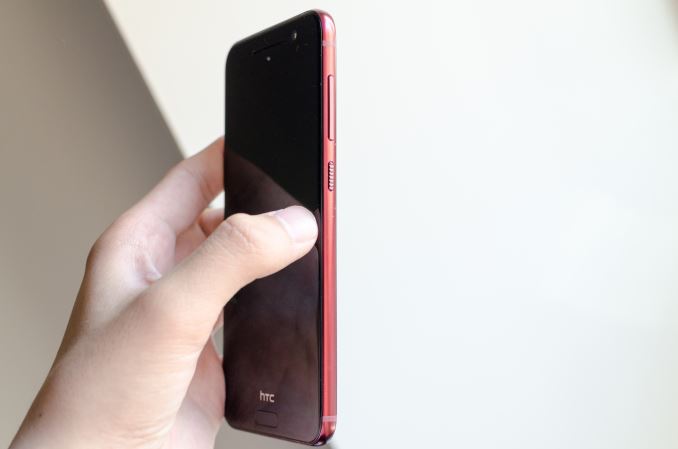 Overall, while this isn't the holiday season flagship that some might be expecting, I came away quite impressed with this phone. Despite the mid-range SoC I was more impressed with this phone than the One M9 at launch. Obviously, the true successor to the One M9 is the phone that everyone is really waiting on, but this phone shows that HTC is capable of responding to clear market demands. Although not every piece of the A9 is what I'd want to see in the M10, aspects like the dramatically improved camera processing, renewed focus on industrial design, and changes to HTC Sense should definitely be carried over.
The HTC One A9 will be offered in Opal Silver, Carbon Gray, and Deep Garnet starting at 399.99 USD unlocked with 3GB of RAM and 32GB of storage. One variant will support Sprint, while the other will support T-Mobile, AT&T, and Verizon with a pre-activated SIM. HTC will also offer their Uh-Oh protection for phones sold through HTC.com, which means 12 months of coverage for accidental damage from drops or water damage with one free replacement, along with a 6 month subscription to Google Play Music.