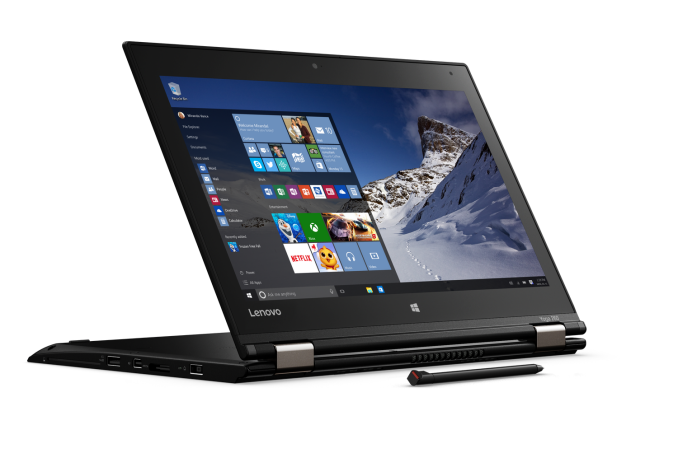 In addition to the consumer PC refresh, Lenovo is updating and relaunching some of its business devices. The ThinkPad Yoga is the prosumer level version of the Yoga series, and includes the 360° hinge which allows it to be used as a laptop, or in three touch modes. Lenovo is also rolling out the ThinkCenter M900 Tiny, which is its latest rendition of the ultra-compact form factor for businesses.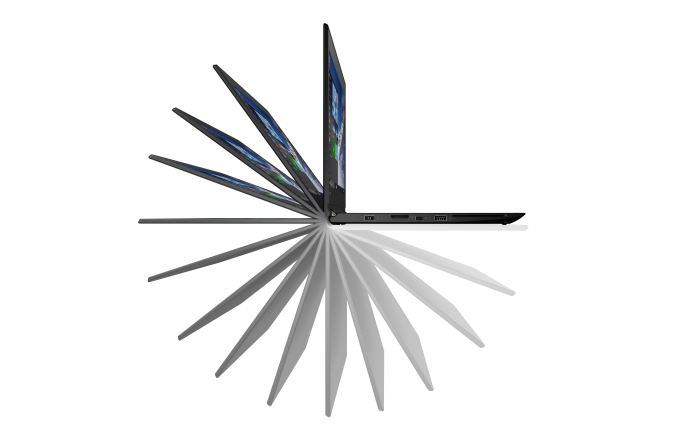 The ThinkPad Yoga series started with just a single 12.5-inch model, but last year Lenovo added a couple of larger sizes as well. The Yoga 260 and Yoga 460 are the new 12.5 and 14-inch models respectively. Both are built like a ThinkPad, and include things like carbon fibre in the chassis and the ThinkPad trademark TrackPoint. The ThinkPad Yoga lineup also continues to offer stylus support.
The Yoga 260 features a 12.5-inch display with both 1366x768 and 1920x1080 offerings. The latest models are of course updated with Intel's new Skylake-U series processors, with everything from i3-6100U all the way up to i7-6600U models available. You can outfit the laptop with up to 16 GB of DDR4 RAM and up to 512 GB of SSD storage. Battery life is rated at 10 hours on this model.
The ThinkPad Yoga 460 is the 14-inch version, and it can be had with either 1920x1080 IPS or 2560x1440 IPS panels. The processor choices are just listed as Core i5 and i7 models, but it should be the same U series as the smaller 260 mode but with an optional GeForce 940M GPU. The 460 can only be had with 8 GB of DDR3L memory, a 256 GB SSD, or a 1 TB HDD. Battery life is rated the same as the 260, coming in at 10 hours.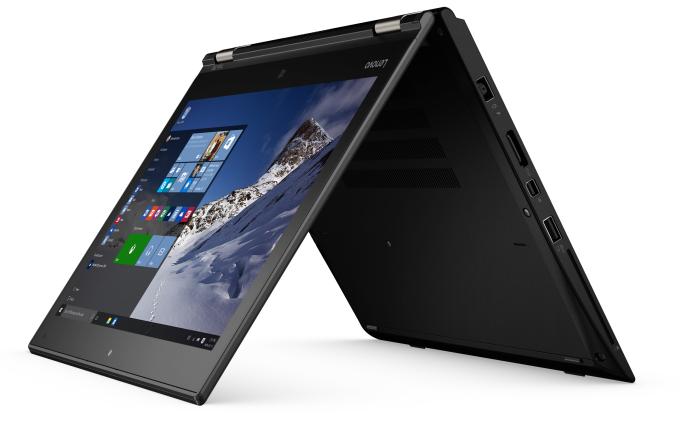 ThinkPad Yoga 260
Networking is now upgraded as well, likely with the Intel 8265 card which offers 802.11ac as well as Bluetooth 4.1. The 260 model offers LTE-A support as an option.
Lenovo ThinkPad Yoga
ThinkPad Yoga 260
ThinkPad Yoga 460
CPU
Up to 6th gen Intel Core i7 U series
RAM
up to 16 GB DDR4
up to 8 GB DDR3L
Storage
Up to 512 GB SSD
Up to 256 GB SSD / 1 TB HDD
GPU
Intel graphics
Intel graphics or GeForce 940M
Display
12.5" 1366x768 or 1920x1080
14" 1920x1080 or 2560x1440
Weight
1.3 kg / 2.9 lbs
1.8 kg / 3.9 lbs
Dimensions
(mm) : 309.9 x 220 x 17.8
(inches) : 12.20" x 8.66" x 0.70"
(mm) : 338 x 236 x 19
(inches) : 13.30" x 9.29" x 0.74"
Networking
802.11ac w/ BT 4.1, LTE Optional
Price
$949+
$1049+
OS
Windows 10 or Windows 7
Since these are ThinkPads, they can be custom ordered, and you can get options such as smart card readers and fingerprint readers if necessary.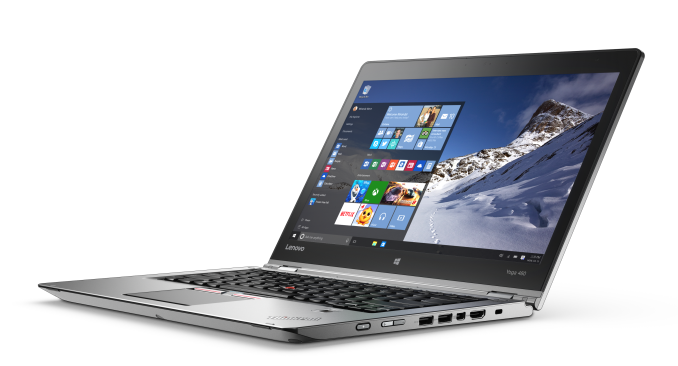 ThinkPad Yoga 460
For those looking for small desktop PC replacements, the ThinkCentre Tiny series has offered some interesting solutions for several years now. The M900 can be equipped with a monitor with built-in mounting bracket, and the M900 is also outfitted with Skylake processors. The small form factor device can be outfitted with up to 32 GB of DDR4 memory, and a wide selection of storage offerings including a 512 GB SSD or 2 TB HDD. There are six USB 3.0 ports, Ethernet, headset jack, card reader, and even a serial port option. Wifeless is either a single stream 802.11ac option or 2x2:2 802.11ac.
The All-in-One offering is a 23-inch 1920x1080 monitor which can be had with or without touch.
Lenovo ThinkCentre Tiny
M900
CPU
Up to 6th gen Intel Core i7 U series
RAM
up to 32GB DDR4
Storage
Up to 512 GB SSD or up to 2TB HDD
GPU
Intel graphics
AIO Display
23.8" 1920x1080
Camera
1920x1080 with 2 microphones (Lync Certified)
Networking
802.11ac w/ BT, Ethernet
Price
$749+
OS
Windows 10 or Windows 7
I've been a big fan of the Yoga series over the years, and the ThinkPad Yoga seems to be a pretty well built two-in-one device. Hopefully we can get a couple of these in to test and review.
Source: Lenovo