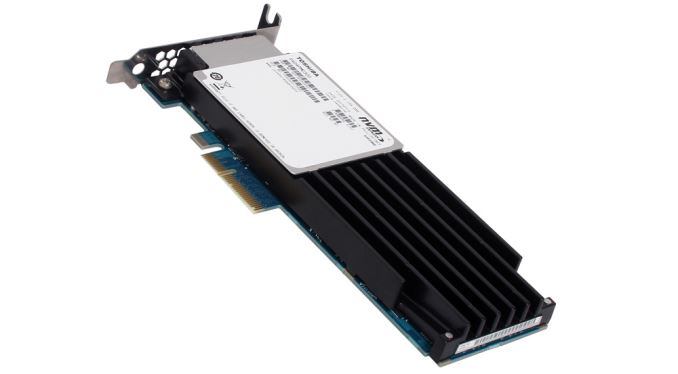 On the eve of Flash Memory Summit (August 11-13), Toshiba has announced a full range of NVMe-based PCIe SSDs using Toshiba controllers and Toshiba MLC flash.
Toshiba NVMe Drive Families
Drive Series
PX04P
XG3
BG1
Form Factors and Interface
PCIe 3.0 x4 HHHL /
2.5" U.2
PCIe 3.1 x4 M.2 2280 / 2.5" SATA Express
M.2 2230 /
16mm*20mm soldered module "M.2 1620"
Capacities
800 GB, 1600 GB, 3200 GB
Up to 1024GB
Up to 256 GB
QSBC Error Correction
Yes
Yes
No
TCG Pyrite Security
No
Yes
Yes
Sequential Read
3100 MB/s
?
?
Sequential Write
2350 MB/s
?
?
4kB Random Read IOPS
660k
?
?
4kB Random Write IOPS
185k
?
?
For the enterprise market, the PX04P series complements the SAS-based PX04S drives announced last week. The PX04P is available as a 2.5" drive with a U.2 (SFF-8639) connector, or as a PCIe expansion card. In either case, the drive supports four lanes of PCIe 3.0 and can make good use of that bandwidth to offer up to 3.1 GB/s sequential read speeds. With an endurance rating of 10 drive writes per day it is intended for relatively write-heavy workloads.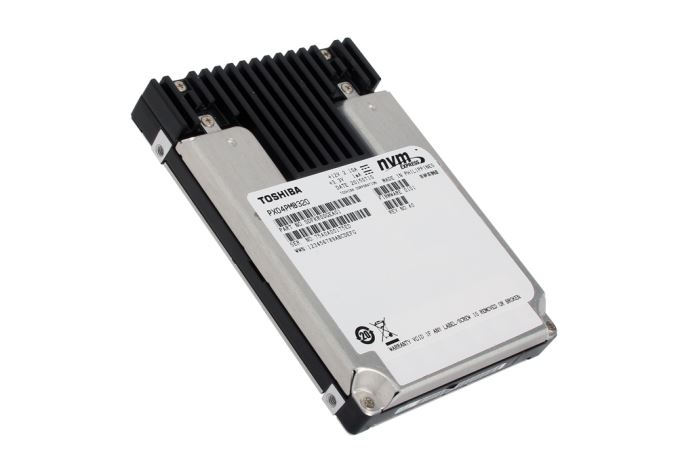 For the high-performance client market, the XG3 is available in the M.2 2280 form factor using four lanes of PCIe 3.1, or as a 2.5" drive using the two-lane SATA Express connector. If these drives make it in to the retail channel, it means that consumers whose motherboards have a SATA Express connector but no M.2 slot will finally have an easy way to get in on the PCIe storage revolution.
For tablets and ultra-thin laptops, the BG1 is optimized for low power in very small packages. It comes as either an M.2 2230 card or a soldered-down module measuring 16mm by 20mm. The BG1's maximum capacity is only 256 GB, and given the power and size constraints it is probably not using a 4-lane PCIe connection.
The two client drive families implement support for the Trusted Computing Group Pyrite standard, a subset of TCG Opal that includes features necessary for things like secure boot but does not include encryption.
Source: Toshiba