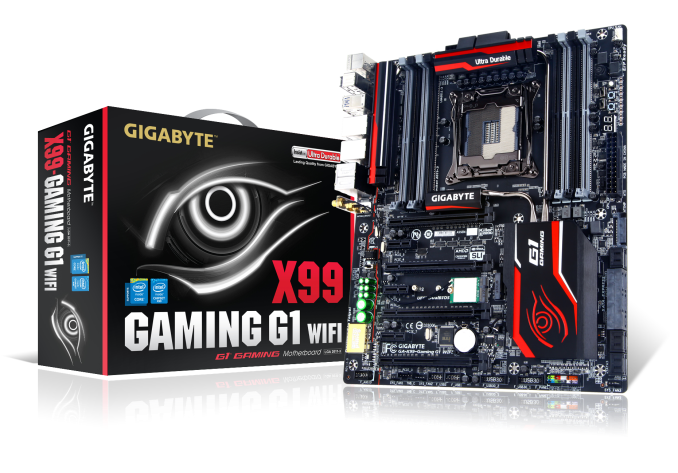 The gaming motherboard range from a manufacturer is one with a lot of focus in terms of design and function due to the increase in gaming related PC sales. On the Haswell-E side of gaming, GIGABYTE is putting forward the X99-Gaming G1 WiFi at the top of its stack, and this is what we are reviewing today.
One of the main points not noted to most end-users is that while a large company like GIGABYTE delivers many different product areas, such as motherboards, graphics cards, server products or gaming peripherals, each of these areas is a separate business unit within the company. Each business unit works somewhat independently from the rest, with their own marketing, sales and design departments. This system sometimes falls afoul when there a product areas designed to work together or share similar traits, such as the motherboard BIOS team and the server BIOS team that are essentially working on similar frameworks but completely independently. When it comes down to end-users and in particular the big growth segments in home computing such as gaming, both the motherboard business unit and the graphics card business unit should ideally work together to build the company brand. This was in progress with our last GIGABYTE gaming motherboard review, but finally seems to have been cemented with X99.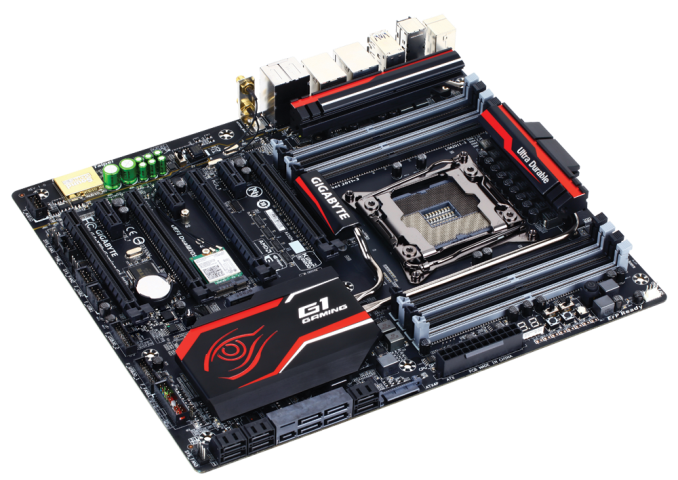 GIGABYTE X99-Gaming G1 WIFI Overview
There's no such thing as feature overload when it comes to motherboards, but the X99-Gaming G1 WIFI comes close. At times we have remarked certain motherboards for being expensive due to their features and not every owner would use them, but in the case here we can see most if not all being applicable to most users. Features can fall into two bins - passive, such that they work independently of any use, and interactive, such that they require the user. There being plenty of both here:
Passive:
PowIRStage ICs with Cooper Bussmann chokes
30-micron gold socket and DRAM/PCIe slots
LED lighting for audio path and back panel
Gold plated audio ports
AMP-UP with PCB separation
Double-distance screw mounting holes
Larger Heatsink Design
Interactive:
4-way GPU support
M.2 SSD
M.2 WiFi
Sound Core 3D Audio Codec
Dual Killer and Intel Network arrangement
Upgradeable OP-AMP
DAC-UP USB Ports
SATA Express
Software Package
Q-Flash Plus USB
12 USB 3.0 ports (2 PCH headers for 2 each, 8 via Renesas hubs)
We will cover almost all of these throughout the review, but on top of this is support for up to 64GB of 1Rx8 RDIMM modules, ten SATA 6 Gbps ports (two are shared with M.2/SATAe), an onboard CPU overclocking button, a Thunderbolt add-in card header, five fan headers and voltage measurement points for extreme overclockers. All of this is bundled in the E-ATX (305mm x 259mm) form factor.
The BIOS and software packages are similar to those we saw on the GIGABYTE X99-UD7 WIFI we reviewed back at launch, which means plus points for the software but the BIOS is held back a little due to the HD mode being harder to read and gauge. Our issues with audio similar to that on the X99-UD7 WIFI appeared again, although it only seems to affect our quantitative testing software more than quality. The system uses Sound Core 3D rather than Realtek as well.
Performance has a number of plus points over previous X99 motherboards including power consumption and faster POST times. The near 100 microsecond DPC Latency is also a plus point. Due to its lack of MultiCore Turbo on the BIOS we tested, it falls behind at stock on some CPU benchmarks but automatic overclocking to 4.1 GHz makes that relatively painless.
At $340 on Newegg at the time of writing, the Gaming G1 WIFI sits in that $280-$360 mire between the low and high end X99 offerings but it makes a good stand with plenty of onboard features to help prove its position.
Visual Inspection
One of the most obvious features to notice when removing the board from the box is the extended heatsink arrangement around the board. This encompasses a section to the left of the socket, the power delivery, the chipset and another section above the PCIe. For high end motherboards I am a fan of this connected heatsink design as it allows more non-IC airflow focused cooling such liquid cooling.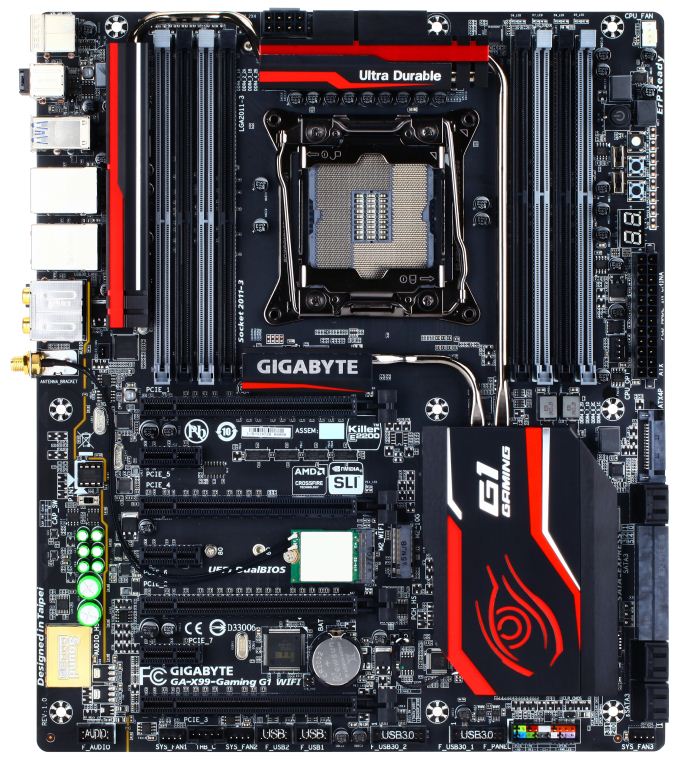 The board is color coded to red and black with grey DRAM slots. While this is bolstered by the red lighting when switched on, the green and gold of the audio section of the motherboard might detract from the overall look. One suggestion here would be for GIGABYTE to look at adding an audio protective plate to continue the red and black Gaming styling.
Alongside the double empty distance screw holes, the socket area is relatively clean with a fine eye to distinguish where the traces are on the motherboard due to the coating applied. The socket itself, like the DRAM slots and PCIe slots, use a 30-micron gold coating to increase resistance to corrosion and other elements that might befoul the connectors. This is 6x the standard amount of gold applied, and 2x most other manufacturer implementations. The socket area has access to only two headers – the four pin CPU fan header in white at the top right and a 4-pin CPU_OPT near the 24-pin power. The board has three other SYS fan headers at the bottom of the board, also all 4-pin.
The top right of the motherboard houses GIGABYTE's onboard tools for extreme overclockers:

This is a cut down version from the X99-SOC Force, but we still get a power button, a BIOS selection switch, a dual BIOS enabling switch, a reset button, a clear CMOS button, a Direct To BIOS button, voltage check points and a two-digit debug display. As expected there are no frequency adjustment tools here, as buying the Gaming range tends not to lead towards extreme 'every MHz counts' arrangements.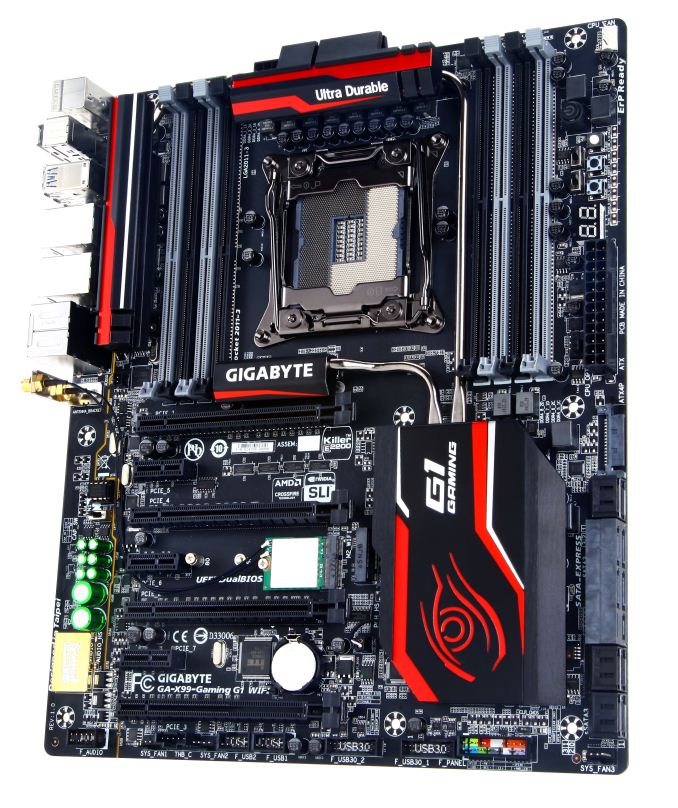 Below this we have a SATA power port for extra power to the VGA slots. This is recommended should a user need 3+ PCIe devices that all require extra power. Next we get ten SATA ports, all from the chipset, with the first six being RAID capable and the following four are not due to PCH limitations. In the middle here is a SATA Express slot which shares bandwidth with the SATA ports within as well as the M.2 slot on the motherboard. This means only one set can be used at a time, but there are capable of RST.

The bottom of the motherboard contains the three aforementioned fan headers as well as two USB 3.0 headers (from the chipset), two USB 2.0 headers, the front panel audio header, the front panel header and a Thunderbolt header.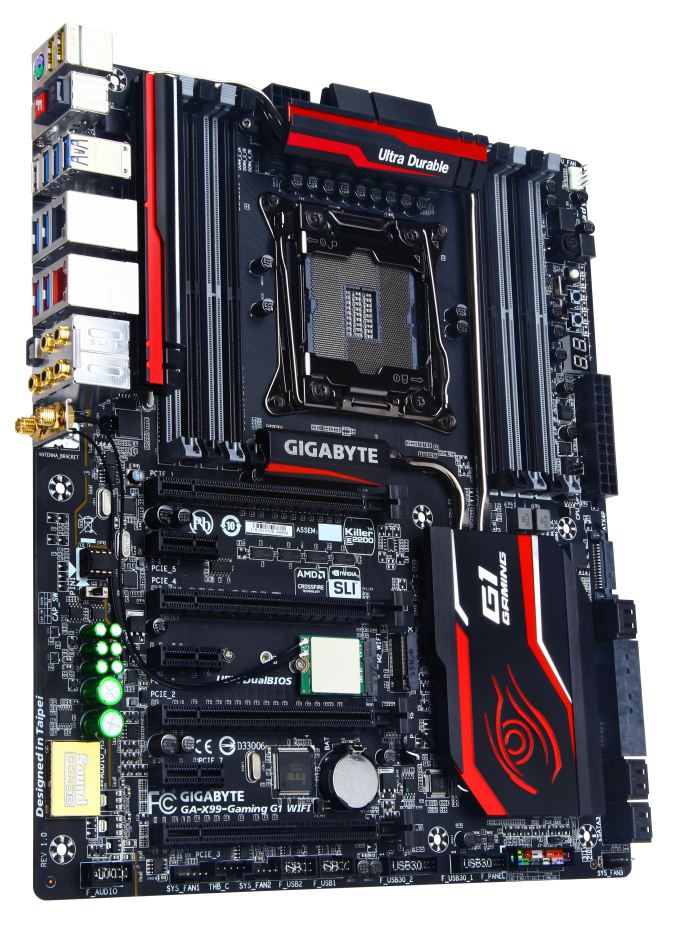 The audio portion of the motherboard takes the usual AMP-UP styling used on GIGABYTE's boards with Realtek but this time applied to the Creative Sound Core 3D codec. This means an EM shield for the codec, upgraded filter caps, PCB separation and gold connectors on the rear panel. GIGABYTE has also equipped the board with an upgradeable OP-AMP for users who like to adjust their setup, as well as a Gain Boost switch to implement additional amplification for high impedance headphones.
To the right of the audio in-between the PCIe slots are our M.2 connections, with the WiFi card already preinstalled. The M.2 PCIe SSD slot supports up to PCIe 2.0 x2 from the chipset, with 2242, 2260 and 2280 sized drives.
One of GIGABYTE's marketing points for the X99-Gaming G1 WIFI is the PCIe layout, and due to additional onboard timing circuitry is using the full 40 PCIe lanes from the motherboard such that: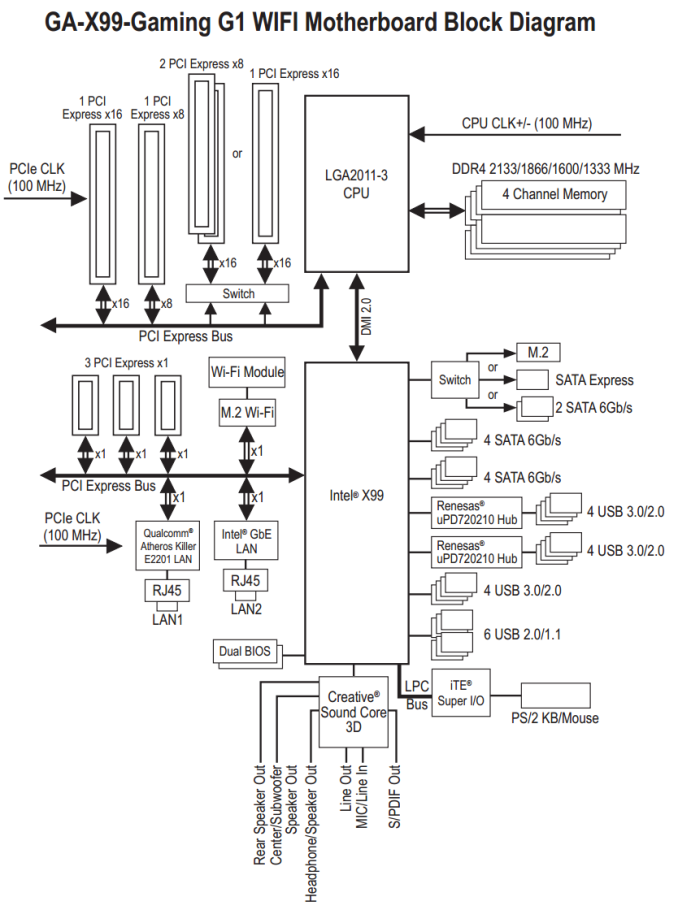 Here the x16/x16/x8 from the CPU is only split on one PCIe 3.0 x16 slot to give PCIe 3.0 x8/x8. GIGABYTE also arranges their PCIe numbering system slightly differently, such that instead of counting one two then three from the top, GPUs should be placed in the order of the slots labeled one-two-three-four. This gives three-way setups a full x16/x16/x8 layout with a 40 PCIe lane CPU, or x16/x8/x4 with the 28 lane CPU. Users with an i7-5820K and tri-SLI setups will therefore have to use PCIe slots one, two and four to get x8/x8/x8.

The rear panel features the two USB DAC-UP ports in yellow with a combination PS/2 port underneath. Then comes an auto-OC button, a fast boot button and the ClearCMOS button. The eight USB 3.0 ports on the rear panel are derived from the PCH but come through two Renesas hubs. The white port at the bottom is for GIGABYTE's Q-Flash Plus system to update the BIOS via a USB stick without DRAM, CPU or a PCIe card installed. We also get dual NICs, one from Intel and one from Killer. The audio jacks are gold plated to reduce corrosion, and we also get the 2T2R antenna connections.

Part of the package is also a UV light based rear IO panel which connects to one of the headers. This can be controlled in software to be on, off, pulse, or react to audio.
Board Features
GIGABYTE X99-Gaming G1 WIFI
Price
US (Newegg)
Size
E-ATX (305mm x 259mm)
CPU Interface
LGA2011-3
Chipset
Intel X99
Memory Slots
Eight DDR4 DIMM slots supporting up to 64 GB
Support for non-ECC UDIMMs
Support for non-ECC RDIMM 1Rx8 Modules
Up to Quad Channel, 2133-3000 MHz
Video Outputs
None
Network Connectivity
Intel I218-V
Killer E2201
Onboard Audio
Creative Sound Core 3D
Expansion Slots
2 x PCIe 3.0 x16
2 x PCIe 3.0 x8
3 x PCIe 2.0 x1
Onboard Storage
6 x SATA 6 Gbps, RAID 0/1/5/10
4 x S_SATA 6 Gbps, no RAID
1 x SATA Express
1 x M.2 PCIe 2.0 x2
USB 3.0
2 x Onboard Headers (PCH)
8 x Rear Panel Ports (PCH via Renesas Hubs)
Onboard
10 x SATA Ports
1 x SATA Express
1 x M.2 PCIe 2.0 x2
2 x USB 3.0 Headers
2 x USB 2.0 Headers
5 x Fan Headers
Power/Reset Buttons
Two-Digit Debug
BIOS Switches
Direct-To-BIOS Button
ClearCMOS Button
Voltage Measurement Points
Audio Gain Switch
Replaceable OP-AMP
Thunderbolt Header
Front Audio Header
Front Panel Header
Power Connectors
1 x 24-pin ATX
1 x 8-pin CPU
1 x SATA for VGA
Fan Headers
1 x CPU (4-pin)
1 x CPU-OPT (4-pin)
3 x SYS (4-pin)
IO Panel
2 x USB 2.0 (with DAC-UP)
8 x USB 3.0 (via Renesas Hubs)
Combination PS/2 Port
OC Button
Fast Boot Button
ClearCMOS Button
Q-Flash Port (one of the USB 3.0)
Intel I218-V Network Port
Killer E2201 Network Port
Audio Jacks
Warranty Period
3 Years
Product Page
Link