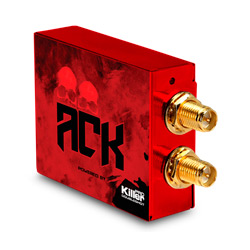 One of the many interesting ways in which motherboard companies diversify their product ranges is with networking opportunities. In most product stacks, manufacturers use Realtek and Intel network ports with reckless abandon, while a few also use wireless connectivity or Killer network solutions to add value to their product. MSI has now added another potential into their mix with their 'ACK' branding. The acronym can be described as 802.11ac + Killer, with both solutions coming from Qualcomm Atheros' networking solutions. What makes this combination new, aside from using an Atheros WiFi solution, is that MSI is allowing 'Killer Smart Teaming' which allows the wired and wireless network to act together, offering a 1.867 Gbps maximum network throughput.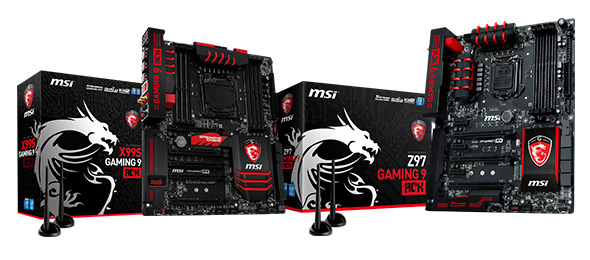 The ACK feature will come to their highest end motherboards first – the Z97 Gaming 9 ACK and the X99S Gaming 9 ACK should be available in the market shortly with the WiFi/software updates. Both of these boards also feature a stylistic upgrade on their rear IO panels, as shown above. Aside from this, both motherboards are the same as their non-ACK counterparts.

Unfortunately, MSI's marketing is a little misleading. In order to take advantage of the teaming effort as proposed, with the wireless data taking video streaming and the wired taking the gaming, there is no thought made to the data actually travelling out of the home and down the cables. For example, my 16 Mbps connection will still only run at 16 Mbps outside of my home, even if I connect the machine with both wired and wireless to my router. It also relies on the router also prioritizing this data over other machines on the network, or being able to handle the data in an appropriate fashion.

One of the reasons I personally like the myriad of networking options on motherboards today is because it becomes more important for home networking, allowing greater speeds and greater ranges wherever the system is placed. This is especially important when a user (or multiple users) are streaming from a home NAS. Trying to use a form of hybrid teaming to deal with data travelling outside the home for gaming purposes might be a misplaced venture. While it means that data is separated and we're not dealing with the windows stack/software to prioritize the data through one network connection, it is still limited by the router's prioritization protocols and external data rate. The best use case for this might be someone with Google Fiber, although one network connection should still be able to deal with streaming and gaming at the same time.