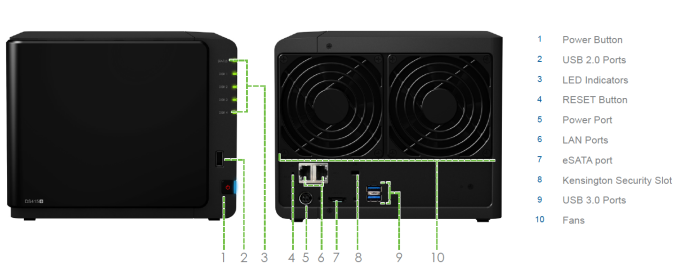 Synology has been relatively quiet over the last couple of months (barring the responses to various security issues), but, today, they are coming out with a couple of expected announcements. Seagate has the bragging rights for being the first vendor with an off-the-shelf NAS based on an Intel Rangeley SoC (the storage platform integrating Silvermont CPU cores). Today, Synology is introducing their first NAS model utilizing one of the Silvermont-based SoCs, the DS415+. Compared to the 1.73 GHz dual-core Intel Atom C2338 in the Seagate NAS Pro units, the DS415+ utilizes a 2.4 GHz quad-core Intel Atom C2558 C2538. The availability of hardware-accelerated encryption (AES-NI) is touted as a major feature. Other than that, thee DS415+ is the typical SMB-targeted 4-bay NAS, sporting dual GbE ports and a host of virtualization certifications. The hardware specifications of the Synology DS415+ are provided below.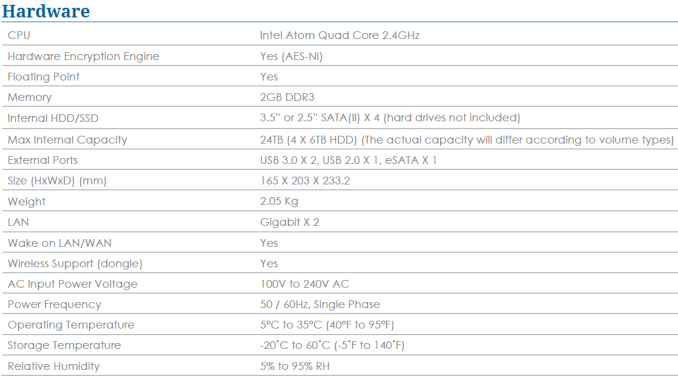 Synology DS415+ Hardware Specifications
The important aspect to note here is that, like the Seagate NAS Pro units, the internal drive bays are all connected to SATA II 3 Gbps ports. With SSDs, one is unlikely to obtain maximum performance out of the unit when it comes to internal transfers (such as LUN cloning through VAAI), but the four SATA II ports are enough to saturate the two GbE links for external traffic. Synology claims over 235.04 MB/s reads and 233.51 MB/s writes for targeted workloads. With encryption enabled, the AES-NI feature enables 234.97 MB/s reads and 213.14 MB/s writes for the same workloads.
In other Synology news, we also have the launch of the new beta of their NAS OS, the Disk Station Manager (DSM) 5.1 beta. Updates in DSM 5.1 include synchronization across encrypted folders, usage of Windows ACL for privilege settings in Cloud Station and an option to disable versioning. Three new public cloud services (OneDrive, Box and hubiC) have also been added. IPV6 support for Quick Connect also comes in the feature set. Other improvements include NFS VAAI support (in addition to iSCSI in earlier DSM versions) and a better interface to the SSD caching setup. Security features (in the form of a new Security Advisor and AppArmor package) also receive focus in this release. On the mobile apps side, DS File has been updated (iOS users can play files from within the app, while support for third-party integration is present in Android 4.4+) and a new DS Note app synchronizes with the new Note Station package (similar to EverNote and OneNote) on the Synology NAS.