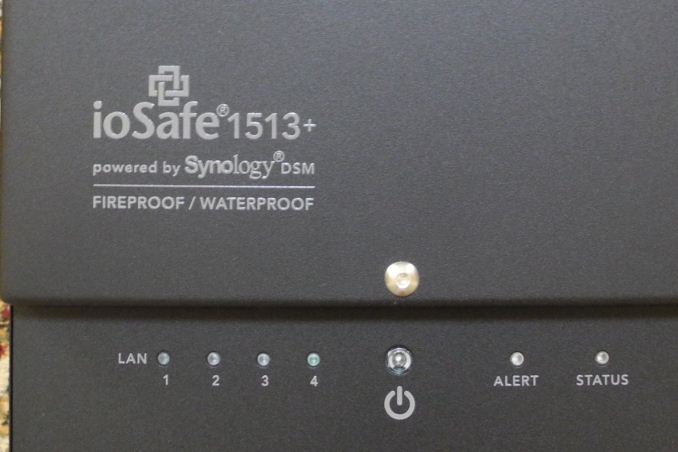 Introduction and Testbed Setup
The emergence of the digital economy has brought to fore the importance of safeguarding electronic data. The 3-2-1 data backup strategy involves keeping three copies of all essential data, spread over at least two different devices with at least one of them being off-site or disaster-resistant in some way. It is almost impossible to keep copies of large frequently updated data sets current in an off-site data backup strategy. This is where companies like ioSafe come in with their lineup of fire- and waterproof storage devices. We have already reviewed the ioSafe SoloPRO (an external hard drive in a disaster-resistant housing) as well as the ioSafe N2 (a 2-bay Marvell-based NAS with similar disaster protection).
External hard drives are good enough for daily backups, but entirely unsuitable for large and frequently updated data. The latter scenario calls for a network attached storage unit which provides high availability over the local network. The SoloPRO's chassis and hard drive integration strategy made it impossible for end users to replace the hard disk while also retaining the disaster-resistance characteristics. A disaster-resistant RAID-1 NAS with hot-swap capability was needed and the ioSafe N2 / 214 was launched to address these issues. However, with growing data storage requirements amongst SMBs and enterprise users, ioSafe found a market need for disaster resistant NAS units that supported expansion capabilities in addition to large number of drive bays. The ioSafe 1513+ serves to fulfill those requirements.
ioSafe partnered with Synology for the N2 NAS (which was later rebranded as the ioSafe 214). The partnership continues for the ioSafe 1513+, a disaster-resistant version of the Synology 1513+. The main unit has five bays, but, up to two ioSafe N513X expansion chassis can be connected to make 15 bays available in total for the user. Obviously, the N513X chassis is also disaster-resistant. We got our initial look at the ioSafe 1513+ at CES earlier this year. As a recap, the specifications of the unit are provided in the table below.
ioSafe 1513+ Specifications
Processor
Intel Atom D2701 (2C/4T @ 2.13 GHz)
RAM
2 GB DDR3 RAM
Drive Bays

5x 3.5"/2.5" SATA 6 Gbps HDD / SSD (Hot-Swappable)
(Review unit populated with 5x Toshiba MG03ACA200 2 TB enterprise drives)

Network Links
4x 1 GbE
External I/O Peripherals
4x USB 2.0, 2x USB 3.0, 2x eSATA
Expansion Slots
None
VGA / Display Out
None
Full Specifications Link
ioSafe 1513+ Specifications
Price

$1600 (Diskless)
$3860 (as configured)
The ioSafe 1513+ review unit came in a 70 lb. package. Apart from the main unit (which has the PSU in-built), we had an Allen key and a magnetic holder for the same, a U.S power cord and a single 6 ft. network cable.
Interesting aspects to note are the hot-swappable fans, the rubber gasket around the waterproofing door for the drive chamber and the faceplate on the underside that allows for addition of a SO-DIMM module to augment the DRAM in the unit. The drive caddies also have holes for mounting 2.5" drives, a minor complaint that we had in the ioSafe N2 review. The fanless motherboard is mounted at the base of the unit in a separate compartment under the fire-/waterproof chamber for the drives.
Testbed Setup and Testing Methodology
The ioSafe 1513+ can take up to five drives. Users can opt for either JBOD, RAID 0, RAID 1, RAID 5, RAID 6 or RAID 10 configurations. We benchmarked the unit in RAID 5 with five Western Digital WD4000FYYZ RE drives as the test disks. Even though our review unit came with five Toshiba MG03ACA200 2 TB enterprise drives, we opted to benchmark with the WD Re drives to keep the numbers consistent when comparing against NAS units that have been evaluated before. The four ports of the ioSafe 1513+ were link aggregated in 802.3ad LACP to create a 4 Gbps link. The jumbo frames setting, however, was left at the default 1500 bytes. Our testbed configuration is outlined below.
AnandTech NAS Testbed Configuration
Motherboard
Asus Z9PE-D8 WS Dual LGA2011 SSI-EEB
CPU
2 x Intel Xeon E5-2630L
Coolers
2 x Dynatron R17
Memory
G.Skill RipjawsZ F3-12800CL10Q2-64GBZL (8x8GB) CAS 10-10-10-30
OS Drive
OCZ Technology Vertex 4 128GB
Secondary Drive
OCZ Technology Vertex 4 128GB
Tertiary Drive
OCZ Z-Drive R4 CM88 (1.6TB PCIe SSD)
Other Drives
12 x OCZ Technology Vertex 4 64GB (Offline in the Host OS)
Network Cards
6 x Intel ESA I-340 Quad-GbE Port Network Adapter
Chassis
SilverStoneTek Raven RV03
PSU
SilverStoneTek Strider Plus Gold Evolution 850W
OS
Windows Server 2008 R2
Network Switch
Netgear ProSafe GSM7352S-200
Thank You!
We thank the following companies for helping us out with our NAS testbed: