Brightness and Contrast
For all of the measurements I enabled the display uniformity option. This can reduce brightness and contrast ratio, but it also produces a more uniform image which I believe is worth the tradeoff. Given the target for the EA244UHD I feel most people would also leave this enabled.
The maximum light output with this enabled is only 269 cd/m2. Setting the backlight to minimum drops this all the way down to 16 cd/m2. This is a very wide range but it's not incredibly bright. Most people using the EA244UHD probably have some sort of light control but if you don't, bright sunlight will wash it out pretty well.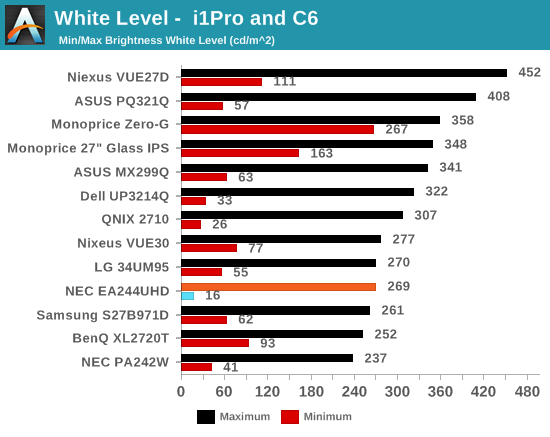 With an IPS panel and uniformity compensation, black levels are what I expect to see from an NEC display. They are okay but not excellent. NEC could improve these by using a VA-panel, but that leads to sacrifices in off-angle viewing. Instead of uniformity compensation, NEC could use some sort of dimming system to improve blacks, but those almost always harm image quality.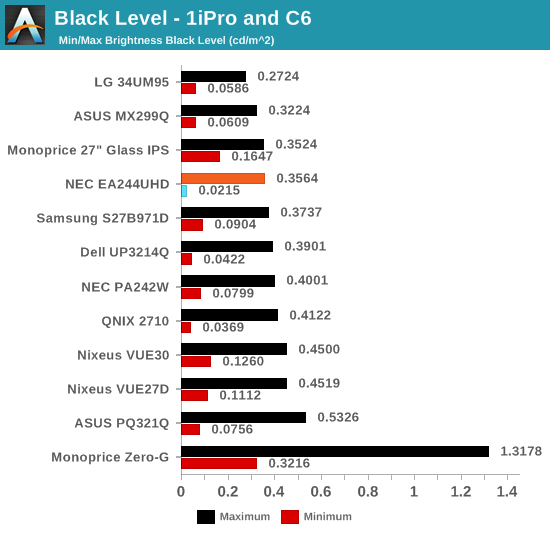 Due to those so-so black levels we get a contrast ratio right around 750:1. IPS panels can do 1,000:1 or almost 1,200:1 now, but not with the uniformity compensation feature. When we look at display uniformity later we can see if this is worth the tradeoff that NEC has made.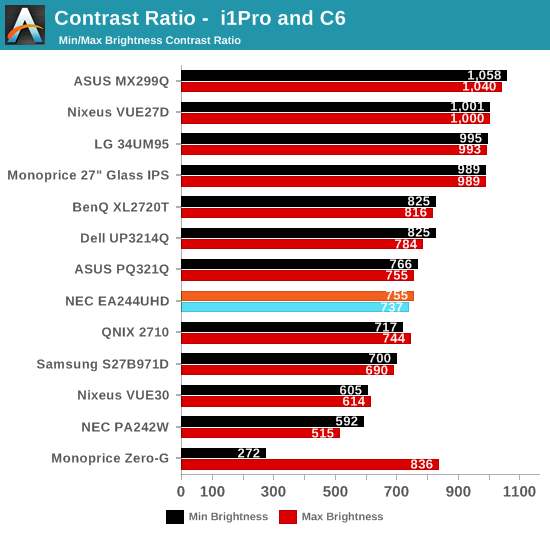 This section could have been copied almost verbatim from any other NEC monitor review I have done. The EA244UHD isn't as bright or punchy as other IPS displays, but it might offer better uniformity because of it. This is the compromise NEC has always made before, and in the past it has proven to be worthwhile.