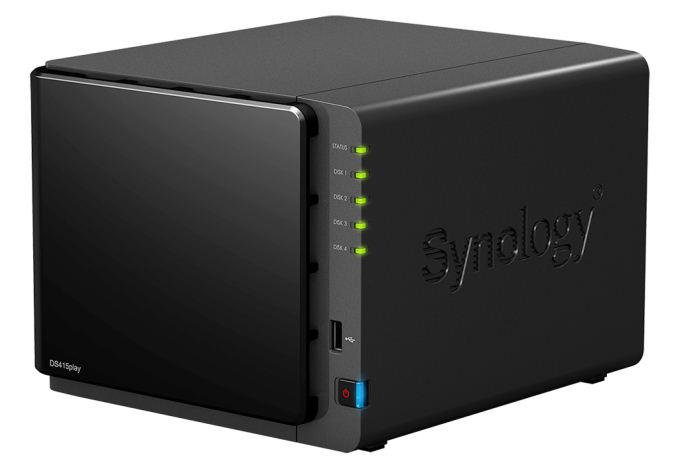 The DS214play 2-bay NAS is turning out to be a popular product for Synology. Sensing a lot of market interest in a version with more number of bays, Synology is launching the DS415play today. It is a 4-bay NAS based on the Intel CE5335 Evansport SoC. With this product, Synology joins Asustor (AS-304T) and Thecus (N4560) as vendors supplying 4-bay NAS units based on the Intel CE5335.
Synology's approach to Evansport is unique, and we have covered it in detail in our DS214play review. The transcoding capabilities are quite useful and work great for a lot of devices. There are still a few rough edges, but, given Synology's commitment to firmware features, we are sure things will continue to get better. In addition to the Chromecast support that was a great feature while using the DS214play, Synology's PR for the 415play also talks about support for Android TV (not surprising, given that they were already working great with Chromecast).
On the hardware side, users not quite satisfied with 2 drives in the DS214play had the option of adding a DX513 to the mix (no option for volumes spanning the two units, though) to get 7 bays in total using the available eSATA port. The DS415play does away with the eSATA port, so there is no possibility of adding in an enclosure to increase the number of drive bays. That said, four bays is probably enough for a large majority of the consumers (considering that 5 TB and higher capacity drives are already in the market).
At $540, it is a bit costlier compared to the Asustor AS-304T. However, the transcoding features and app ecosystem probably warrant the increase in price. QNAP's TS-451 is already quite close to launch, and I think that will be the main competition for Synology's DS415play.