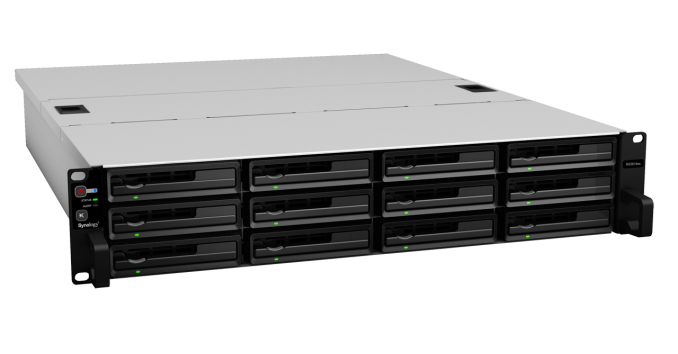 Synology introduced two new variants in their RackStation lineup today, the RS3614xs and RS3614RPxs. These are the new 'entry-level' units for markets where ECC RAM is required. Both of these are 12-bay NAS units in the 2U form factor with a Core i3 Haswell CPU and dual PCIe 3.0 expansion slots. The RP variant has a redundant power supply. There are four GbE ports on the board, and up to two 2x 10GbE cards can be installed in the expansion slots to provide more than 40 Gbps of network throughput. The units obviously run Synology's much-appreciated DSM 5.0. The OS has a large number of business-oriented features (multiple virtualization certifications, for example) which make it attractive for enterprise storage.
These 12-bay units can scale up to 36 bays with the addition of two RX1214(RP) expansion units. While not boasting the horsepower of the Xeon-based flagship units such as the RS10613xs+, today's introductions are ideal entry-level units for SMBs who need expansion capabilities down the road.
The RS3614xs and RS3614RPxs are priced at $3000 and $4000 respectively. The expansion units are priced at $1700 (RX1214) and $2400 (RX1214RP).