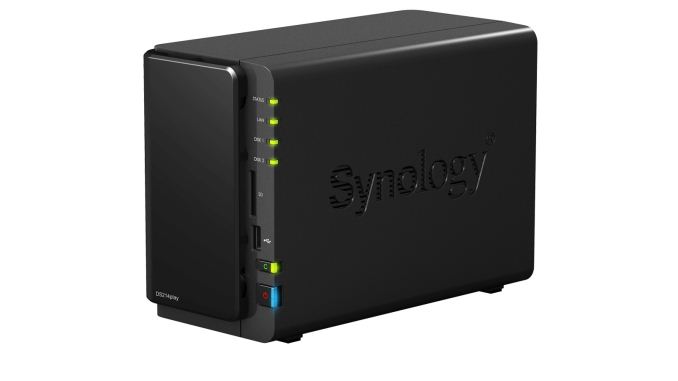 Introduction
NAS units targeting home consumers have traditionally been underpowered in terms of hardware as well as firmware features. Low power, reduced cost and media-centric features are primary requirements in this area. Intel has traditionally been loath to participate in this market segment, probably due to the obvious lack of high margins. However, the explosive growth potential in the consumer / SOHO NAS market has made Intel rethink its strategy.
The Atom CE5300 series was initially introduced as the Berryville set-top-box platform in March 2012. Almost a year later, the CE5300 series was re-launched in its Evansport avatar as a storage solution targeting home consumers (in particular, as a media server platform). Asustor, Synology and Thecus were touted as partners building NAS units based on this platform. We have already looked at the 2-bay Evansport model from Thecus, the N2560 and the Asustor AS-304T. Today, we will look into what Synology's Evansport offering, the DS214play, brings to the table. The DS214play is currently the only Evansport NAS from Synology available to the general public. The specifications of the DS214play are summarized in the table below.
Synology DS214play Specifications
Processor
Intel Evansport CE5335 (2C/4T Atom (Bonnell) CPU @ 1.6 GHz)
RAM
1 GB DDR3 RAM
Drive Bays
2x 3.5"/2.5" SATA 6 Gbps HDD / SSD (Hot-swappable)
Network Links
1x 1 GbE
External I/O Peripherals
2x USB 3.0 / 1x USB 2.0 / 1x eSATA
Expansion Slots
None
VGA / Display Out
None
Full Specifications Link
Synology DS214play Full Specifications
Price
$370
NAS vendors designing products based on Evansport have hugely been influenced by the platform's STB background. Both the Thecus N2560 and Asustor AS-304T sport HDMI video output, implying a usage model with the device connected to a television or entertainment display. It is a matter of personal preference as to whether one wants a NAS connected to the TV in the living room, but Synology felt otherwise. Instead of equipping the DS214play with a HDMI port, they decided to retain the core functionality of the NAS and put the media-centric features of the SoC to use elsewhere.
The DS214play is targeted heavily towards media enthusiasts. Synology's landing page heavily trumpets the presence of a hardware transcoder engine. Transcoding (in the process of acting as a media server / DLNA DMS (Digital Media Server)) is one of the often requested features from a NAS targeting home consumers. The DS214play's uniqueness within the Synology lineup is brought out in this FAQ.
In the rest of the review, we will cover the hardware aspects of the DS214play and provide some setup and usage impressions. This will be followed by benchmarks in single and multi-client modes. For single client scenarios, we have both Windows and Linux benchmarks with CIFS and NFS shares. We will also have some performance numbers with encryption enabled. There will be a few sections dedicated to the DSM features relevant to multimedia enthusiasts. In the final section, power consumption numbers as well as RAID rebuild times will be covered along with some closing notes. Prior to all that, we have a summary of our testbed setup and testing methodology.
Testbed Setup and Testing Methodology
The Synology DS214play is a 2-bay unit. Users can opt for automatic SHR (Synology Hybrid RAID) protection or manually set the RAID level to 0 or 1. We benchmarked the unit with SHR (which is effectively RAID-1). We used two Western Digital WD4000FYYZ RE drives as the test disks. Our testbed configuration is outlined below.
AnandTech NAS Testbed Configuration
Motherboard
Asus Z9PE-D8 WS Dual LGA2011 SSI-EEB
CPU
2 x Intel Xeon E5-2630L
Coolers
2 x Dynatron R17
Memory
G.Skill RipjawsZ F3-12800CL10Q2-64GBZL (8x8GB) CAS 10-10-10-30
OS Drive
OCZ Technology Vertex 4 128GB
Secondary Drive
OCZ Technology Vertex 4 128GB
Tertiary Drive
OCZ Z-Drive R4 CM88 (1.6TB PCIe SSD)
Other Drives
12 x OCZ Technology Vertex 4 64GB (Offline in the Host OS)
Network Cards
6 x Intel ESA I-340 Quad-GbE Port Network Adapter
Chassis
SilverStoneTek Raven RV03
PSU
SilverStoneTek Strider Plus Gold Evoluion 850W
OS
Windows Server 2008 R2
Network Switch
Netgear ProSafe GSM7352S-200
Thank You!
We thank the following companies for helping us out with our NAS testbed: