Prior to CES, Synology sent out a press release touting the upcoming launch of the DiskStation Manager 5.0 public beta. It talked about the new features at a very high level. Instead of covering it right away, we decided to visit Synology's booth at CES to learn about the new features first-hand. Synology's booth also had partners ioSafe and Egnyte with demonstations of their own.
First off, we looked into the new features of the upcoming DSM 5.0. Ease of use and a streamlined interface were put forward as the main points. It appears that the version will have a mobile-app like interface in addition to the standard desktop in a browser UI that we have grown accustomed to. This seems more like the Asustor ADM interface. We are pretty much ambivalent on this change. DSM 5.0 also updates the QuickConnect feature to enable it to work without port forwarding. These changes are welcome ones for the average consumer.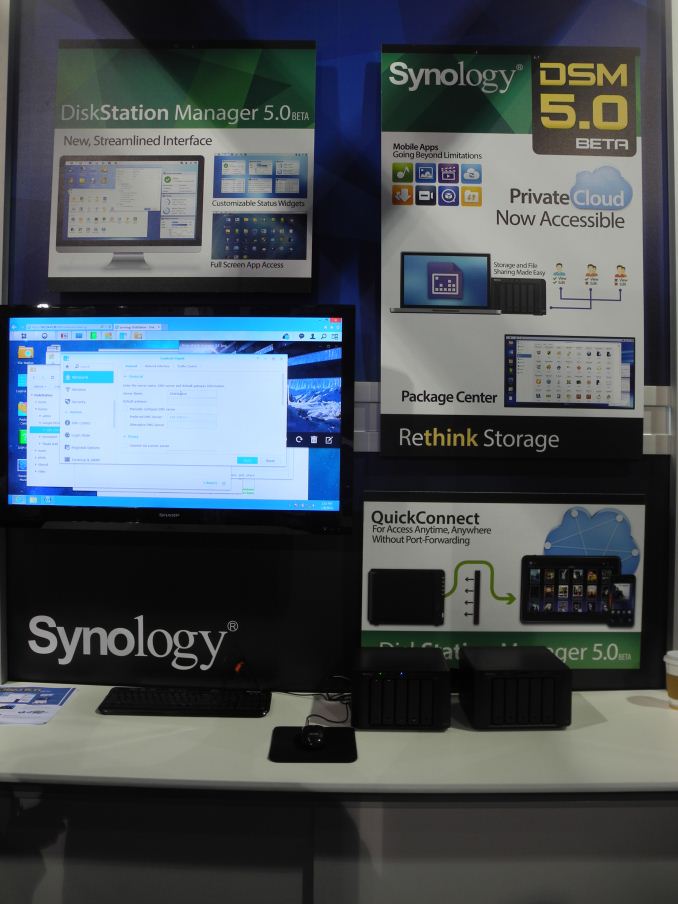 Under the hood, DSM 5.0 also brings support for multiple petabytes of storage. In addition, a centralized management system also enables administration of multiple Synology units from one interface. This is an attractive feature for IT administrators, and also for certain home consumers -- imagine a scenario where a user can purchase Synology NAS units and send it across to non-tech savvy folks spread across multiple geographic locations, but still administer everything from one UI. The public beta is expected to land in a few weeks, and we are really excited about what other changes have been put in.
Synology was also demonstrating the Evansport-based DS214play transcoding media for playback using DS Video while utilizing very little CPU cycles. We already know quite a bit about how Evansport enables these sorts of scenarios, so I won't go much into detail on this product and demo.
ioSafe 1513+
ioSafe and Synology started joint demonstrations at CES in 2013. While the ioSafe N2 (DS213 in a disaster-resistant package) was launched last year, ioSafe has moved on to an Atom-based DS1513+ this time around. Dubbed the ioSafe 1513+ (PDF specifications), the unit sports a 2.13 GHz Atom D2701 CPU, four 1 GbE LAN ports and 2 GB of RAM. Performance numbers for a 5-disk RAID-5 volume are in the range of 202 MBps writes and 350 MBps reads.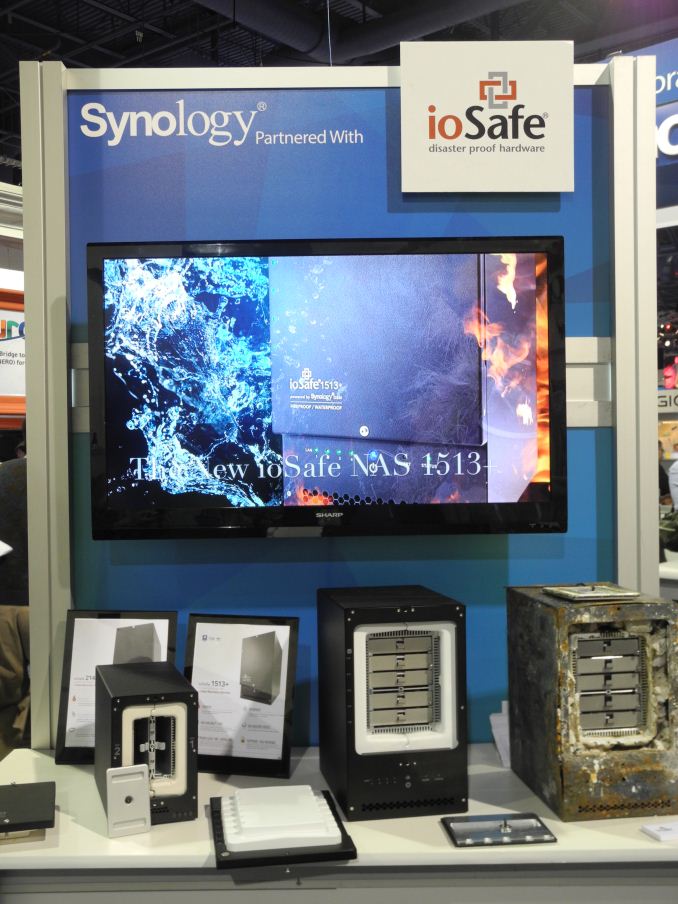 Keeping with ioSafe traditions, the unit protects data from fire up to 1550°F, 30 minutes per ASTM E-119, and from complete submersion in floods up to 10 foot deep for 3 days. ioSafe also plans to launch the ioSafe N513X expansion chassis (two of which can be connected to each ioSafe 1513+). This allows up to 90 TB of disaster-resistant storage mounted on one NAS server.
Egnyte Hybrid Cloud
Synology's new partner at CES was Egnyte, a cloud storage company respected by many enterprises. Cloud storage has been a thorn in the back for many SMBs / SMEs. The prospect of opening up sensitive data to hacking on external servers has prevented many companies from trusting the cloud. Egnyte is tackling this issue by providing a combination of local storage and also cloud access. While the former is reserved for secure and confidential information, the cloud servers can be used for other data. However, both data are accessible from one interface.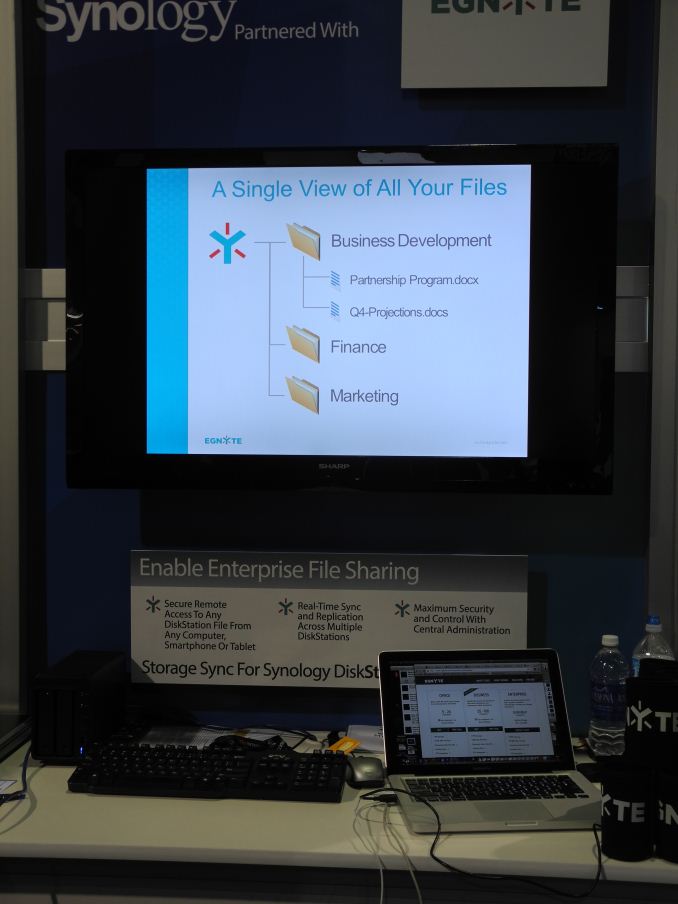 Egnyte already works well with NetApp environments, and at CES, they announced a partnership with Synology. The gist of the announcement is that files can be synced with Egnyte as well as Synology DiskStation NAS units. Multiple NAS units can then be accessed through a central access point if those are all deployed with Egnyte. There is no need to setup new infrastructure outside the firewall for secure file sharing, as that aspect is handled by Egnyte. Egnyte's approach is very different from other cloud vendors, and that is the reason many SMBs / SMEs with sensitive information prefer it despite being wary of the dangers of the cloud.
In summary, Synology and its partners had exciting announcements and demonstrations at CES. This bodes well for the NAS market. As competition heats up, more and more enterprise features are getting into affordable NAS units, and this is a definite win for consumers.