EVGA X79 Dark BIOS
With the X79 refresh, EVGA are keen to promote their new graphical UEFI BIOS. While being one of the last to jump onto the technology, EVGA have undoubtedly had time to work on and perfect the presentation. As the main audiences for EVGA boards are gamers and enthusiasts, the BIOS should reflect one that both would use. With the current trend of graphical UEFI BIOSes and requests from users, EVGA starts off with a main screen of information: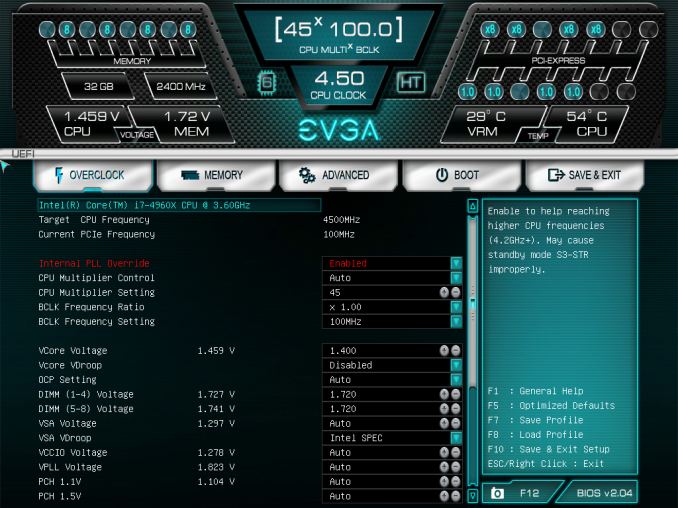 Along the top is the current CPU speed, number of cores (6) and that HyperThreading is enabled (HT). The installed memory, along with size, speed and voltage is also present as well as CPU multiplier, BCLK, voltage and temperature. The PCIe devices installed, along with lane counts, are here also. On the bottom right is the BIOS version, and the first thing we see in the list of options is the CPU installed. The only thing missing in all of this is perhaps the motherboard model name, which is in the F1 general help menu. One downside of all this information is actually the size at which it populates the top of the screen, leaving less space for options or explanations, but visually the color scheme and the layout is of benefit to most users.
In terms of options in the BIOS, EVGA have all the main avenues covered, especially with all the overclocking options less than a few clicks away on the main screen. The 'OC Mode' on EVGA boards is a favorite – it disables all additional controllers, which can be useful for stability in extreme overclock conditions. Extreme tweakers might want more control over clock skews and the like, but the only thing really missing from basic OC is perhaps a few quick OC options for the user to select – we have 'quick BCLK settings' on the bottom of the motherboard, but something like '4.2 GHz, 4.3 GHz, 4.4 GHz' would be more appropriate.
For memory, the BIOS lists available XMP profiles and the main primary/secondary timings, but no tertiaries. There are a few sets of predefined profiles for certain types of extreme memory kits at the bottom of this screen.
The rest of the BIOS is standard as they come – USB/SATA configurations, boot configurations, boot override and quick boot options. One thing I would like to point out is that by default PCIe 2.0 is selected, not PCIe 3.0. Users will have to navigate to the Advanced -> IOH Configuration and manually adjust the options: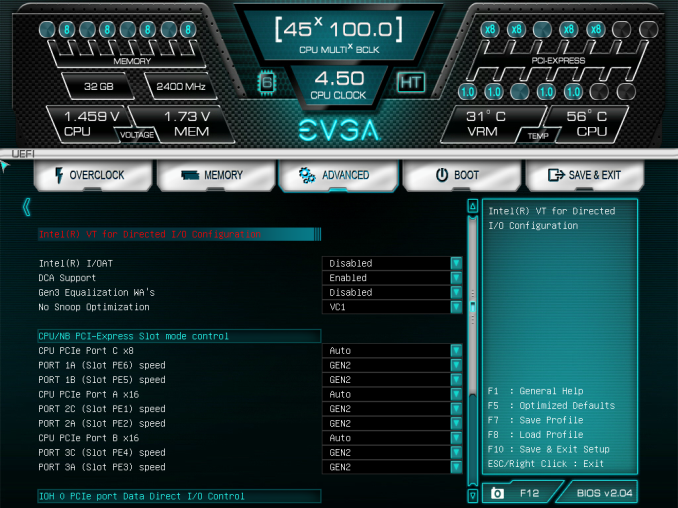 Despite the number of 4-pin fan headers on board, only four are configurable for fan speeds via the BIOS in the Hardware monitoring option under Advanced.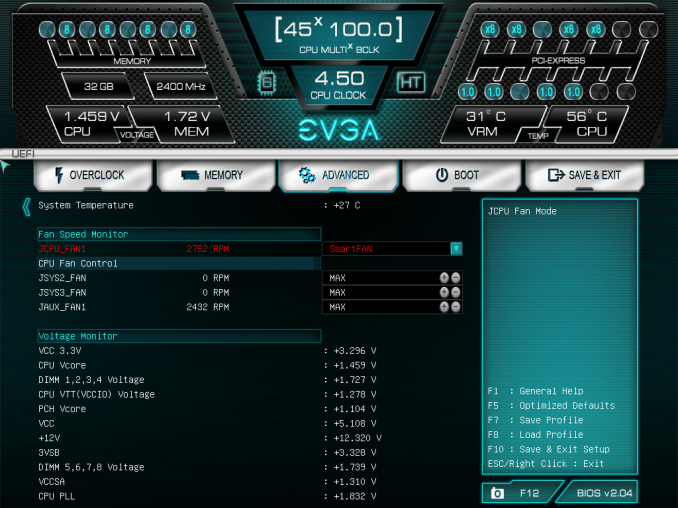 Aside from a few fundamental issues in the BIOS (listed below), there are two areas that EVGA need to work on with this BIOS. Firstly, I need a system in the BIOS that lets me update from within the BIOS – at present, as has been the case with EVGA boards for several generations, we need to install a Windows OS to update the BIOS. This needs to become a feature yesterday. The other area is fan controls – perhaps take a leaf from MSI's latest fan profile implementation which we rather liked and generate something similar. The progression of fan controls after this is to get a fan speed vs. temperature profile (rather than fan power vs temperature, as power is not proportional to fan speed).
The BIOS Issues
The EVGA motherboard has been on my testbed as least double the normal length of time than other motherboards for one main reason – my insistence of proper 'out-of-the-box' operation. As mentioned in the previous page:
- Upon initial testing of the latest BIOS (2.03), the system would only run at 3.7 GHz at any load, rather than the Intel specification 40x/39x/39x/38x/37x/37x for the CPU we used. We ran our tests at this speed to find the base line, but it performs worse than other X79 motherboards due to its non-compliance out of the box.
- The BIOS offers per-core ratio settings, thus in an attempt to replicate standard operation, these were set under the assumption that it would be fixed in a later BIOS update (and we would publish both sets of results). Unfortunately, these options did not work on our motherboard.
- EVGA sends us BIOS 2.04 public, which does not change the situation.
- EVGA sends us BIOS 2.04beta, which does not change the situation.
- EVGA sends us BIOS 2.05 public, with no change in CPU operation. XMP no longer works on our memory kit: the system is misreading XMP values and putting them lower than before.
- EVGA sends us BIOS 2.05beta, and after selecting a series of options, Intel specifications are now working. However, per-core ratios are still not working, and XMP is broken, resulting in instability on certain types of load. No GPU results are possible at XMP manually configured values.
- For BIOS 2.05beta, overclocking is broken. Manually putting the CPU at any multiplier other than Auto causes the system to reboot continuously. In order to do the overclocking tests, we rolled back to 2.04, which worked flawlessly.
There are two clear sides to the argument – EVGA's target audience are enthusiasts who will more than likely overclock, and thus stock speeds bear little relevance and we should not hold anything against them. However, I have not seen any concrete numbers (I fear they would be difficult to track) of how many users actually overclock vs. out-of-the-box at stock. For every user on a forum that talks about overclocking, I have a suspicion that there are at least 10-25 who will not touch the BIOS, and insist it is just plug-and-play. There is also system builders/integrators that might use the motherboard in non-overclocked systems up for sale. For those latter group, the BIOS is finally there to get performance on par with other X79 motherboards, albeit at the detriment to XMP settings and stability. No doubt a fix will come in due course, but it strikes at the heart of what exactly quality control is doing if the board does not come with a BIOS that at least gives Intel recommended speeds at pure default settings. Either someone did not check, the board was released too early, or the 'fix' was far down the list of things to do.
EVGA X79 Dark Software
The only tool in EVGA's software arsenal, aside from the EVGA wallpapers, is the ELEET tuning tool. This is a skinned CPU-Z version with additional features related to overclocking on an EVGA motherboard, although we had to download the latest version of the tool (which requires registration on EVGA's website) in order to see any recognition of the system being used. Overclocking via the tool had no issues.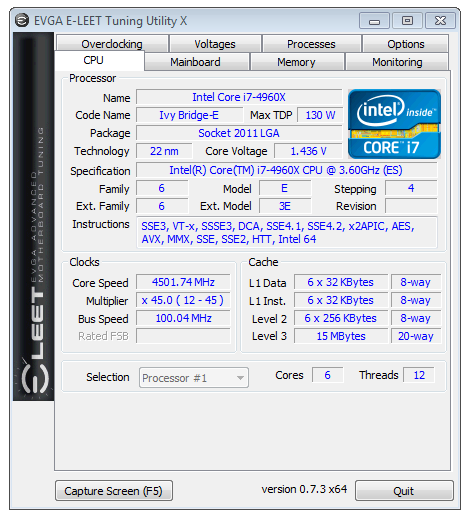 Compared to other motherboards in this price bracket, to say the software contribution from EVGA is light is a relative understatement. There are no fan controls, no additional gaming tools, no network management software, no automatic overclock options and no audio software.