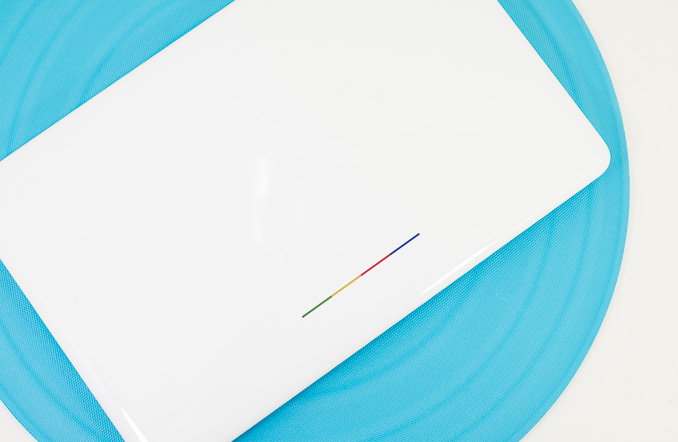 We're in the midst of a netbook renaissance. Armed with lighter weight OSes, faster hardware and a better appreciation for what matters in a consumer device, OEMs are giving the concept another try.
Just like before, we'll see solutions based on Windows as well as open source OS alternatives. The most viable candidate in the latter category is Google's own Chrome OS. In the old days if all you needed was to be able to browse the web, you had to buy a PC. Now you have more options. For those users who really just need access to the web, email and perhaps editing documents, Chrome OS is a real alternative.
What you give up in backwards compatibility with legacy applications, you get in the form of simplicity and security. Google controls all updates to Chrome OS, which are delivered seamlessly in the background. You also get all of the security benefits of sandboxing that are otherwise reserved for devices running Android or iOS. Chrome OS is the type of platform you can recommend to someone and never have to worry about them coming back to you with a virus or malware infested PC.
HP Chromebook 11 Specifications
Dimensions
297 x 192 x 17.6 mm
Display
11.6-inch IPS 1366 x 768
Weight
2.3 lb/ 1.04 kg
Processor
Samsung Exynos 5250 (dual-core Cortex A15 1.7GHz + ARM Mali-T604 GPU)
Connectivity
2 stream dual-band 802.11n, Bluetooth 4.0, 3G/4G LTE optional
Memory
2GB DDR3
Storage
16GB eMMC
Battery
30Wh
I/O
2 x USB 2.0, VGA webcam, microUSB for charging/SlimPort video out, headphone/mic jack
Starting Price
$279
With the exception of the Chromebook Pixel, Google has done a great job of curating excellent low-cost hardware that runs Chrome OS. Last year's Samsung Chromebook redefined what you should expect in terms of build quality and design from a sub-$300 notebook. This year we get a spiritual successor to that device.
Design & Chassis
The HP Chromebook 11 keeps the same 11.6-inch form factor as last year's device, but upgrades it in almost every way imaginable. Let's start with the chassis: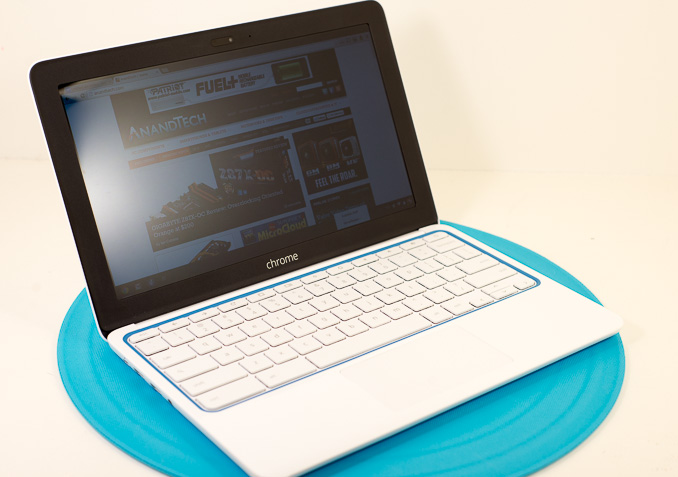 Exotic materials are pretty much out of the question for something priced at $279, so the Chromebook 11 boasts a magnesium reinforced plastic chassis. The internal magnesium frame helps reduce flex, and I'm happy to say that the result is one solid feeling device.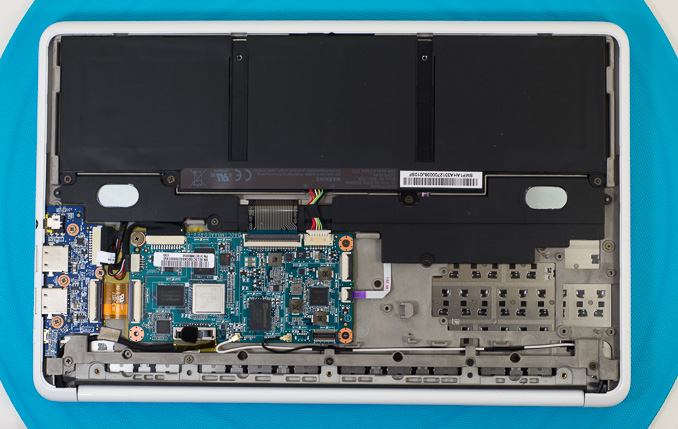 The motherboard screws into a magnesium frame
The plastic exterior is glossy, which unfortunately means it's going to be a fingerprint magnet. That's honestly my only complaint about the design though, the rest is extremely well executed down to Chrome color strip lit by the display's backlight on the back of the machine.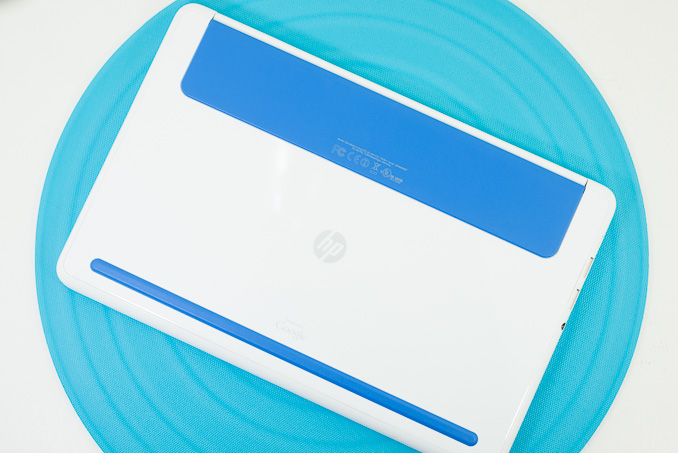 As with most mainstream devices these days, Google used little touches of color to personalize the device. The Chromebook 11 is available in black (no accents), or white with four accent colors (blue, red, yellow or green). The accent colors are visible around the keyboard as well as underneath the notebook.
Google is particularly proud of the lack of any visible vents, screws or speakers. The Exynos 5250 SoC is passively cooled (just like it would be in a tablet), which reduces the need for any large vents. Under heavy load the machine does get surprisingly warm, with the upper left region of the Chromebook 11 hitting 46C in my testing - a reminder of just how much power a pair of ARM Cortex A15 cores can draw under load. Pulling off the bottom of the machine it's clear why there's so much heat transfer, Google uses the bottom plate as a heat spreader with a bit of thermal interface material making direct contact to the Exynos 5250 SoC: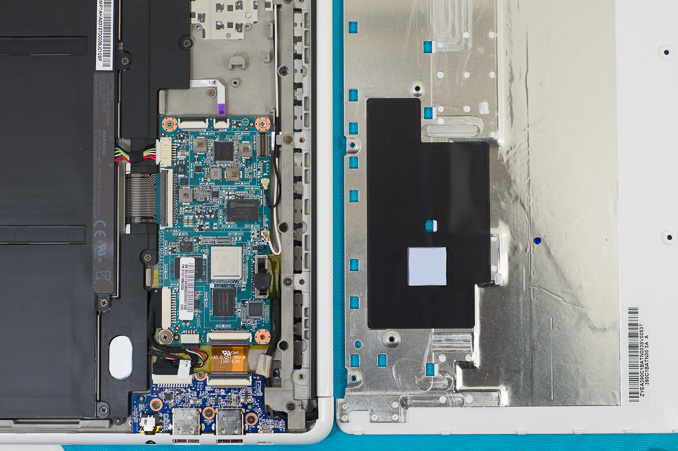 The bottom of the Chromebook 11 snaps on, hence the lack of any visible screws. The only screws in the Chromebook 11 are hidden by the strips of accent color on the back. The large strip snaps on, while the thin strip is held on by adhesive: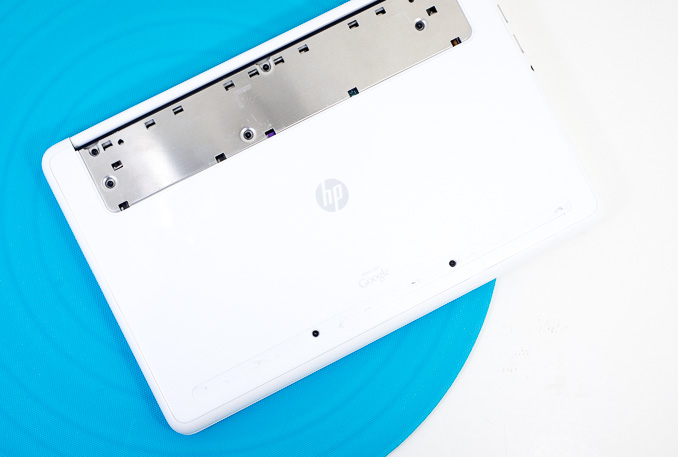 Finally, the speakers port up through the keyboard just like they would on a MacBook Air (all while providing surprisingly full sound).
The Apple comparisons don't end there. Unlike most laptops in the Chromebook 11's price range, the chiclet keyboard is awesome. You'd be hard pressed to tell the difference in spacing, key travel or feedback between the 11's keyboard and that of an rMBP. It used to be that you'd have to spend tons of money to get a notebook with a good keyboard, Google seems devoted to fixing that.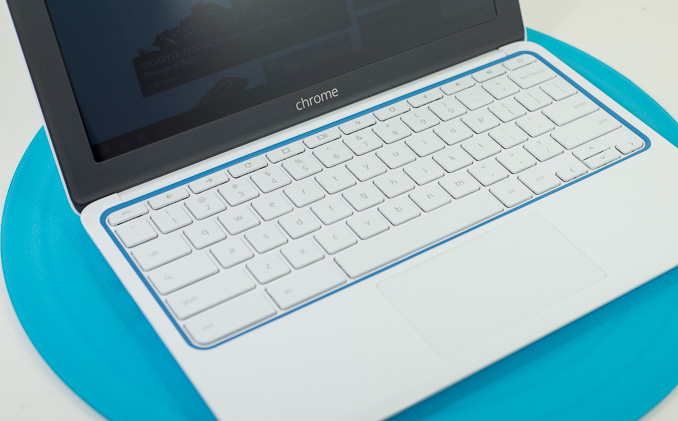 In fact Google seems to want to address most of the issues that plagued mainstream PCs with its low-cost Chromebooks. There's no mechanical storage inside the Chromebook 11, instead settling on a 16GB eMMC solution (once again provided by SanDisk) that enables extremely fast boot and predictable application launch times. You obviously don't get a ton of local storage, but as with all Chromebooks you're expected to either not have a ton of local storage needs, rely on external USB storage, or toss everything into the cloud. In pursuit of the latter, Google offers all Chromebook 11 customers 100GB of free storage on Google Drive for 2 years after the feature is manually activated (you have 60 days to activate).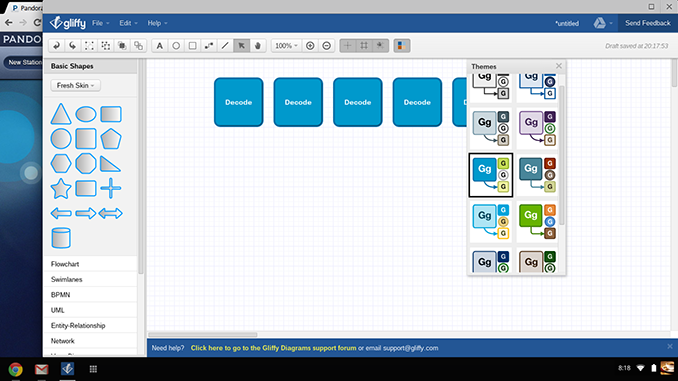 I won't go into too much detail on Chrome OS other than to say that Google is slowly but surely trying to address my biggest concerns about the OS. You can finally run applications offline and outside of a browser window, which makes a lot of sense (I really don't want to have to do math in a Chrome window), but the list of offline applications is woefully short at this point. Chrome OS remains a great solution for those users who really spend all of their computing time inside Chrome browser windows and aren't huge on multi-window, multi-tasking usage models. It may sound limited, but for a big chunk of the mainstream PC market it's actually nearly spot on. Plus you get all of the benefits of Chrome: sandboxing, security and an always up-to-date/lightweight platform.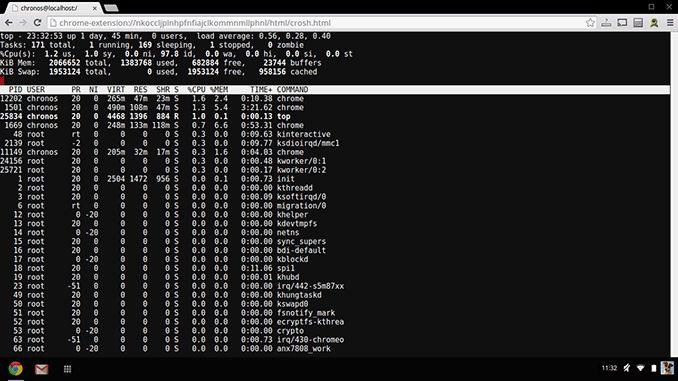 For the more enterprising users, the Chromebook 11 can just as easily be rebooted into developer mode by hitting esc + switch (F5) + power, then hitting Ctrl + D when prompted/at every subsequent boot. Developer mode, as always, gives you lower level access to the platform - including the ability to get to a command prompt.