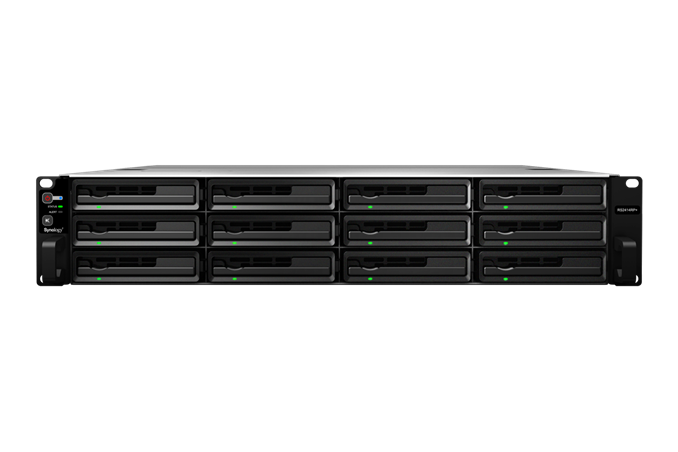 Synology launched two new 2U RackStations (the RS2414+ amd RS2414RP+) today. These are the first units with a full 12 bays available in the main unit itself (Their current flagship, the RS10613xs+ has 10 bays and two additional bays for caching drives). Both models can scale up to 24 drives with the RX1214 and RX1214RP RackExpansion units.
Keeping affordability in mind (the RS2414+, RS2414RP+, RX1214 and RX1214RP have MSRPs of $1900, $2500, $1700 and $2400 respectively), the models don't come with Xeon-based platforms. They appear to have the same base hardware as the DS1813+ (with a 2.13 GHz Atom-class dual core CPU, four Gigabit NICs and 2 GB of RAM which is upgradeable to 4 GB). Enterprise features like high availability and MPIO are available. The software (DSM 4.3) carries all necessary certifications from the virtualization software vendors, ADS and LDAP support as well as SSD read caching and TRIM support.
Synology's decision to target the market for rackmount units with both Xeon and Atom-based models is interesting. Even though the Atom-based units are probably not powerful enough for models with a large number of bays, it should be good enough for applications where scalability and capacity are primary concerns, rather than raw performance.
Enterprise / SMB customers with an urgent need for scalable solutions would do little wrong in opting to go with the new models. For those who can wait a little, the Bay Trail-based solutions coming out next year are going to be a better choice in many respects (power consumption and encryption performance are just a few aspects in which we can expect considerable improvements).