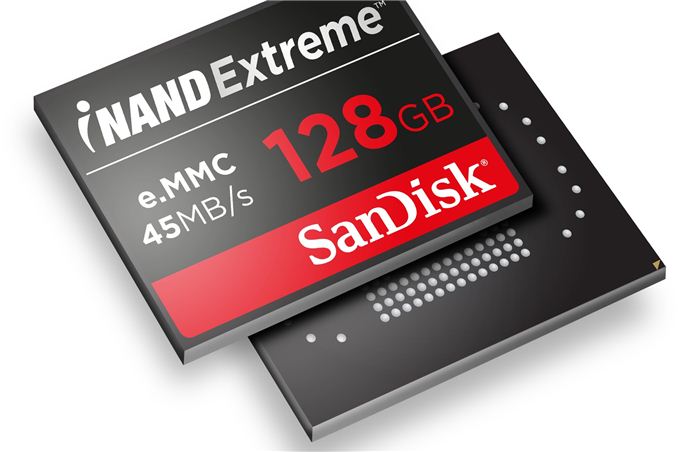 We've started looking more closely at the embedded storage used in smartphones and tablets, and have mostly come away disappointed. Thankfully there appears to be some progress being made in the space. I remember being relatively impressed with the behavior of the eMMC in Intel's Bay Trail FFRDs at their benchmarking event a week and a half ago. The IO performance wasn't perfect, but it was definitely much better than I had been expecting.
Today SanDisk announced that it will be bringing an optimized version of its iNAND Extreme solution to Bay Trail tablets. Architecturally iNAND Extreme is a combination of NAND and eMMC controller in a single package. The device supports eMMC 4.51 (HS200) and uses SanDisk's own 19nm MLC (2bpc) NAND. Capacities go all the way up to 128GB for a single device, which SanDisk arrives at by stacking 16 x 64Gbit 19nm MLC NAND die.
Sustained performance isn't too shabby. SanDisk promises sequential reads/writes of up to 150/45MBps and 4KB random read/write speeds of up to 4K/800 IOPS. I suspect these numbers are based on the largest configurations, but I would expect similarly good performance even for the 64GB and maybe even 32GB versions. The 4KB random write results are sustained, not peak, and are measured by looking at performance across a 1GB LBA range. In the case of the 128GB drive that test leaves a ton of spare area, which helps explain the relatively good performance compared to what we're used to in the market. I'd love to see true worst case scenario performance for SanDisk's iNAND. The promised sequential read performance is outstanding. We've seen mobile devices break the 100MB/s sequential read barrier, but none have hit 150MB/s yet. Sequential write performance is also pretty good.
The Bay Trail optimizations come via some custom tuning on the firmware. I suspect Intel has its own performance targets and behaviors it wants to encourage on Bay Trail tablets and SanDisk is likely just responding to those requests. You can also find iNAND Extreme on other, non-Intel platforms as well.