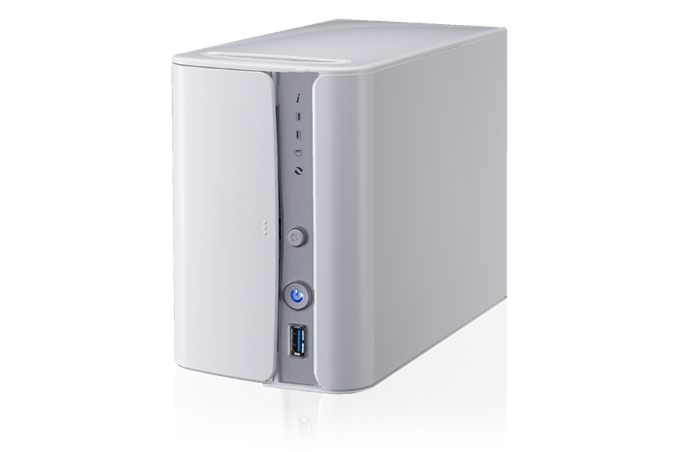 Introduction
NAS units targeting home consumers have traditionally been underpowered in terms of hardware as well as firmware features. Low power, reduced cost and media-centric features are primary requirements in this area. Intel has traditionally been loath to participate in this market segment, probably due to the obvious lack of high margins. However, the explosive growth potential in the consumer / SOHO NAS market has made Intel rethink its strategy.
The Atom CE5300 series was initially introduced as the Berryville set-top-box platform in March 2012. Almost a year later, the CE5300 series was re-launched in its EvanSport avatar as a storage solution targeting home consumers (in particular, as a media server platform). Asustor, Thecus and Synology were touted as partners building NAS units based on this platform, but only the Thecus units seem to be available in the market right now.
Thecus has four NAS models based on the Intel EvanSport platform. The following table summarizes the features of the four models. The review unit configuration (N2560) is highlighted.
Thecus EvanSport NAS Models
N2520
N2560
N4520
N4560
Processor
Intel CE5315 (2C @ 1.2 GHz)
Intel CE 5335 (2C @ 1.6 GHz)
Intel CE5315 (2C @ 1.2 GHz)
Intel CE5335 (2C @ 1.6 GHz)
RAM
1 GB DDR3
2 GB DDR3
2 GB DDR3
2 GB DDR3
Drive Bays
2x 3.5" (Hot-swappable)
2x 3.5" (Hot-swappable)
4x 3.5" (Hot-swappable)
4x 3.5" (Hot-swappable)
Network Links
1x 1 GbE (WOL supported)
1x 1 GbE (WOL supported)
1x 1 GbE (WOL supported)
1x 1 GbE (WOL supported)
USB Slots
1x USB 3.0 / 2x USB 2.0
1x USB 3.0 / 2x USB 2.0
1x USB 3.0 / 2x USB 2.0
1x USB 3.0 / 2x USB 2.0
eSATA Slots
None
None
None
None
Expansion Slots
None
None
None
None
VGA / Display Out
HDMI / SPDIF
HDMI / SPDIF
HDMI / SPDIF
HDMI / SPDIF
Full Specifications Link
Thecus N2520
Thecus N2560
Thecus N4520
Thecus N4560
The N2560 is not the first model from Thecus to have been put under the scanner in our labs. The N4800 was also evaluated last year. Performance wise, the N4800 fared very well. However, we never got around to publishing a dedicated review due to severe usability issues with the firmware. Therefore, it was with mixed feelings that we decided to evaluate the N2560. The main attraction, undoubtedly, was the new NAS platform from Intel.
Intel launched the new NAS platform to provide a solution for the NVR, media server and network storage segments. In their message to manufacturers, multiple applications were played up.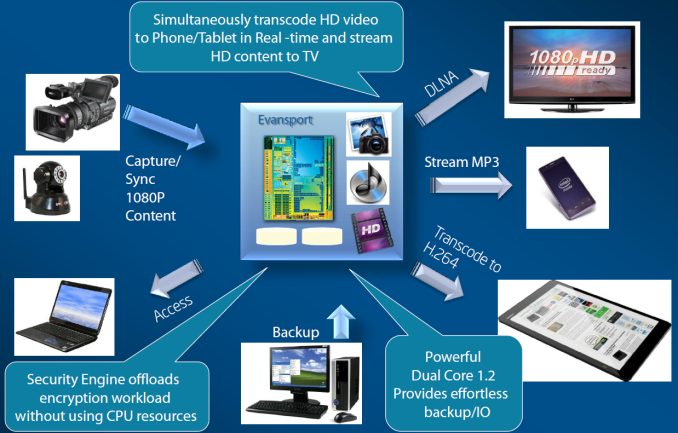 In the course of the review, we will see how Thecus has managed to utilize the above platform. We will talk about the specifics of the EvanSport NAS platform before going into the setup and usage impressions. Single client performance is presented followed by our standard multi-client performance benchmark results. Even though it doesn't make full sense to evaluate how the NAS performs when there are 25 concurrent users, it is only natural to expect the unit to be used by three or four users simultaneously as a media server. In the concluding section, we talk about power consumption, the mobile apps and the media-centric features. Prior to proceeding with these aspects, let us take a look at our testbed infrastructure.
Since the Thecus N2560 happense to be a 2-bay NAS, we used two Western Digital WD4000FYYZ RE drives as the test disks. These disks were configured in RAID-1.
AnandTech NAS Testbed Configuration
Motherboard
Asus Z9PE-D8 WS Dual LGA2011 SSI-EEB
CPU
2 x Intel Xeon E5-2630L
Coolers
2 x Dynatron R17
Memory
G.Skill RipjawsZ F3-12800CL10Q2-64GBZL (8x8GB) CAS 10-10-10-30
OS Drive
OCZ Technology Vertex 4 128GB
Secondary Drive
OCZ Technology Vertex 4 128GB
Tertiary Drive
OCZ RevoDrive Hybrid (1TB HDD + 100GB NAND)
Other Drives
12 x OCZ Technology Vertex 4 64GB (Offline in the Host OS)
Network Cards
6 x Intel ESA I-340 Quad-GbE Port Network Adapter
Chassis
SilverStoneTek Raven RV03
PSU
SilverStoneTek Strider Plus Gold Evoluion 850W
OS
Windows Server 2008 R2
Network Switch
Netgear ProSafe GSM7352S-200
Thank You!
We thank the following companies for helping us out with our NAS testbed: