I've said this before: when I'm feeling tired and need to work but don't want to exert myself too much, I review a Corsair case. The Carbide 330R continues Corsair's greatest tradition and achievement: cases that are fantastically easy to build in. If you read my review of the Carbide 300R from some time ago, a lot of this is going to be pretty familiar to you.
As I mentioned, the motherboard tray comes with a stud in the center for aligning the board, and the standoffs are all extruded out of the tray itself. That all makes installing the motherboard an incredibly simple affair. Getting things wired up early on proved to be fairly easy, too. This is nothing new.

There are toolless clamps for the 5.25" drive bays, and the quartet of 3.5"/2.5" drive sleds snap in around 3.5" drives; 2.5" drives must be manually screwed into the bottoms of the sleds. I appreciate that the 2.5" drives are aligned on the sleds in such a way that it's very easy to line up cabling between 2.5" and 3.5" drives. I don't mean to be dismissive here, but there isn't too much to report. My experience with the clamps on the 5.25" drive bays is that they're mostly sound, but could stand to be a bit more secure.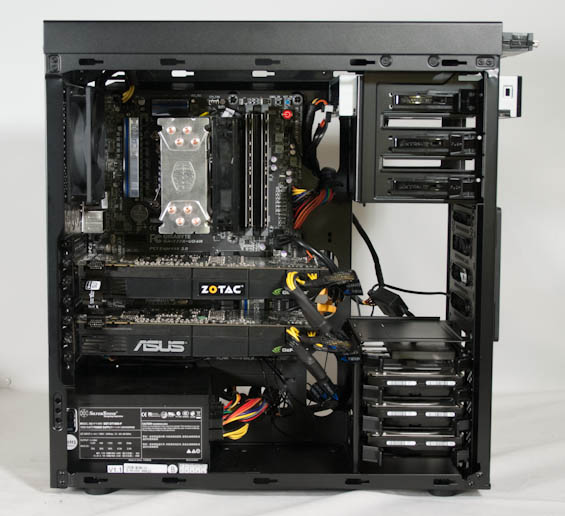 The power supply and expansion cards are all easy enough to line up, and cabling is really only complicated by the amount of hardware you plan to stuff into the Carbide 330R. I could be mistaken, but it seemed like the hole in the frame for the AUX 12V line was widened ever so slightly since the initial review of the 300R. I didn't have as much trouble routing that cable as I did the last time, but I've also reviewed another twenty or thirty cases since then.
It's hard not to sound dismissive of the Carbide 330R's assembly, but the reality is that this is pretty par for the course for Corsair. Since we're dealing with a variation on an existing chassis, there isn't anything new where assembly is concerned; this is extant hardware being adapted to serve a slightly different market and purpose. The result is that the assembly inherits all the strengths and weaknesses of its predecessor, and assembly is happily one of the things Corsair continues to get very, very right.