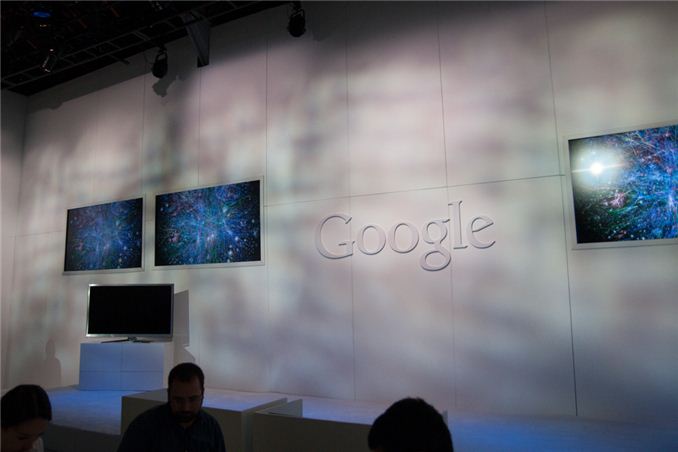 01:12PM EDT - I think that's a wrap, we'll get hands on soon!
01:12PM EDT - They played a video showing Chromecast in a bunch of settings, it looks pretty cool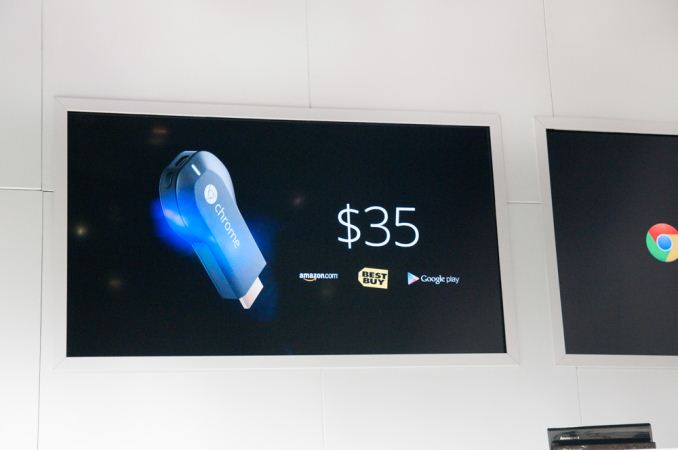 01:10PM EDT - Yeah, Chromecast is $35, available for purchase later today (it's on the Play Store now)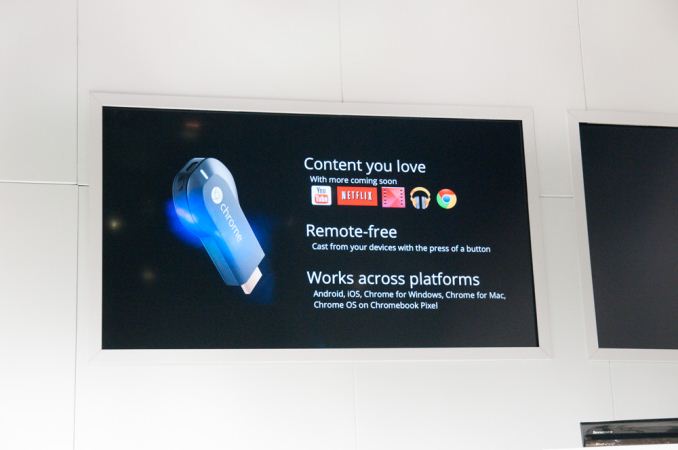 01:09PM EDT - It's unclear if Google Chromecast also works as a Miracast sink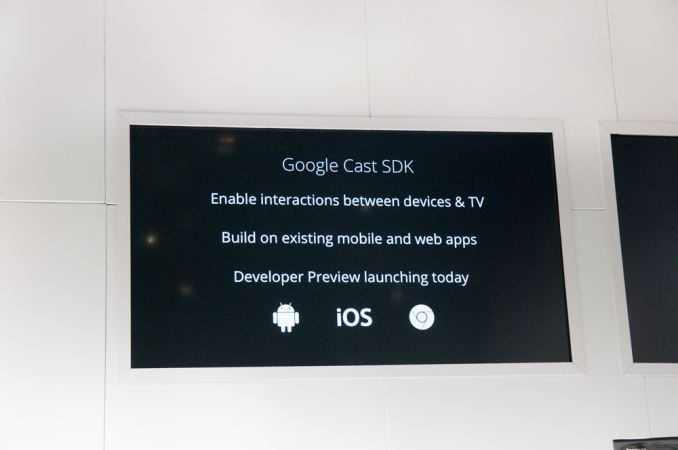 01:08PM EDT - Developer preview of the Google Cast SDK being published today with libraries for iOS, Android, and Chrome
01:08PM EDT - Apps send video to the Chromecast through the new Google Cast SDK
01:07PM EDT - Works with most Windows laptops, most OS X laptops, and Chromebooks
01:05PM EDT - Google Plus photo albums being shown on the Chromecast, the whole tab is being shown
01:04PM EDT - The YouTube player on the web also works with Chromecast, that's pretty major
01:04PM EDT - Looks like Chromecast costs $35, it's already on Google Play https://play.google.com/store/devices/details?id=chromecast
01:03PM EDT - Music also works, Google Play Music obviously streams songs from your library to the Chromecast dongle
01:01PM EDT - Interesting, any device can takeover control and scrub through the content in case one leaves the network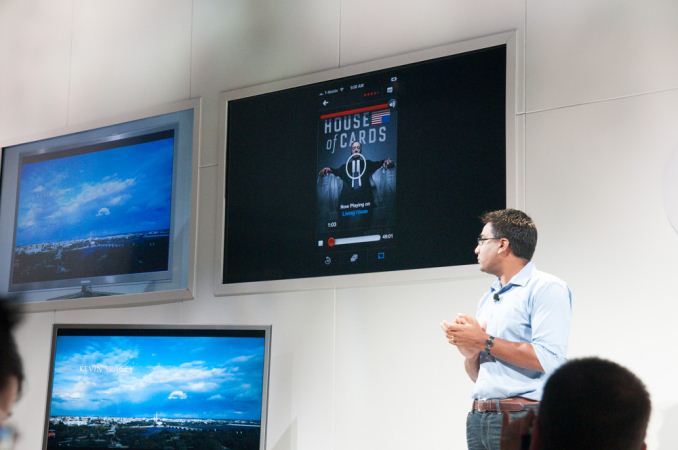 01:00PM EDT - Netflix 1080p with support for 5.1 on Chromecast
12:59PM EDT - Netflix also has Chromecast support, looks the same here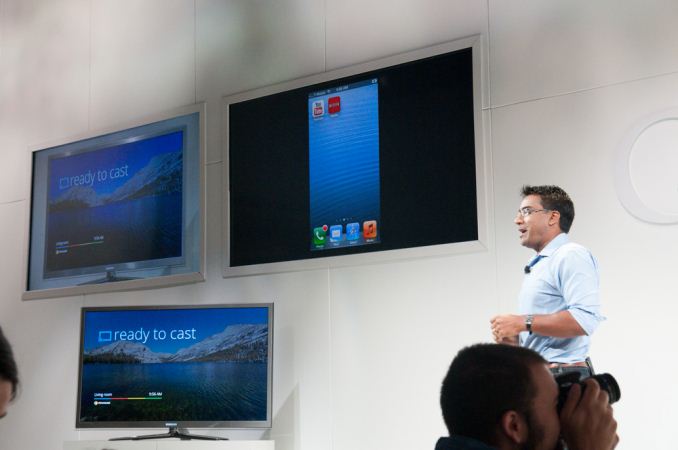 12:58PM EDT - Now they're showing Chromecast working on iPhone with the YouTube app
12:57PM EDT - Control latency is there, but it's not huge, looking at them skipping through the YouTube playlist
12:56PM EDT - Looks like HDMI CEC is supported and being used here to control volume and inputs from the phone
12:55PM EDT - Grabbing the video from the cloud as opposed to doing decode and re-encoding on the device and shipping that over to a sink makes a lot of sense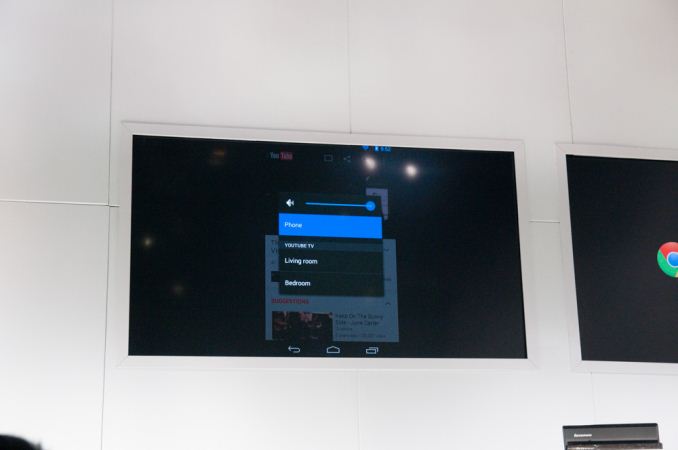 12:54PM EDT - Looks like the button for Wireless Display in YouTube has just been changed to a different logo, the interface looks the same so far
12:53PM EDT - Chromecast looks like what became of the Nexus Q, smaller and an HDMI dongle, completely different underlying OS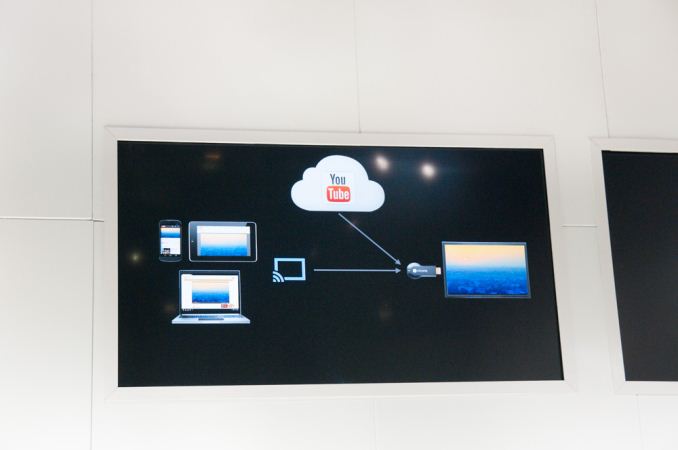 12:52PM EDT - Cast button in the UI sends video to the TV, the Chromecast device pulls video directly from YouTube on the cloud, rather than relying on the device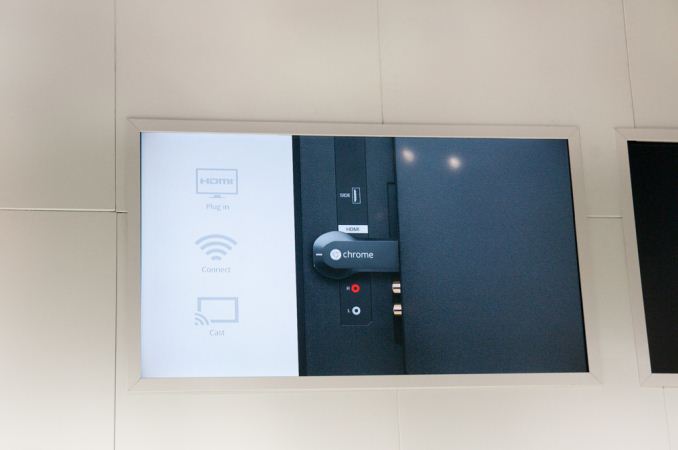 12:51PM EDT - Plug into any HDMI input, power over USB, connect to home WiFI, and you're ready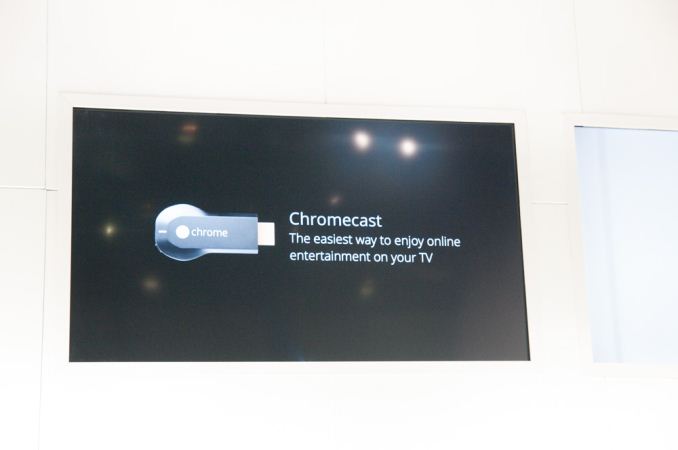 12:51PM EDT - 2 inches long, runs a simplified version of Chrome OS
12:50PM EDT - New device from Google - Chromecast
12:50PM EDT - Google's goals for connecting the TV - easy and fast setup, nothing new to learn, access across platforms and devices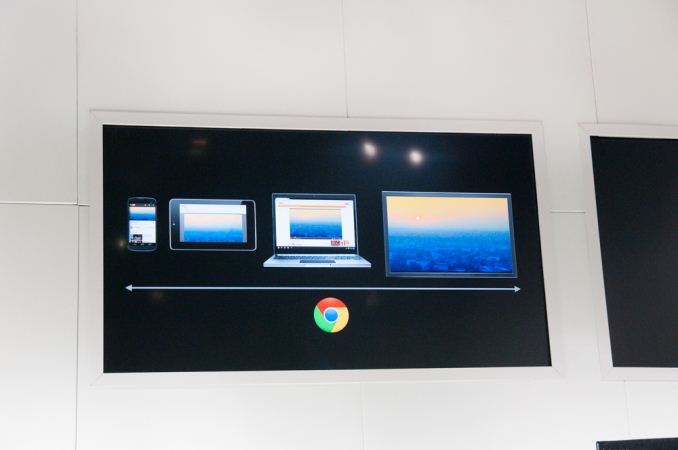 12:48PM EDT - Google wants to make watching videos on the TV easier and better
12:48PM EDT - Most video watching is being done on smartphone, tablet, or notebook, not TV
12:48PM EDT - Huge growth in online video being consumed, 200 billion online videos watched by users globally, 49.4 percent of internet traffic in North America is YouTube and Netflix, 2.7x increase in videos watched on the tablet or smartphone
12:46PM EDT - LTE bands 2,4,5,13,17 for those keeping count
12:45PM EDT - The 4G LTE SKU works with all of those operators in the USA, it's the first I'm aware of to combine AT&T and Verizon LTE on one device, which we saw on the FCC a while ago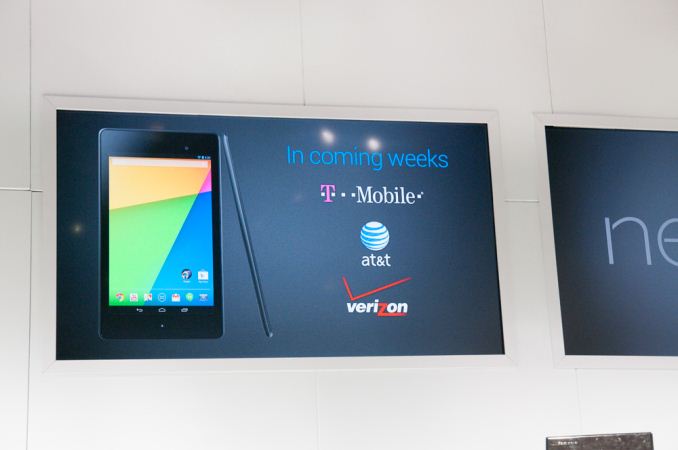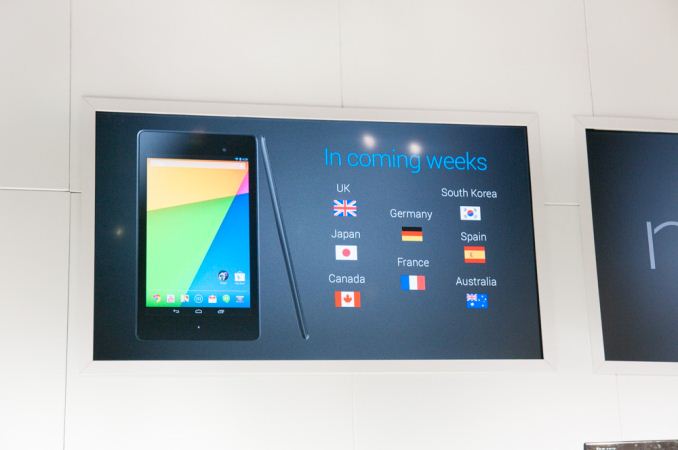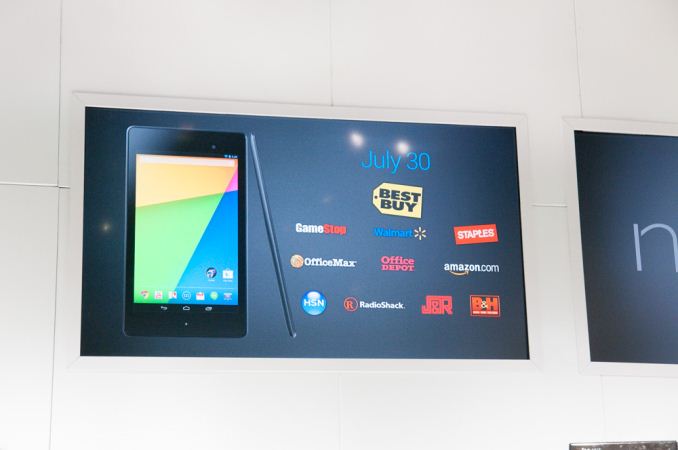 12:45PM EDT - Lots of retailers, 4G LTE version for T-Mobile, AT&T, Verizon in coming weeks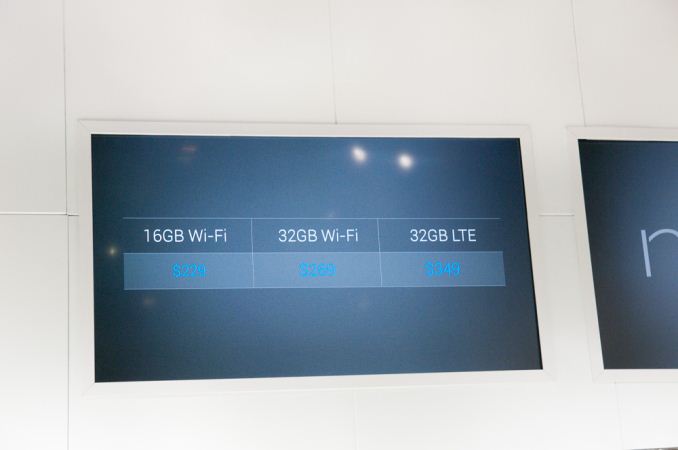 12:44PM EDT - Next Tuesday, July 30th available on Google Play
12:43PM EDT - 16 GB WiFi, 32 GB WiFi, 32 GB 4G LTE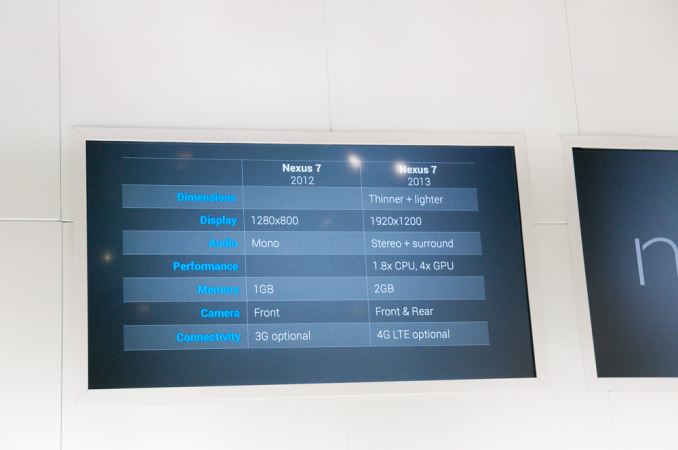 12:43PM EDT - There we go, Nexus 7 spec comparison table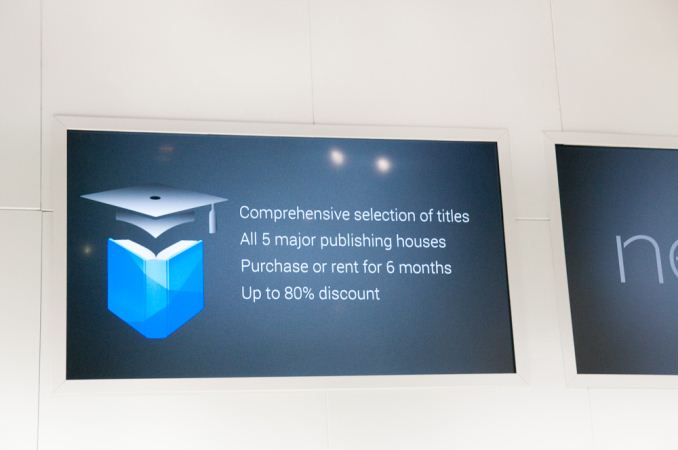 12:42PM EDT - Textbooks available on Google Play in early August
12:42PM EDT - Buy or rent textbooks for 6 months
12:42PM EDT - New Google Play category - textbooks, access through the web or Android and iOS devices
12:41PM EDT - Asphalt 8 available on Google Play August 8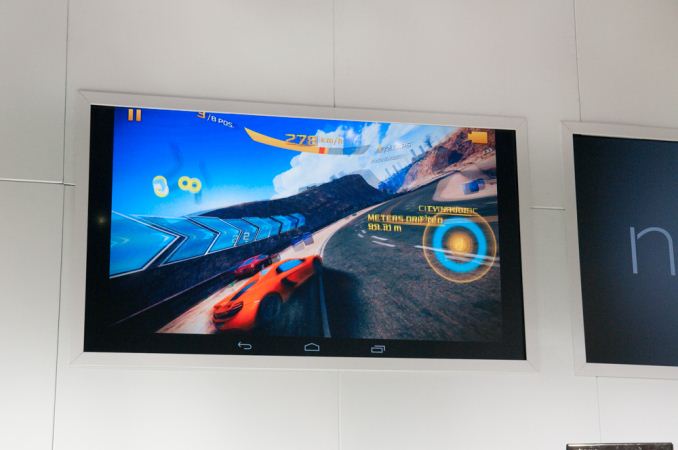 12:40PM EDT - Asphalt 8 uses OpenGL ES 3.0 features
12:40PM EDT - Prince of Persia the shadow and the flame available tomorrow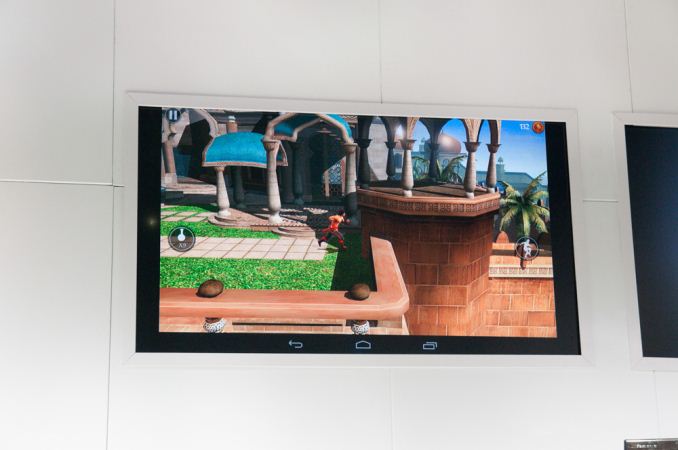 12:39PM EDT - Prince of Persia 2.0 next, good visuals and detail
12:39PM EDT - Riptide GP2 being shown off on the Nexus 7, looks smooth, but I've never been convinced this is a super demanding title to begin with. Available today on Google Play.
12:38PM EDT - You can browse through friends profiles and see what games they're playing, leaderboards, and so on through the Google Play games app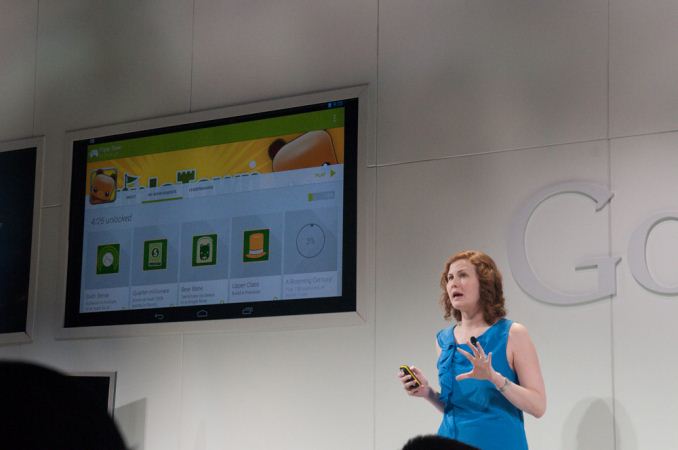 12:37PM EDT - New app, Google Play Games
12:36PM EDT - "100s of games have added Google Play game services support"
12:36PM EDT - 19 out of the 20 top Android game devs are making games for Google Play
12:35PM EDT - Showing off lots of apps which look great on the Nexus 7, interestingly enough all of these are portrait view. Talking about collections that show off tablet apps in Google Play.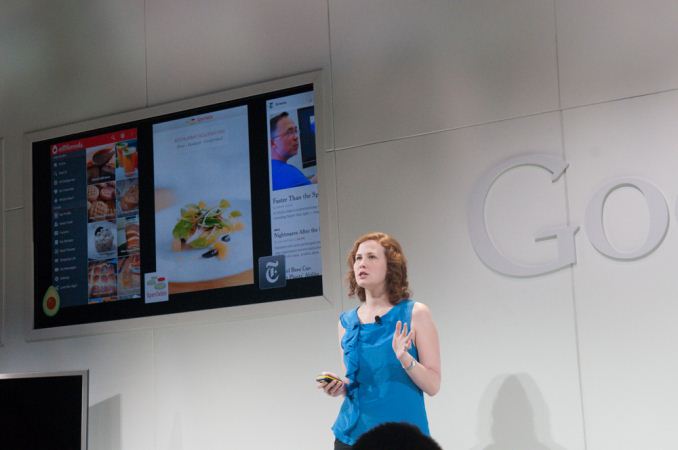 12:35PM EDT - Ellie Powers is up to talk about Google Play and the Android tablet ecosystem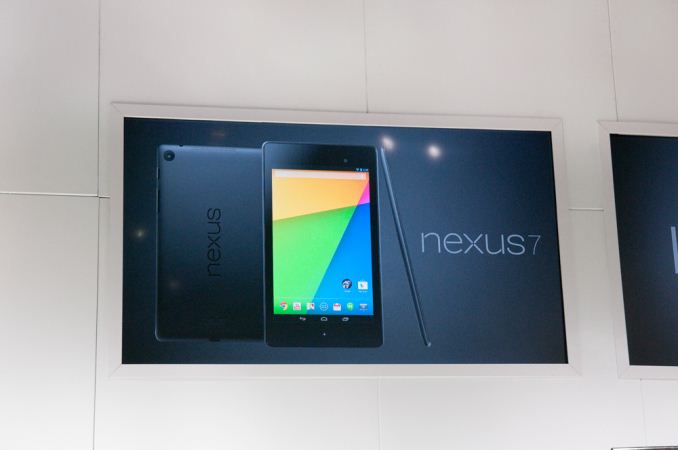 12:34PM EDT - Google hangouts looks pretty cool on the Nexus 7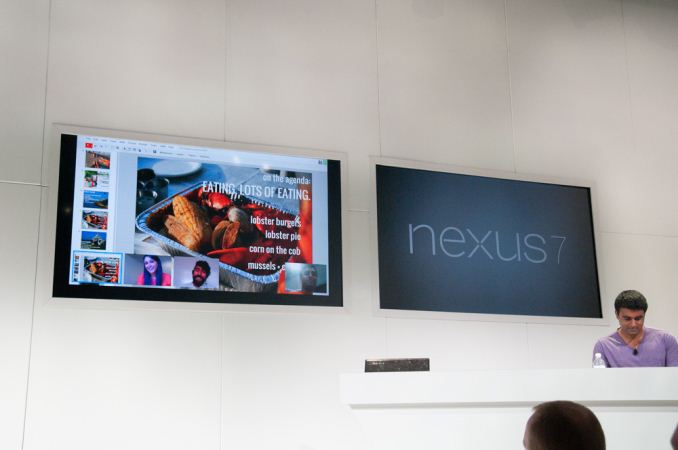 12:33PM EDT - Google Maps on Nexus 7 and all the other apps are being shown off in landscape, no doubt because the 1080p displays are landscape, but I feel like Google really wants to emphasize how landscape is now not a marginalized view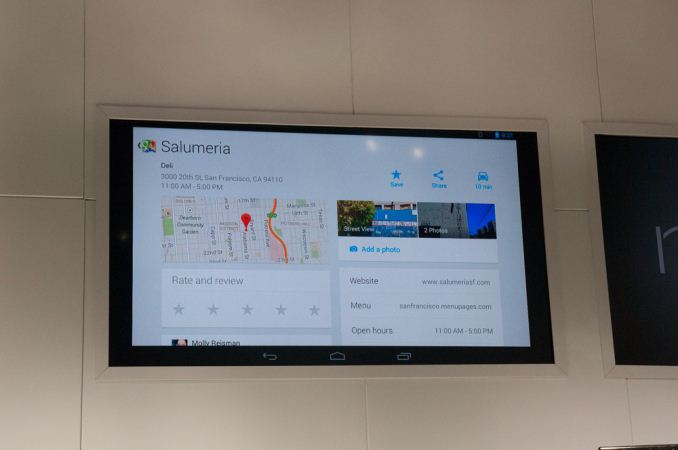 12:32PM EDT - Google Maps up next, updated version being shown off, looks pretty smooth on Nexus 7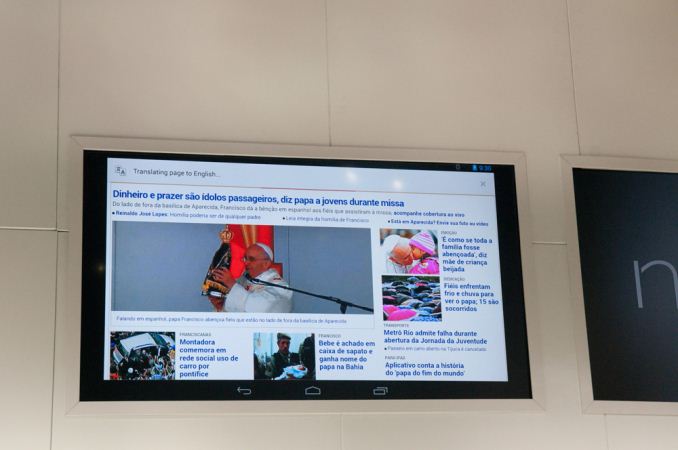 12:31PM EDT - Chrome for Android now supports inline translation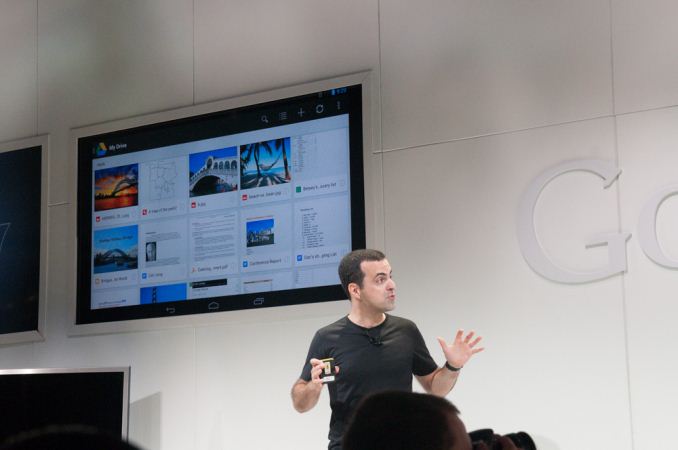 12:30PM EDT - We're looking at some examples of Google apps on the 1080p Nexus 7, showing off Google Drive now
12:30PM EDT - Google Play edition devices getting their updates "very soon"
12:29PM EDT - Original Nexus 7, Nexus 4, Nexus 10, and Galaxy Nexus getting update today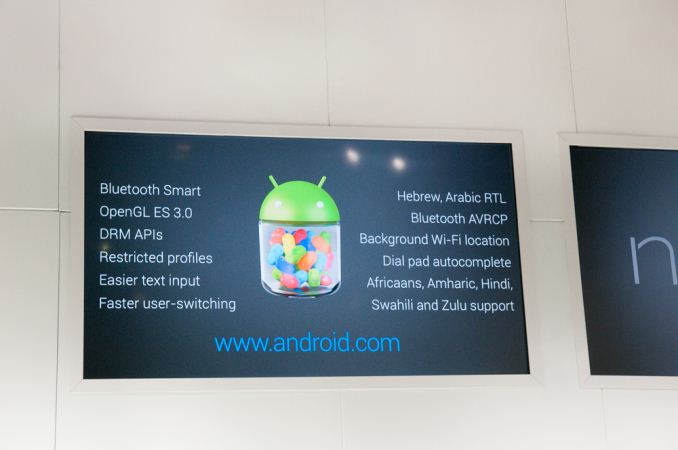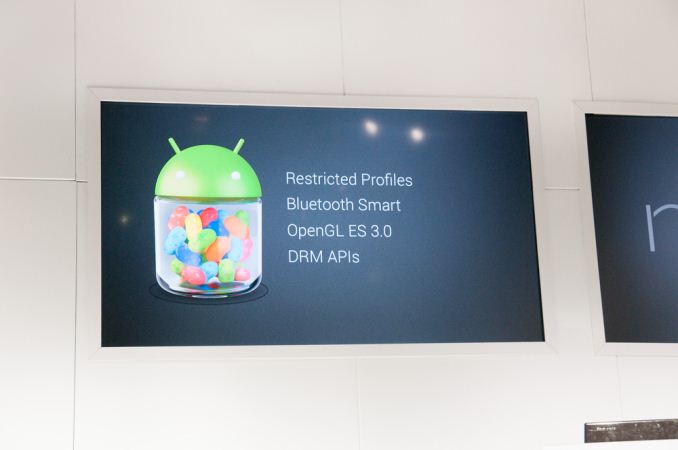 12:29PM EDT - DRM APIs that enable hardware based encryption in Android 4.3, and Netflix is supporting this new DRM with a new version of their app that streams in 1080p
12:28PM EDT - Everything is being rendered natively in 1080p
12:27PM EDT - Hugo is talking about the new texture compression that's now mandatory in ES 3.0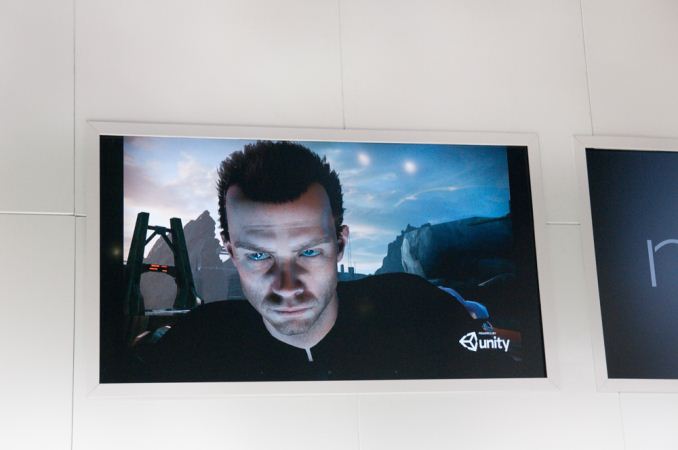 12:26PM EDT - Unity demo called "The Chase" up next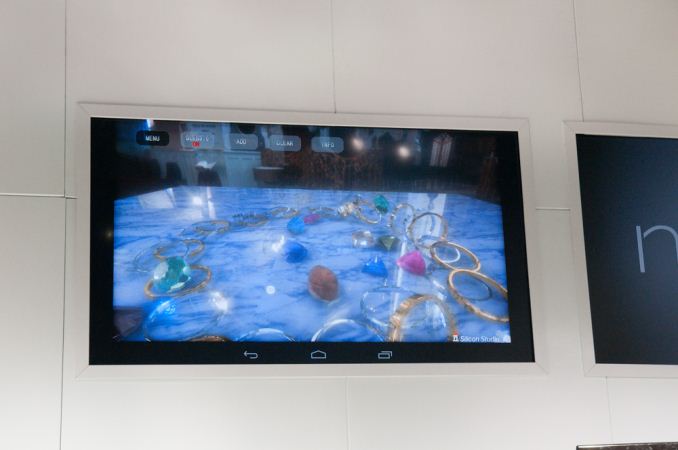 12:26PM EDT - Silicon studios OpenGL ES 3.0 demo being shown off now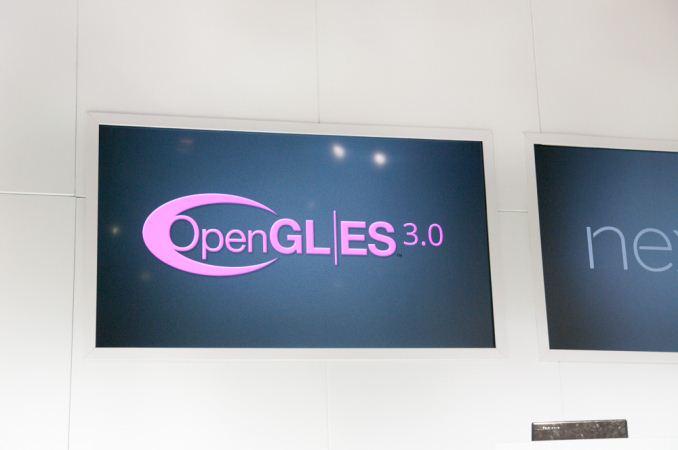 12:25PM EDT - OpenGL ES 3.0 supported now in Android 4.3
12:25PM EDT - Showing off a heart rate monitor using BT LE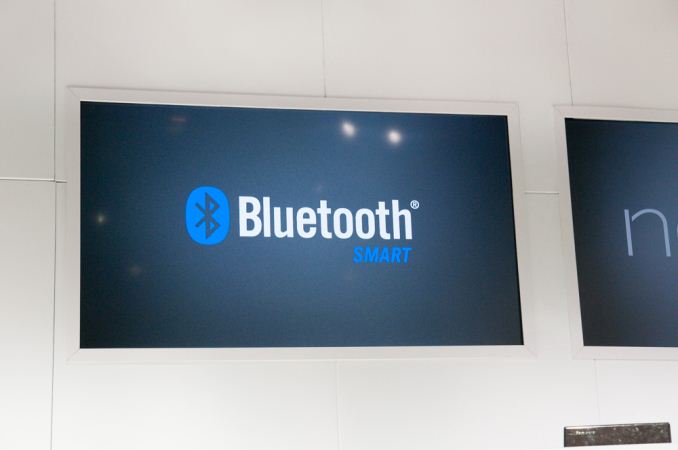 12:24PM EDT - Bluetooth SMART (AKA Bluetooth Low Energy) in Android 4.3, no surprises there
12:23PM EDT - We're looking at restricted profiles now, restricted profiles only get to launch or use a certain whitelist of applications
12:22PM EDT - Restricted access limits access to apps on a per-user level
12:21PM EDT - Multi user with restricted profiles coming in Android 4.3
12:21PM EDT - Android 4.3 formally announced, and Nexus 7 will be the first device shipping with it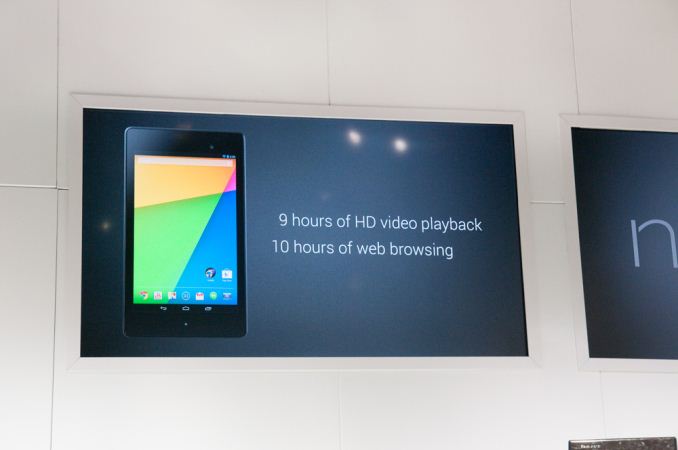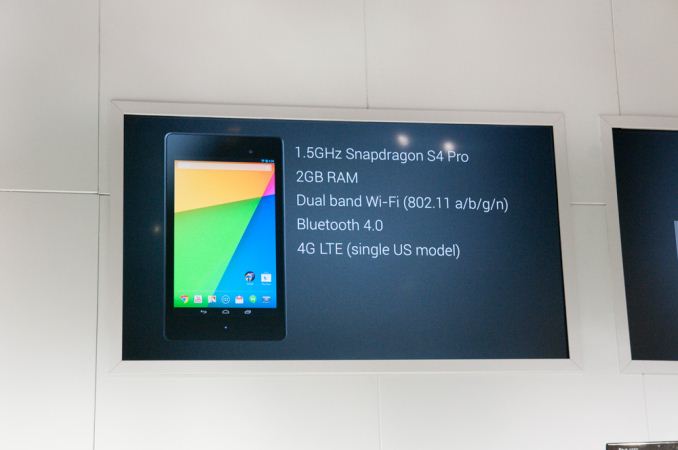 12:20PM EDT - 2 GB RAM, 802.11a/b/g/n, BT 4.0, 4G LTE, HDMI out, wireless charging
12:20PM EDT - 1.2 MP front facing, 5 MP rear facing camera
12:19PM EDT - 1.5 GHz Snapdragon S4 Pro SoC (APQ8064 no doubt)
12:19PM EDT - Upstairs hands on with devices in a demo lounge after
12:18PM EDT - Stereo speakers on the new Nexus 7
12:18PM EDT - Nexus 7 can now show 30% wider range of color (30 percent wider gamut)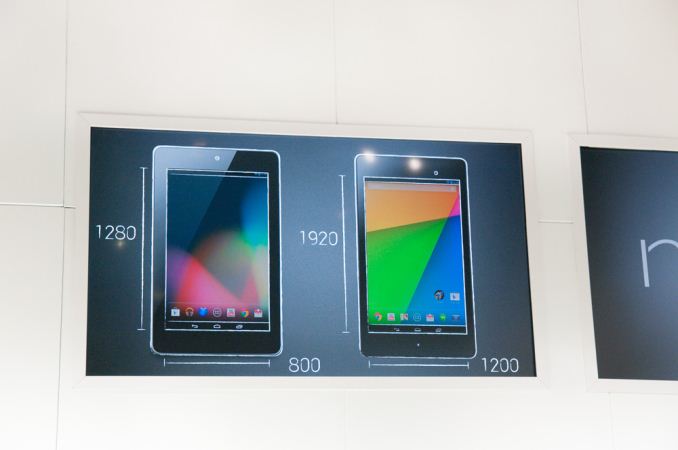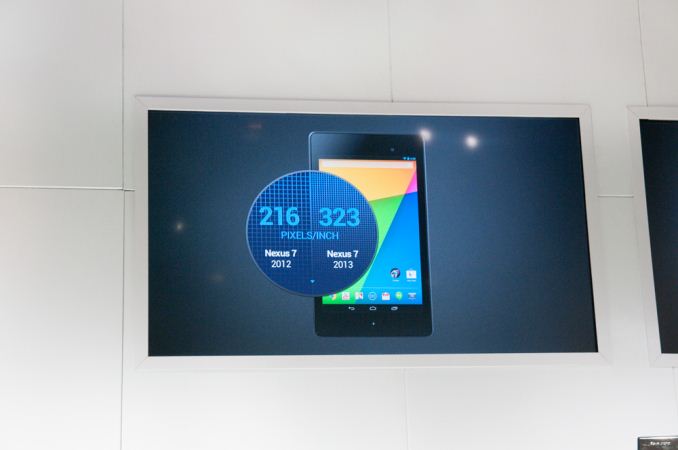 12:17PM EDT - From 216 PPI to 323 PPI
12:17PM EDT - There we go, from 1280x800 to 1920x1200 in the new Nexus 7 with the same size, highest resolution 7-inch tablet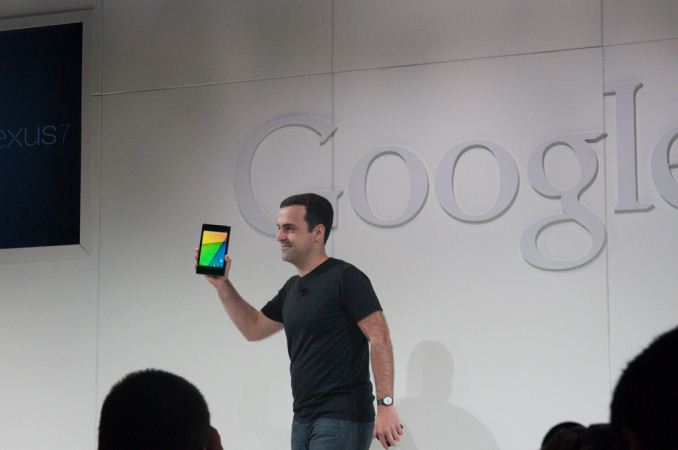 12:16PM EDT - Better in-hand feel than the original Nexus 7, with pure black on black design and soft touch
12:16PM EDT - Thinner and narrower and lighter than the old Nexus 7
12:15PM EDT - New Nexus 7, looks just like leaks showed it would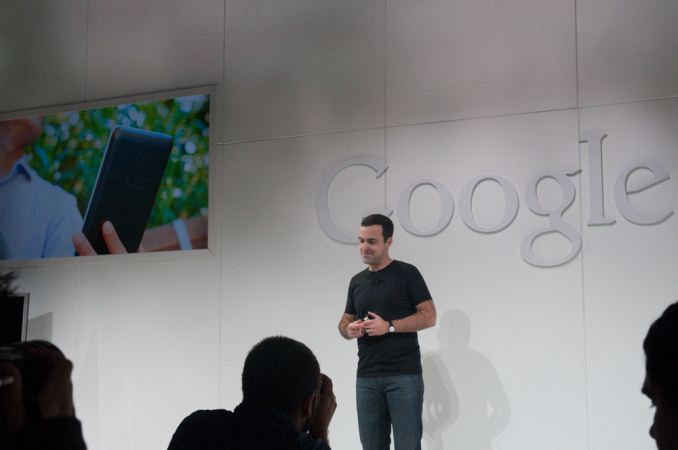 12:15PM EDT - Nexus 7 has been a success for three reasons - it's portable and fits in your hand, it's a powerful device for a great price, third all your information is synced and available everywhere
12:14PM EDT - Hugo is on stage to talk about the new Nexus 7 now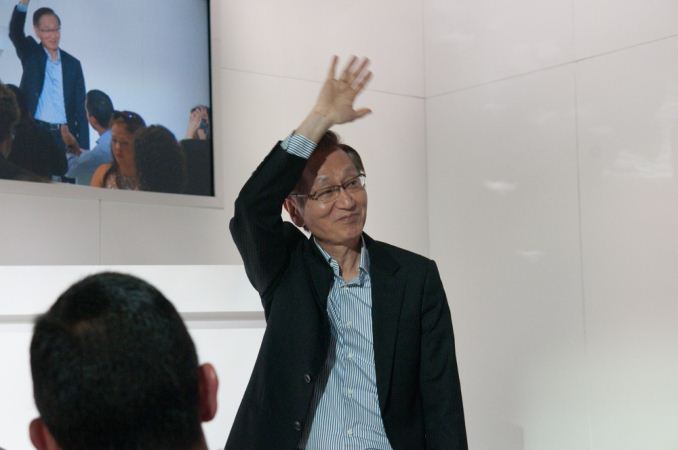 12:14PM EDT - Jonney Shih is here, I expect we'll hear from him later talking about the new Nexus 7 shortly
12:13PM EDT - Nexus 7 really accelerated the tablet adoption and Android tablet activation rate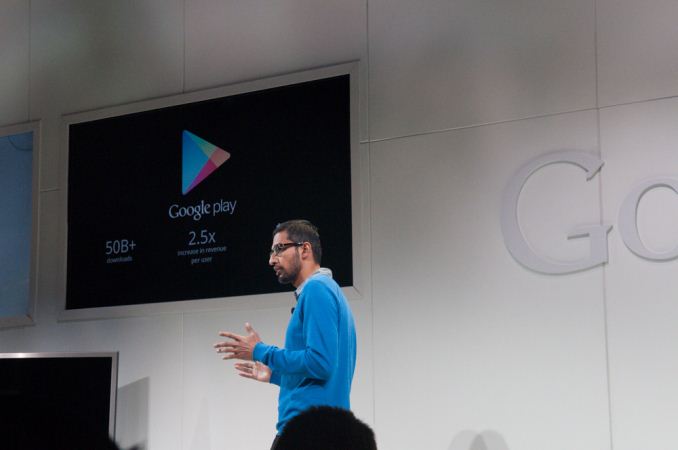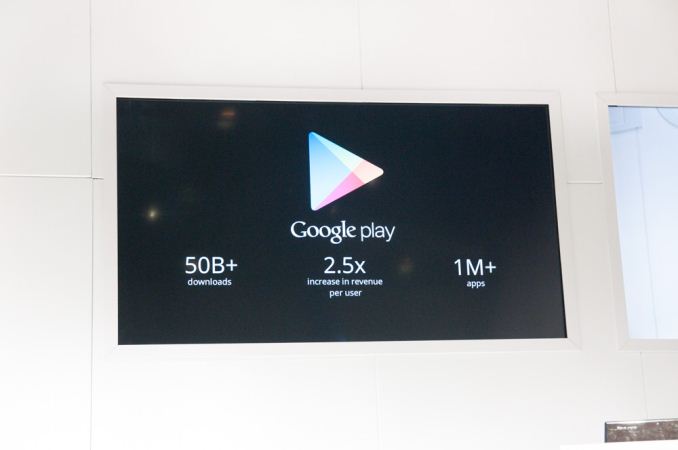 12:12PM EDT - 50 billion downloads on google play, 2.5x in revenue per user, 1 million apps
12:12PM EDT - Err, 1 in 2 tablets will be based on Android, I mean (their prediction)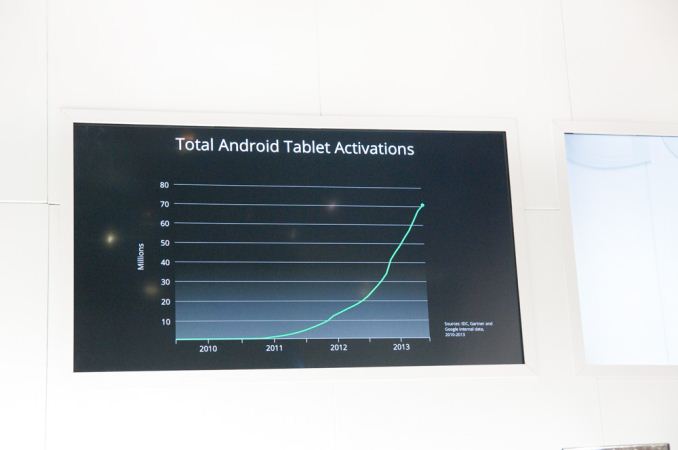 12:11PM EDT - 1 in 2 tablets worldwide is based on Android by end of 2013
12:11PM EDT - At the end of 2012 approaching 10 million Android tablet activations, now at 70 million tablet activations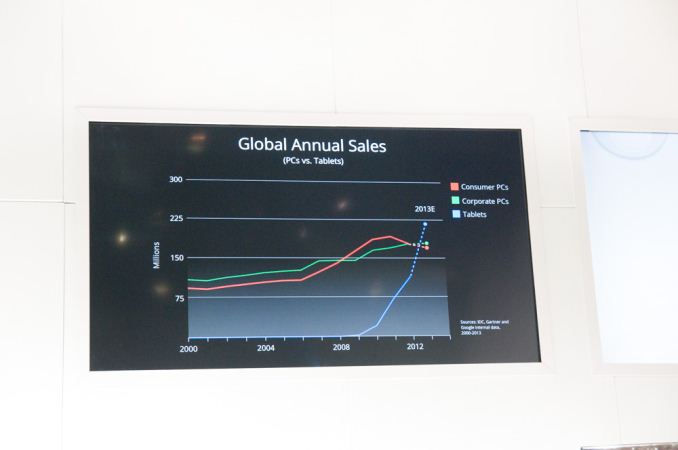 12:11PM EDT - Tablet growth is accelerating dramatically, "by the end of 2013 consumers are going to buy more tablets than PCs"
12:10PM EDT - Two things today - a tablet running Android that addresses growth in tablets, and a device for Chrome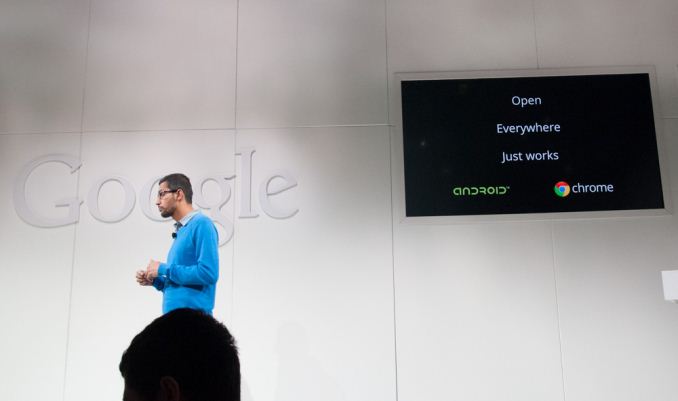 12:10PM EDT - Two computing platforms are part of that vision - Chrome and Android
12:09PM EDT - Sundar is talking about how the goal is to deliver a consistent experience across every screen, since we live in a multi screen era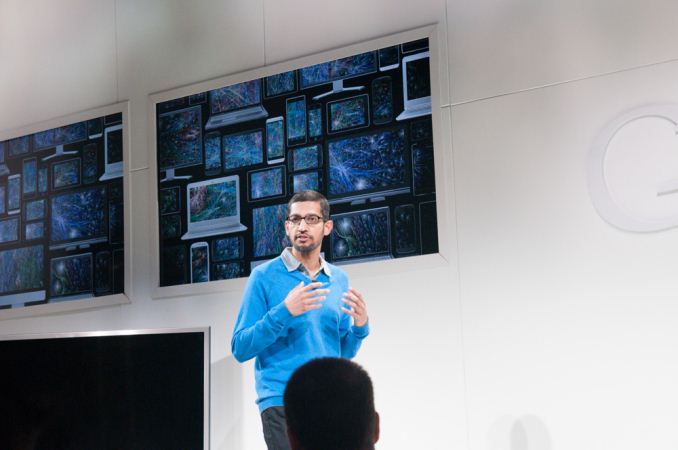 12:08PM EDT - Sundar is out, he's saying he already ate breakfast at 6:30 though
12:07PM EDT - Looks like we're getting started!
12:07PM EDT - Obviously lots of Googlers, I see many from ASUS as well
12:05PM EDT - I'd love to see a glimpse of the next version of Android beyond this management release, there's still a lot about the Android roadmap and new update cadence that hasn't been articulated yet, hopefully we'll get some color on that
12:02PM EDT - Things should be getting underway very shortly here, but we can still make some guesses about what's coming - obviously Android 4.3, a management release for Jelly Bean, and Nexus 7 are coming
12:01PM EDT - It's a pretty small venue and informal setting with tables, interesting
12:00PM EDT - I'm seated and inside the venue, where breakfast was indeed served this morning, so Google did deliver on that initial promise