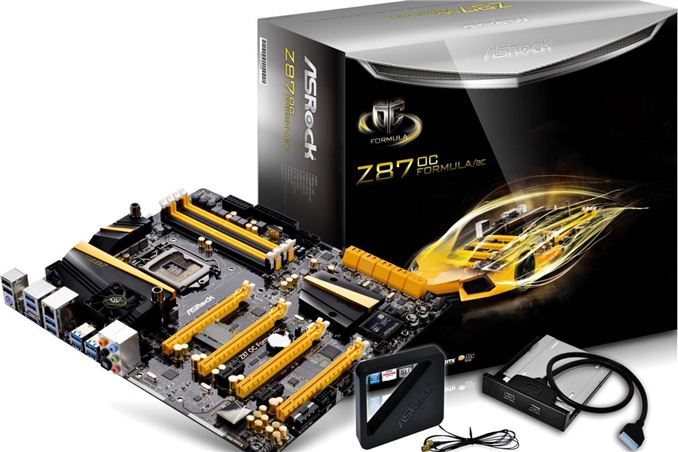 When we tested the ASRock Z77 OC Formula, I described it as 'the best ASRock motherboard I have ever tested'. Today we test the Z87 version to see if it can beat it.
ASRock Z87 OC Formula/AC Overview
The Z77 version of this board hit several important milestones in the motherboard market. At $230/$240 it overclocked well, provided a nice user experience, and came with overclocking features that competitive overclockers liked, all in that cheap price bracket. The Z87 attempts to go a bit further, and at an extra cost over the Z77 model ($328 vs. $230) it has to provide in that price bracket something special. ASRock are known for implementing some off-the-wall ideas, and for Z87 we get:
Conformal Coating: Using a superhydrophobic coating on the motherboard, traces and IC joints are protected from moisture (although the slots where we connect other components are still susceptible).
HDMI-In: By adding a HDMI-In port onto the motherboard, as we saw on the Z87 Extreme6/AC, we can sort of consolidate various elements of our entertainment center (PC, console, tablet, laptop) with one video cable going into the monitor rather than several.
802.11ac: One of ASRock's big pushes is to engage the new high speed protocol. Several of the motherboards in ASRock's range come in both flavors with ~$20-30 price difference, but others such as the Z87E-ITX are in an AC flavor only.
Purity Audio: All motherboards $200 and up now use 'Purity Audio', which is ASRock's marketing term for their ALC1150 solution, using an EM shield for the codec, separating the audio traces into a separate layer on the PCB, and additional headphone amplifiers to support 600 ohm headphones.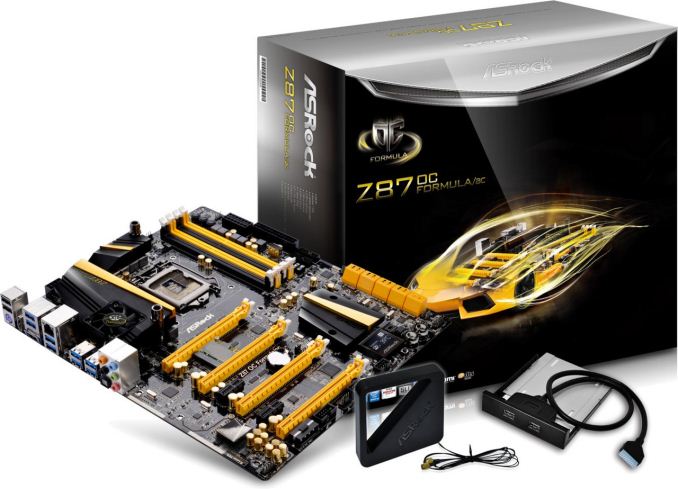 With the high praise bestowed upon the Z77 OC Formula, other manufacturers raced to provide something similar at the $200-$240 price segment. There seems to be a lot of sales in that region, and ASRock have jumped the gun a little with this full sized ATX Z87 OC Formula/AC motherboard now at $328 (non-AC a little less), ASRock also created a micro-ATX version (the Z87M OC Formula) at $200, although it comes with fewer features than the full fat edition.
In terms of actual user experience and performance, ASRock are producing a well performing and easy to use platform from which to base the rest of their products (at least on the absolute performance and BIOS side – the software side still needs some polish beyond XFast). Using our new i7-4770K CPU we were able to push the motherboard to 4.6 GHz at 1.32 volts without any freezing issues in the BIOS (see the BIOS section). At stock the Z87 OC Formula implements MultiCore Turbo, giving good performance in CPU tasks – the XFast USB software provides more superb USB performance data as well.
I rather like the ASRock BIOS – it comes across as very easy to read, and the OC Formula has a long list of NickShih (their in-house overclocker) approved overclock profiles for users to attempt in order to get the best automatic overclock for the system. Using these automatic overclock options as a guide, our CPU sample was able to adapt at similar speeds but lower voltages – the ASRock profiles of course have to cater for all manner of voltage hungry CPUs. In terms of memory overclock, we were able to push our G.Skill DDR3-3000 memory kit above 3150 MHz, stable.
There are a few areas where ASRock need to improve. Firstly the jump in price will come as a bit of a shock – the $230 price point for the Z77 version of the OC Formula was perfect and Gigabyte are in a prime position to take up that market if the Z87M OC Formula (the micro-ATX version) does not capture the audience. At the new $328 price point, features like the superhydrophobic coating might seem like a gimmick, but I can see some extreme overclockers might be glad for this feature and would hope others follow (depending on the extra BOM [bill-of-materials] cost). The software from ASRock also needs a tweak – the new A-Tuning (called Formula Drive on OC Formula boards) is still a work-in-progress, and there are plenty of avenues through which to develop the software into something that can compete against the better software packages.
For most users looking at the Z87 OC Formula/AC, it might be worth just turning the head slightly to the micro-ATX version. At $130 cheaper it seems to offer an almost identical package (with slightly fewer controllers, no 802.11ac and no hydrophobic coating), ideal for single and dual GPU setups. That is, I fear, going to be the Z87 OC Formula's biggest challenge.
Visual Inspection
The Z87 OC Formula keeps the same yellow and black livery as the Z77 model, and in this instance our heatsink covering the power delivery is also large and contains the dual air/water solution as before. Again, the diameter for the integrated liquid cooling is 1/4", and this would seem to suggest that this type of arrangement (on the overclocking boards aimed at 'mainstream enthusiasts') is here to stay and cost effective for the manufacturers.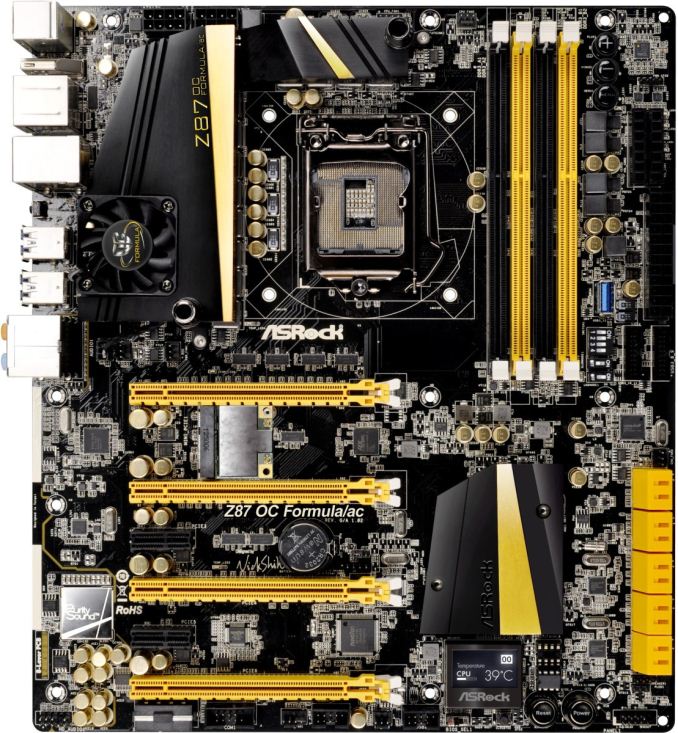 Also again we get a small fan attached to the power delivery heatsink. There are groups of users that dislike this arrangement but furing testing I could not hear it over the sound of the other components of the system (in an open test bed), so as long as nothing gets jammed in there it will not cause any initial issues. The fan can be removed with a small screwdriver if required, it is not compulsory but ASRock feel it will aid cooling if left enabled.
One thing to notice in the socket area is the use of two 12V 8-pin power connectors for the CPU. This is fairly abnormal on most Haswell motherboards, most of which only have a single 8-pin (or 4-pin in small form factors/cost down models). The reason for this is the extreme overclockers who might push the power envelope of the CPU beyond 400-500W. Current records for Haswell under liquid nitrogen on the Z87 OC Formula put the CPU around 7 GHz, or 6xxx MHz stable enough for 3D benchmarks.
For regular users, the Z87 OC Formula uses seven fan headers in total, five within reach of the CPU. There are two CPU fan headers on the top of the motherboard (one 4-pin, one 3-pin), two 3-pin headers to the bottom left of the power delivery heatsink (3-pin), and another above the SATA connectors (also 3-pin). The final two fan headers are at the bottom of the motherboard, one 4-pin and one 3-pin. From the software and BIOS, all of these fan headers (either individually or as groups) should support a multi-stage fan profile.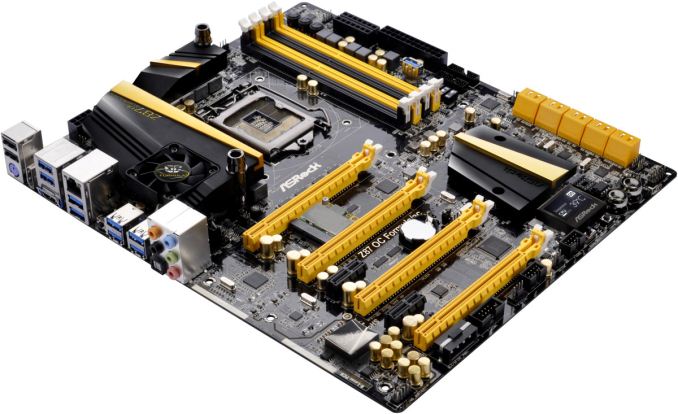 Moving clockwise around the motherboard from the socket area, we have our memory slots in alternating black and yellow. Unfortunately these do not use the single sided latch system that I am ever increasingly fond of – the double sided latch that the OC Formula (and most other motherboards) uses can cause issues with large GPUs in the top memory slot when changing memory. While it may not be of concern to most, for users that might upgrade regularly (or overclockers that take hardware in and out all the time), it might be a suggested upgrade for ASRock in the future to help with single-sided latch memory slots.
In the top right we have our RapidOC buttons which use software and a driver in the OS to help overclock the system on the fly (voltage, CPU multiplier and BCLK are adjustable). Almost all overclocking oriented models now have something similar, either via buttons or an external panel. Below the RapidOC are a series of fourteen voltage check points, with VCore, VCCIO, VRIN, VDIMM and so on all accounted for, along with plenty of ground lines.
Above the voltage check points is a server based feature that is creeping into some manufacturer mainstream models – the onboard USB port. In this case, ASRock have syphoned off a USB 3.0 port on board. This feature is nominally used in the server space when dealing with software that requires a USB dongle certification, and by having the USB connector on the motherboard aids in maintenance when there are not 50 cables or dongles attached to each server. But having it on a consumer level motherboard is a little different – it is very rare (except in prosumer solutions) to be in this situation, so the main use I see is for extreme overclockers trying to save screenshots from their sessions. Having a USB port on board means that the overclocker does not need to reach around to the rear IO, potentially nudging hardware that should be fixed in place, to save the scores. Another potential use for this USB is a USB bootable system without dealing with the rear IO.
Next to the USB port are a series of on/off switches. The first bank of four deals with the full length PCIe slots on the motherboard, which can be disabled via these switches. This is a technique helpful to overclockers such that when the system is fully populated with GPUs and copper pots, and rather than having to fiddle around removing one GPU to then set scores in a different CFX/SLI mode, the slot can be disabled such that the system will not see it and the GPU can be left in until the end of the session. To a certain extent it also helps reviewers testing multi-GPU setups, such that we do not need to remove GPUs until the end. The two switches beneath the PCIe ones are for extreme overclockers – LN2 mode and Slow Mode. The LN2 mode switch is a flag for the BIOS to read which opens up the BIOS to more options and larger voltage ranges. Slow mode is used by overclockers to reduce the CPU speed down to idle – this means that after a good benchmark run the system can be a lot more stable at idle. The number of times there have been scores on screen that have been lost due to BSODs derived from instability are a dime a dozen, so this is why the slow mode switch has found its way onto various overclocking motherboard models.
Going down the motherboard we find two USB 3.0 headers from an ASMedia hub, and by virtue of having two headers ASRock have included a USB bay in with the motherboard package to help fill one of those slots (with the other to be used by the PC case). The ten SATA ports underneath are split such that six are from the Intel Z87 PCH and the other four are from ASMedia ASM1061 controllers.
The chipset heatsink does not cover these controllers, but it does have a new design to cover the PCH. The more interesting element here is the new debug display underneath the chipset, featuring an LCD screen that can be adjusted to show BIOS codes, CPU temperatures and voltages.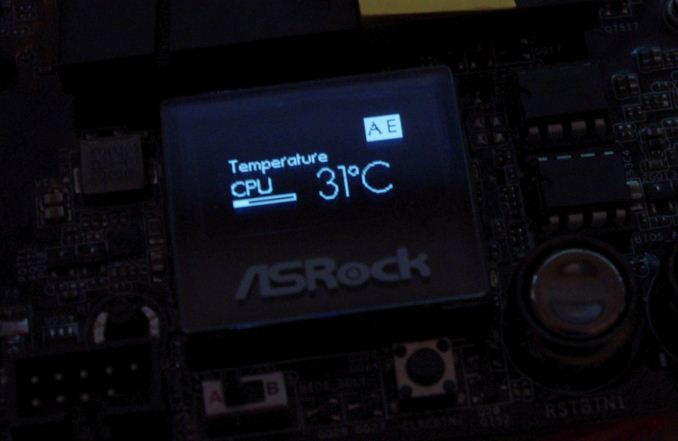 This is clearly something new on a motherboard, where previously we have been used to a two-digit debug display. This new LCD screen shows what each of the BIOS codes mean during POST, and is controllable through the RapidOC buttons. There might not be much use for the regular end user, but it does help the open-bench enthusiast and overclocker help keep track of some of the internal values. The only issue I had is that the firmware is not 100% yet – the reading for the CPU temperature did not rise in line with what the CPU or BIOS was reporting, and thus I think it is pointing to the wrong temperature sensor. The Z87 OC Formula has an additional 12 temperature sensors on board above and beyond the ones integrated into the CPU and the chipset, meaning that there is greater variety for display (as well as software potential, more on that later).
On the bottom of the motherboard is our common group of headers and buttons – from left to right we have front panel audio, 4-pin molex for PCIe power, COM port, 4-pin fan header, USB 2.0 header, a 3-pin fan header, another USB 2.0 header, a BIOS select switch, a Clear_CMOS button, power/reset buttons and front panel header. A couple of things on this – the extra power to the PCIe is still the 4-pin molex on motherboards. I fear the 4-pin molex is a dying connector, being superseded almost entirely by SATA power. Most motherboards use either a SATA power connector or a 6-pin PCIe power connector for extra PCIe power, but ASRock are still holding on to the old molex. It needs an update, from my perspective. Also of note is the BIOS select switch, which aids power users in selecting from two of the removable BIOS chips on board.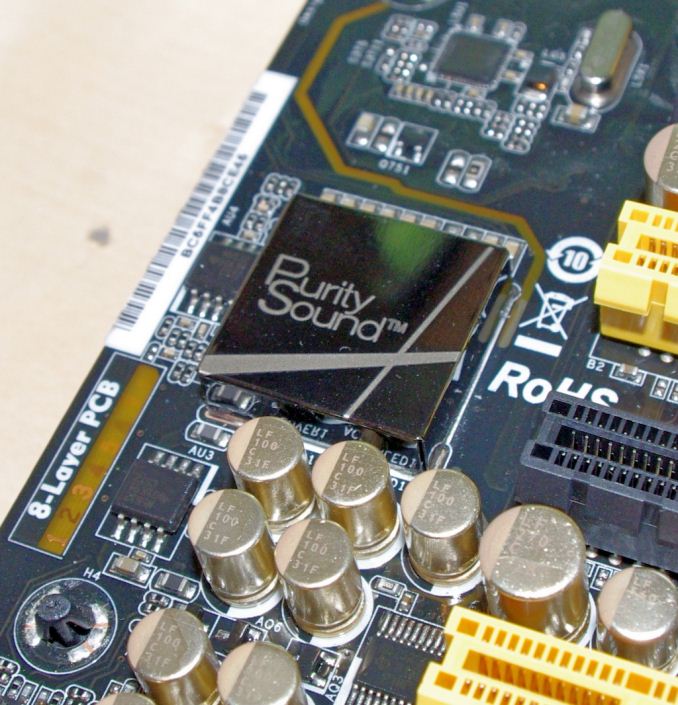 For the on-board audio, ASRock's implementation of audio focuses around Purity Sound. This is ASRock's name for the ALC1150 package, with the codec from Realtek. The ALC1150 affords better dynamic range on two channels than the ALC898, and motherboard manufacturers are now moving into this area with enhanced filter caps and headphone amplifiers. ASRock uses the TI NE5532 headphone amp alongside an EM shield for the codec and a splitting of digital/analog traces of the motherboard to reduce interference.
Another 'feature' of the Z87 OC Formula is that the motherboard is equipped with four full length PCIe lanes, but no PLX8747 chip to increase the lane count. This means that the following GPU allocations are possible:
One GPU: x16 in PCIe 1
Two GPUs: x8/x8 in PCIe 1/3
Three GPUs: x8/x4/x4 in PCIe 1/2/3
Four GPUs: x8/x4/x4 + PCIe 2.0 x4 in PCIe 1/2/3/4
This also means that the motherboard uses the x8/x4/x4 allocation from the CPU and then four lanes from the chipset for the final slot. This restricts the motherboard to two-way SLI only (as long as nothing is put into PCIe 2) due to the x8 limitation that SLI has. The PCIe 2.0 x4 from the chipset, at the bottom of the motherboard, can be used at any time for an AMD GPU or additional PCIe card, but in terms of GPU performance the PCIe 2.0 x4 becomes a bottleneck at higher gaming requirements. For compute users who do not worry about SLI/CFX, the system will recognize video cards in all four ports at their respective lane allocations.
In the middle of PCIe 1 and 2 we have a mini-PCIe slot, which on the AC model of the motherboard contains a Broadcom 802.11ac card. This has two connectors for the antenna supplied in the motherboard box, which causes wires to be routed around various parts of the PCB to get outside the case. This could be a potential issue – I prefer ASUS' solution of having mini-PCIe type arrangements on the rear IO to avoid this issue.

For the rear IO, we get two USB 2.0 ports, a PS/2 keyboard port, HDMI-In, HDMI-Out, eight USB 3.0 ports (four Intel, four Etron), an Intel I217V Ethernet port, a Clear_CMOS button and audio jacks. With the focus of this motherboard on overclocking, it makes sense to restrict video outputs from the CPU, although I could imagine some users might have liked a dual NIC scenario (though one could arguably use the PCIe 2.0 x4 for an add-in card).
One other feature not immediately relevant on the Z87 OC Formula is what they call 'Conformal Coating', which is a fancy name for the superhydrophobic (hydro = water, phobic = fear, super = super) coating designed to repel water. This coating is actually just a fine layer of silicone over most of the motherboard, covering ICs, traces and most exposed chip/resistor connections to the motherboard. It is removable with a sharp object and a little bit of force, but nothing that a normal motherboard would encounter, and I did have some patchy spots on top of ICs which were not covered. Obviously the connectors themselves (PCIe, SATA, IO, USB) did not have this coating, as for silicone it would be too thick to allow electron tunneling between the connector and the port. For electron tunneling to occur, we need sub 3nm thickness of coating, and even then there would be issues with signal quality as tunneling is not a 100% phenomenon. The overall effect of the superhydrophobic coating however is to aid extreme overclockers when they use coolants below the freezing point of the moisture in the air, which causes condensation on the components. By providing this barrier (overclockers often use paper towels with dielectric grease/artists eraser to make their own barrier), it provides an extra level of protection beyond the overclocker's own preparation.
Board Features
ASRock Z87 OC Formula/AC
Price
Link
Size
E-ATX
CPU Interface
LGA-1150
Chipset
Intel Z87
Memory Slots
Four DDR3 DIMM slots supporting up to 32 GB
Up to Dual Channel, 1066-3000 MHz
Video Outputs
HDMI-Out
HDMI-In
Onboard LAN
Intel I217V
Onboard Audio
Purity Sound (ALC1150)
Expansion Slots
3 x PCIe 3.0 x16 (x16, x8/x8, x8/x4/x4)
1 x PCIe 2.0 x4
2 x PCIe 2.0 x1
1 x mini-PCIe
Onboard SATA/RAID
6 x SATA 6 Gbps (PCH), RAID 0, 1, 5, 10
4 x SATA 6 Gbps (ASMedia 1061)
USB 3.0
5 x USB 3.0 (PCH) [4 backpanel, 1 onboard]
4 x USB 3.0 (ASMedia 1041) [2 headers]
4 x USB 3.0 (Etron EJ188H) [4 backpanel]
Flex IO
x+y+z = 18

| | |
| --- | --- |
| SATA 6 Gbps | 6 |
| USB 3.0 | 5 |
| PCIe 2.0 | 8 |

One USB 3.0 shares with a PCIe x1.
If PCIe x1 occupied, USB 3.0 port reduces to USB 2.0
Onboard
10 x SATA 6 Gbps
2 x USB 3.0 Headers
2 x USB 2.0 Headers
1 x USB 3.0 Port
8 x Fan Headers
12 x Temperature Sensors
Power/Reset/Clear_CMOS switches
14 x Voltage Measurement Points
Rapid OC Buttons
1 x PCIe On/OFF
LCD Display (Post Status Checker)
Slow Mode Switch
LN2 Mode Switch
BIOS Selection Switch
Power Connectors
1 x 24-pin ATX Power
2 x 8-pin CPU Power
1 x Molex VGA Power
Fan Headers
2 x CPU (4-pin, 3-pin)
4 x CHA (4-pin, 3 x 4-pin)
1 x PWR (3-pin)
1 x MOS (3-pin)
IO Panel
2 x USB 2.0
1 x PS/2 Keyboard Port
HDMI-In
HDMI-Out
4 x USB 3.0 (Intel)
4 x USB 3.0 (Etron EJ188H)
1 x Intel I217V Gigabit Ethernet
Clear_CMOS Button
Audio Jacks
Warranty Period
3 Years
Product Page
Link
Typically if you were to present me with a $330 motherboard, I would require a PLX chip for multi-GPU scenarios. ASRock have taken that chip away and reinvested the resources into other features, such as the Conformal Coating and the LCD Panel. This means that we have an overall lower performance in 3-way or 4-way AMD GPU, as well as a limitation to 2-way SLI, but a couple of features to help overclockers. Despite these features, overclockers will always strive for the best motherboard for their overclock regardless of price, suggesting that in the future ASRock may release an OC Formula Plus type arrangement with that PLX chip.
For the home user, the combo power cooling, ten SATA 6 Gbps ports, twelve USB 3.0 ports and AC WiFi (Broadcom BCM94352HMB, a 2x2:2 dual band a/b/g/n+ac half-height mini-PCIe card) are positive points to be had. The additional twelve temperature sensors is something we have only seen on the ASUS TUF range, and HDMI-In is an ASRock-only feature for the time being are also points to consider. In terms of extreme overclockers, the OC Formula (without AC) is a nice looking board with positive reports, however at $330, for most home users, competition from the $200 range is hard to ignore. It is not easy to sell a $230 motherboard one generation (Z77 OC Formula) and call a $330 model the same name the next generation (Z87 OC Formula); users are savvy enough to recognize the big price difference and ask 'why' before they see any hardware comparison.