Conclusions
What we're evaluating here are really three different products. The DigitalStorm Virtue gives us an opportunity to test both Haswell and the GTX 780 in the wild, as well as a chance to see what a good Corsair Obsidian 350D build might look like.
First, Haswell. I may be unusually, possibly needlessly harsh on Haswell, but I can't help but be incredibly unimpressed. IPC has gone up generation by generation, so why is overclocking performance essentially flatlining? The Core i7-4770K basically needs to hit the same speeds Ivy could eventually hit to really justify itself. Intel didn't architect Haswell for the high end, they architected it for the low. This is an architecture that's supposed to be in ultrabooks, not in ultra-powerful desktops. We felt shafted with Ivy Bridge, but Haswell was our great white hope, and I think that's why the i7-4770K is as disappointing as it is. Ivy wasn't a big jump in performance, but it wasn't supposed to be, and Haswell was. Hopefully when I build out the custom liquid cooling loop review and take more of the heat out of the equation, the architecture can stretch its legs a bit.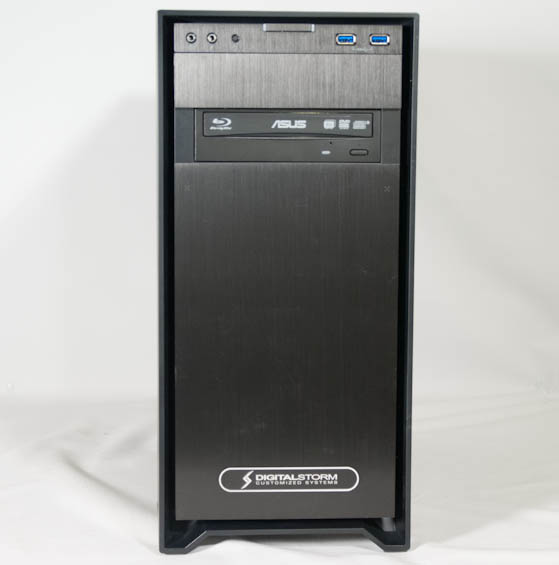 Second, the NVIDIA GeForce GTX 780. Not much to say here that hasn't already been said in Ryan's review. Extremely high end kit has always had a little bit of a problem justifying the expense, but the GTX 780 is a pretty weird beast. Even on its best day the less expensive GTX 770 will still have a hard time catching up to the 780, and with a little bit of TLC you can basically get a GTX Titan or better for two-thirds the price. 33% off is an awesome discount, but it's still 33% off a cool Cleveland.
Finally, the DigitalStorm Virtue itself is actually a pretty solid deal. The build we were sent is their Level 3 build, with only the crazy GeForce Titan model ahead of it. This exact system can be built on NewEgg for only maybe $200-$300 less at absolute most, so the pricing is definitely fair for what you get. But $2,563 is still an awful lot of bank, and I'm more of the opinion that gamers looking for a better deal would benefit from the Level 2 configuration. It means downgrading a few components, but the i5-4670K isn't a serious hit for gamers and going down to 8GB of DDR3-1600 isn't relevant for the majority of users. The cruelest cut is dropping from the monstrous GTX 780 to the GTX 770, but the 770 is still an incredibly capable card, and you're saving around $800 in the process. While I enjoyed my time with the Level 3 model, I'm far more willing to give the more balanced Level 2 model the recommendation. If you're looking for a gaming desktop, the DigitalStorm Virtue is a solid value for the money.