ASRock X79 Champion Visual Inspection
The best way to describe the Champion at first glance is 'red'. The red and black color scheme does stand out a fair bit, although on close inspection we can see how busy the motherboard looks with all the additional components. The main reason for this is that each component is surrounded by a white box to help the automated machines that place components, so they can line everything up correctly. This is process and manufacturer dependent, as some of the manufacturers do not need this – in return, there is extra space on board for additional components.
As a result of the Champion naming, we get an E-ATX sized motherboard, giving an extra inch of space from side to side (easiest way to check is look for the ATX case mounting holes). The extra space allows ASRock to exploit a full array of memory slots for X79, totaling 8 for two per memory channel. The power delivery heatsink is an extended array around the CPU power delivery, the memory sockets and also down to the chipset, all connected via heatpipe in order to maximize the surface area of any additional power draw through overclocking.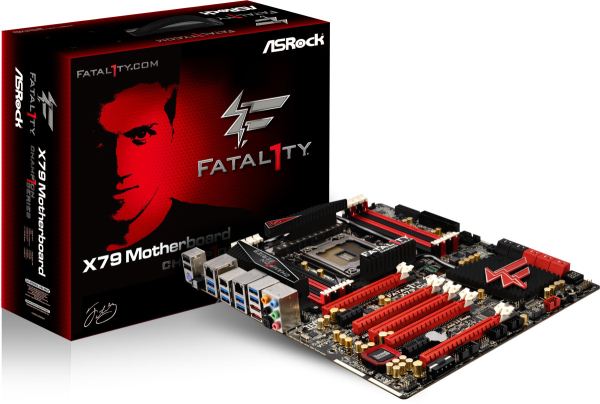 The socket area itself is at the limits of the Intel specifications, but the heatsinks are sufficiently low such that all the major air coolers should fit without issue – only by filling up all the memory slots may there be trouble with extended heatpipe arrangements. The CPU socket area has access to four fan headers within easy reach – one CPU 4-pin above the socket, a CPU 3-pin to the top right on the other side of the memory slots, a 3-pin to the bottom left of the socket between the heatsink and the rear IO, and a 3-pin on the bottom right between the USB 3.0 headers and the memory. The board has two other fan headers, one 4-pin and another 3-pin, on the bottom of the board.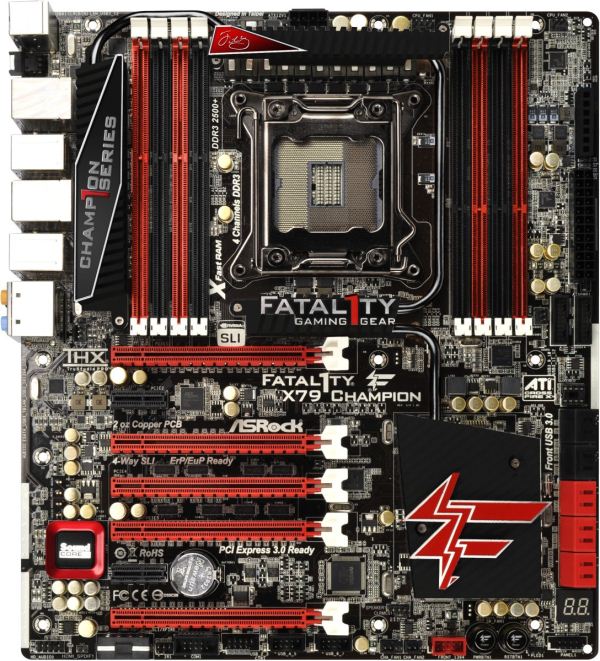 Along the right hand side we get a series of voltage check points, which is an odd inclusion on a gaming motherboard. This feature is useful for extreme overclockers using sub-zero temperatures, but this board is not designed for that crowd; I cannot imagine gamers using them. Below the voltage check points is the 24-pin ATX power connector and a pair of USB 3.0 headers (using a TI controller), one of which should be used with the included USB 3.0 front panel in the box. In terms of SATA connectivity we get four SATA 3.0 Gbps and two SATA 6.0 Gbps from the chipset (all supporting RAID 0, 1, 5, 10) as well as four SATA 6.0 Gbps from a Marvell SE9230 controller (RAID 0, 1, 10).
Despite the voltage check points being in the remit of overclockers only, the two-digit debug, power and reset buttons found on the bottom right of the board are more amenable to a larger percentage of the target audience of the motherboard – they allow for quick debugging or checking that the board actually powers up and on. Along the bottom of the board we get the front panel header, the front panel audio header, a 'front 1394' header (FireWire), two fan headers, three USB 2.0 headers, a COM port and a 4-pin molex connector for additional VGA power.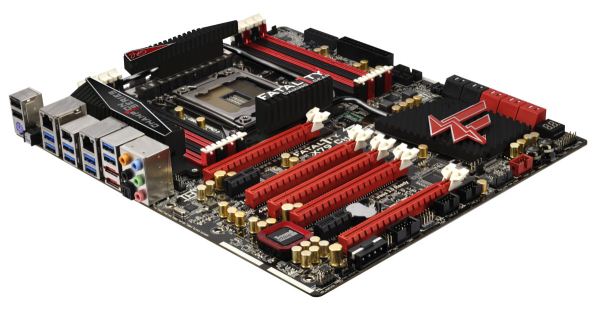 The PCIe layout is designed to accommodate up to four dual slot GPUs, but also three triple-slot GPUs, such that the following layouts are possible (using the full sized PCIe slots from top to bottom):
ASRock X79 Champion PCIe Layout
PCIe 1
PCIe 3
PCIe 4
PCIe 5
PCIe 7
Single GPU
x16
-
-
-
-
Dual GPU
x16
-
-
x16
-
Tri-GPU
x16
x8
-
x16
-
x16
-
x8
-
x8
Quad-GPU
x16
x8
-
x8
x8
We test both cases in our GPU benchmarks, but it should be noted that in our sample, the bottom slot did not go into PCIe 3.0 when tested, even with the additional power connector at the bottom of the board. It remained in PCIe 2.0 mode despite the settings in the BIOS.
To the left of the PCIe slots is our audio codec, and ASRock have smartly selected a non-Realtek option in the form of the Creative Sound Core3D, a quad core sound and voice processor that supports EAX1.0 to EAX5.0. The Core3D also has a Premium Headset Amplifier chip which (as stated in the marketing blurb) provides wider bandwidth, a higher slew rate with lower noise and distortion, and supports up to 250 Ohm headsets, albeit only through the front panel audio header.

ASRock are laying USB 3.0 on fairly thick with the rear IO, bringing the total number of ports on the board to twelve with eight on the rear panel (all powered by TI controllers). Aside from these we get a pair of USB 2.0 ports (one of which is Fatal1ty Speed Port enabled), a PS/2 keyboard port, a ClearCMOS button, two Broadcom BCM57781 NICs, a FireWire/IEEE1394 port, two eSATA 6 Gbps ports (Marvell 9172 controller), an optical SPDIF output and audio jacks (Core3D).
Board Features
ASRock X79 Fatal1ty Champion
Price
Link
Size
E-ATX
CPU Interface
LGA-2011
Chipset
Intel X79
Memory Slots
Eight DDR3 DIMM slots supporting up to 64GB ECC+non-ECC
Up to Quad Channel, 1066-2500 MHz
Onboard LAN
Broadcom BCM57781
Onboard Audio
Creative Sound Core3D
Expansion Slots
5 x PCIe 3.0 x16 slots
- 1/5: x16/16
- 1/3/5: x16/8/16
- 1/4/7: x16/8/8
- 1/3/5/7: x16/8/8/8
2 x PCIe 2.0 x1
Onboard SATA/RAID
2 x SATA 6 Gbps (Chipset), RAID 0, 1, 5, 10
4 x SATA 6 Gbps (Marvell SE9230), RAID 0, 1, 10
4 x SATA 3 Gbps (Chipset), RAID 0, 1, 5, 10
USB
12 x USB 3.0 (Controller) [4 onboard, 8 rear panel]
7 x USB 2.0 (Chipset) [6 onboard, 2 rear panel)
1 x USB 2.0 Fatal1ty Mouse Port (rear panel)
Onboard
6 x SATA 6 Gbps
4 x SATA 3 Gbps
2 x USB 3.0 Headers
3 x USB 2.0 Headers
1 x COM Port Header
1 x HDMI_SPDIF Header
1 x IEEE1394 Header
7 x V-Probe Connectors
6 x Fan Headers
Power/Reset Buttons
Two-Digit Debug LED
Post Status Checker LEDs
Power Connectors
1 x 24-pin ATX Power Connector
1 x 8-pin CPU Power Connector
1 x 4-pin Molex Power Connector
Fan Headers
2 x CPU (4-pin, 3-pin)
3 x CHA (4-pin, 2x3-pin)
1 x PWR (3-pin)
IO Panel
2 x USB 2.0 Ports
1 x Keyboard PS/2 Port
1 x ClearCMOS Button
2 x Broadcom BCM57781 GbE NICs
1 x IEEE1394 Port
8 x USB 3.0 Ports (TI Controllers)
2 x eSATA 6 Gbps (Marvell 9172)
Optical SPDIF Output
Audio Jacks
Warranty Period
3 Years
Product Page
Link
As a gaming board, the use of a Creative audio codec on the Champion is a big plus, and the option for dual NICs will be welcomed by some users. The inclusion of voltage check points is a little odd, as this is not a board aimed at overclockers. Compared to the ASUS Rampage IV Formula, the ASRock offers more memory slots, SATA ports, more USB 3.0 ports, FireWire/IEEE1394, and dual the NICs, but fewer fan headers, a less obvious PCIe layout, a non-Intel network interface or nothing similar to ASUS Premium Service. Note that the Formula is also aimed at extreme overclockers and gamers alike, hence it has things like a Slow Mode, LN2 Switch and ROG Connect that the Champion does not.