Before we dive into the review of Samsung's Galaxy S 3 variants for the USA (henceforth SGS3), it's worth it to quickly talk about how much the SGS3 launch in the US differs from that of SGS2. Since announcing the international SGS3, it has been just under a month and a half, and here we are with finalized software and hardware and devices which will be on retail and carrier shelves within a week. When rumors of the SGS3 started circulating, one of the things that resonated the most for me was that Samsung was going to put a lot of emphasis on the USA launch, and dramatically narrow the gap between announcement and availability. When you look at that roughly month and half, and compare to the SGS2 launch, which started with its announcement at MWC and launch in the USA in September and October, it's really obvious to see how much that ended up being true.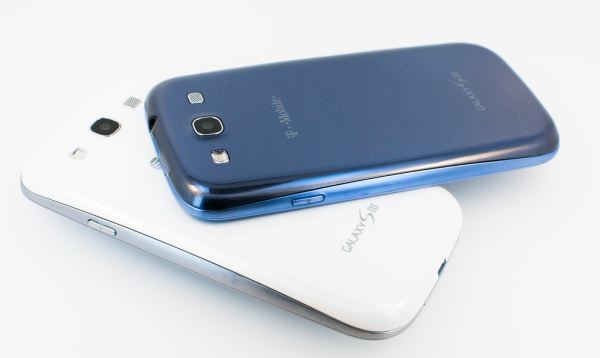 Reviewing the SGS3 USA variants is much easier this time, since all of the devices are basically identical, with the exception of air interfaces. They share the same exact exterior dimensions, display, battery, and accessories. With the exception of those air interfaces, all five variants ship with the same Snapdragon S4 MSM8960 SoC at 1.5 GHz, 2 GB of LPDDR2 RAM, 8 MP rear facing camera, dual band WiFi, Bluetooth 4.0, and a microSD card slot. The only difference is whether you get one with 16 or 32 GB of onboard storage, some software preloads, and the appropriate bands and cellular interfaces for the carrier.
I cannot state enough how huge that is for Samsung, as for the first time we have something other than the iPhone shipping in a nearly identical form on five different carriers. When you look at the evolution of Galaxy S, you can see how much Samsung has built upon this more and more each generation to get to this point. With Galaxy S, there was no consistent branding or naming in the USA - you had variants like the Vibrant, Captivate, Epic 4G, and Fascinate. With SGS2 Samsung nailed down the branding part way (all the variants were "Samsung Galaxy S 2" and then some carrier specific suffix) but ultimately had some differences in hardware platform (one was Exynos 4210, most were APQ8060). With SGS3 Samsung now has nailed down the exterior appearance and battery form factor (which will foster a big accessory ecosystem), the last part of the branding (all of the variants are just Samsung Galaxy S 3), and the hardware platform itself (same display, camera, SoC, etc). It's obvious that Samsung understands the value of having a coherent message and launch spread across the carriers. A couple of weeks ago, I had the opportunity to play with basically all of the SGS3 variants in NYC, and get a first hand appreciation for how consistent things are across the lineup now. Without looking at the branding on the back of the phone (note that it isn't on the front, for once), there literally is no dead giveaway that one SGS3 is a Verizon model, or a T-Mobile model, or an AT&T, or a Sprint model. That alone says quite a lot.
Anyhow, on to the devices themselves. I was sampled the T-Mobile and AT&T SGS3s by Samsung just a few days ago, and have been playing with them, benchmarking, and battery life testing them nonstop. Since seeing the SGS3 at the launch event in London, I have to admit that the design has grown on me considerably.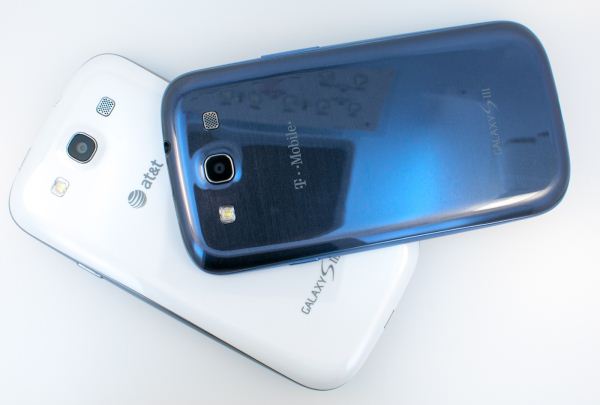 Samsung claims that its SGS3 design is derived from nature, and I guess you can somewhat see a connection between a device with a mostly spherical overall shape and large radii curves, and the spherical form that gravity induces orbital bodies into into being. Either way, it's a clear evolution of the APQ8060 based SGS2 devices that we saw at the end of the SGS2 rollout - phones like the T-Mobile SGS2 or AT&T SGS2 Skyrocket - and thus shouldn't have come as a huge surprise.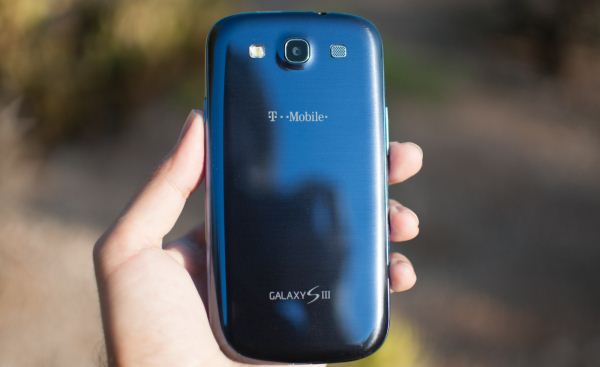 I played with a white model at the Unpacked 2012 event which was the first time I'd seen SGS3, and set my impressions about aesthetics based on that color. Samsung made sure to sample both colors for launch – pebble blue, and white. Oh, and the blue color is indeed the same across all 5 variants. After seeing both, I have to admit I prefer the pebble blue device, since it has a unique metallic appearance in the right light which definitely sets it apart.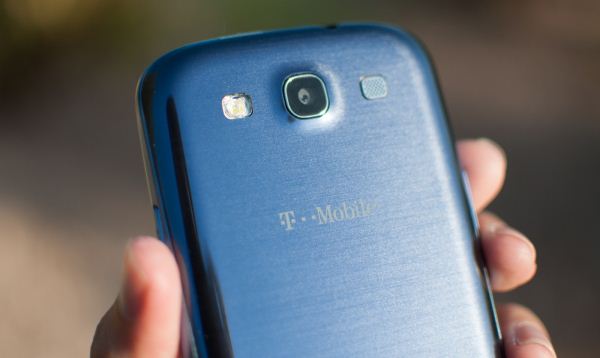 The last differentiation is that AT&T will get a red color that I haven't seen demonstrated yet, though that's at some unknown point in the future this summer. For now, the white or pebble blue choice will be the one most customers will be forced to make. Just like other white devices, my main gripe is that although the color hides surface scratches (sleeks) and fingerprints better, dirt on the surface casts a shadow through the front glass onto the white below, and is easy to spot on the back plastic.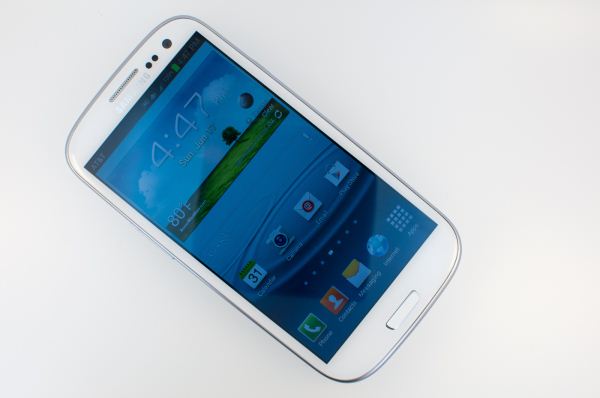 Samsung has largely made the same material choices with the SGS3 as it has other phones in the past, which means the exterior is entirely shiny, glossy plastic. The result is in-palm feel which really is a throwback to the initial Galaxy S or Nexus S. That choice is probably my only real gripe with the device overall, and it's the result of a weight minimization design direction by Samsung's design team more than anything else. The thought process is that customers value lighter weight devices over ones with beefier, metallic material choices. In addition, optimizing for lighter weight translates to less potential energy when dropped from a given height. I think it's totally valid for Samsung to make that case, but I still find myself wishing that the SGS3 had used the textured surface that SGS2 did for the backside, which seemed to yield the best of both worlds. I wish even more that the device had a more unique feel like the bead-blasted polycarbonate or plasma-sputtered metal that other OEMs have gone with.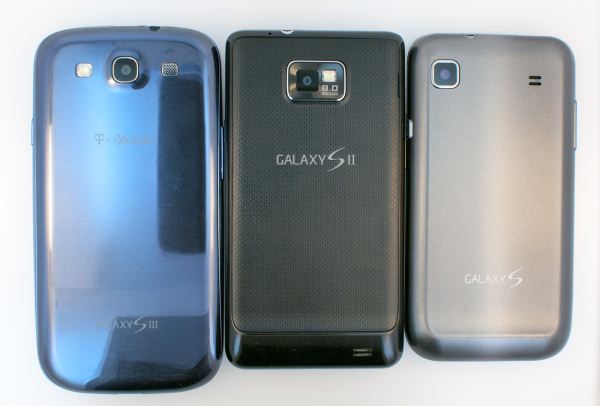 The other thing to talk about is how much bigger the SGS3 is compared to other phones, and the answer is really that it isn't much larger than the Galaxy Nexus. In fact, if you look at the comparison table below, you'll notice it's both 2 mm wider and 1 mm taller than the Galaxy Nexus, but thinner and lighter. That's not bad at all considering display size has gone up from 4.65" to 4.8" diagonal, and I believe people just inspecting display size expected a dramatically larger device than the SGS3 ended up being.
Physical Comparison
Samsung Galaxy Nexus (LTE)
Apple iPhone 4S
Samsung Galaxy S 2
Samsung Galaxy S 3 (USA)
Height
135.5 mm (5.33")
115.2 mm (4.5")
125.3 mm (4.93")
136.6 mm (5.38" )
Width
67.94 mm (2.67)
58.6 mm (2.31")
66.1 mm (2.60")
70.6 mm (2.78")
Depth
9.47 mm (0.37")
9.3 mm ( 0.37")
8.49 mm (0.33")
8.6 mm (0.34")
Weight
150 g (5.3 oz)
140 g (4.9 oz)
115 g (4.06 oz)
133g (4.7 oz)
CPU
1.2 GHz Dual Core Cortex-A9 OMAP 4460
Apple A5 @ ~800MHz Dual Core Cortex A9
1.2 GHz Exynos 4210 Dual Core Cortex A9
1.5 GHz MSM8960 Dual Core Krait
GPU
PowerVR SGX 540
PowerVR SGX 543MP2
ARM Mali-400
Adreno 225
RAM
1 GB LPDDR2
512MB LPDDR2-800
1 GB LPDDR2
2 GB LPDDR2
NAND
32 GB NAND
16GB, 32GB or 64GB integrated
16 GB NAND with up to 32 GB microSD
16/32 GB NAND with up to 64 GB microSDXC
Camera
5 MP with AF/LED Flash, 1080p30 video recording, 1.3 MP front facing
8 MP with LED Flash + Front Facing Camera
8 MP AF/LED flash, 2 MP front facing
8 MP with LED Flash + 1.9 MP front facing
Screen
4.65" 1280x720 HD SAMOLED
3.5" 640 x 960 LED backlit LCD
4.27" 800 x 480 SAMOLED+
4.8" 1280x720 HD SAMOLED
Battery
Removable 6.85 Whr
Internal 5.3 Whr
Removable 6.11 Whr
Removable 7.98 Whr
As an aside, I think far too much time has been spent debating the optimal display size. Clearly there are two factors at play here - a larger display is something immediately appealing to mass market shoppers, but at the same time there is an upper bound to overall device size for pocketability. The factor that often gets left out of most of these smartphone display size discussions that most shoppers aren't my (or the AnandTech readership) demographic, male, 18–34, and obsessed with the latest and greatest tech. There's an increasingly aging populace in the US with degrading eyesight, and for them, larger displays translate to a real value prospect. I find the Galaxy Note to be my personal upper bound for pocketable devices for a few reasons, and since the SGS3 is smaller, I have no issue.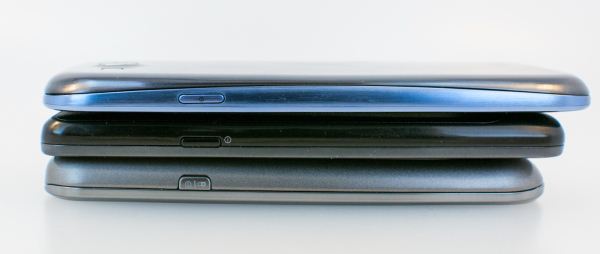 Button placement on the SGS3 is standard fare for a Samsung phone. The standby/lock button is on the top right side of the device, right where your thumb rests if held in the right hand, or index finger for the left hand.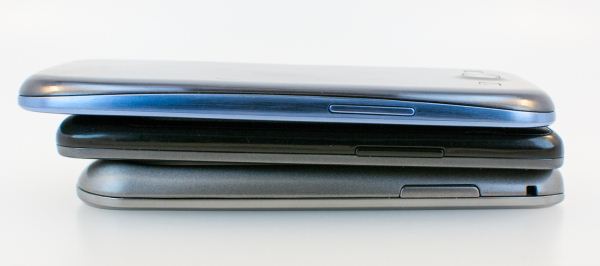 The volume rocker is on the left side the same place on the device, and the headphone jack is up top. MicroUSB gets located at the bottom, just like the SGS2.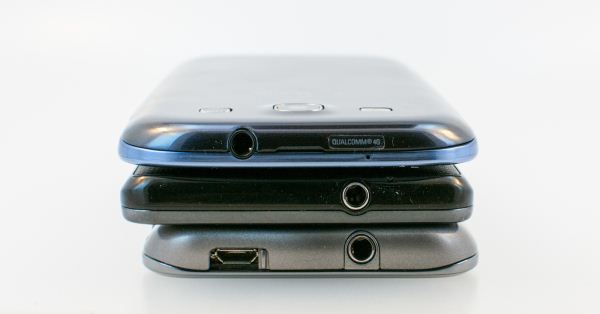 There are two microphones on the SGS3, one up top just right of the thumb groove for the battery cover, one at the bottom just to the right of microUSB. These are used for ambient noise cancelation on calls and stereo audio recording for video just like so many other phones now.
Peeling the battery cover off it's immediately apparent how much space the SGS3 dedicates to battery, which is now a relatively gargantuan 7.98 watt-hours.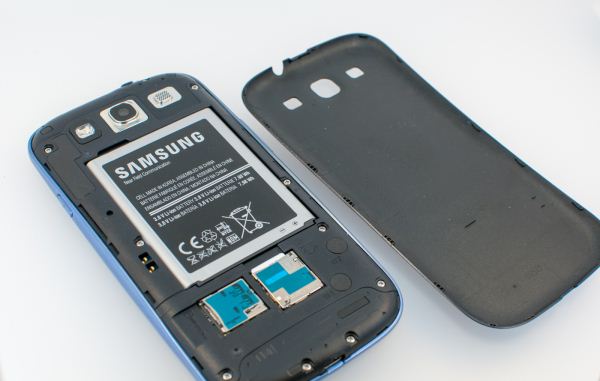 Samsung has also gone to a 3.8V nominal (as opposed to 3.7V) Lithium-ion battery chemistry, joining the ranks of Motorola who was first to adopt this higher voltage. Samsung continues to use the battery surface as the place to locate the NFC coil antenna. Interestingly enough just left of that are two pogo pins ostensibly for using a wireless charger back (which Samsung has shown), so I'm assuming Samsung's hardware will disable NFC while you have that inductive charger attached. Below the battery is the microSIM port, and microSD port which now accommodates up to 64 GB microSDXC cards. At the very top is the speakerphone grille, 8 MP camera, and LED flash.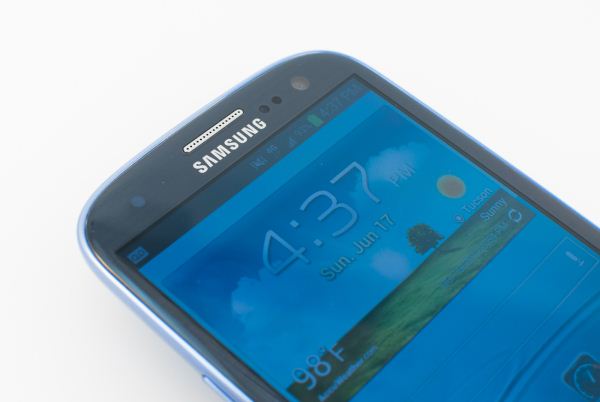 On the front up top are (from left to right) the RGB notification LED, earpiece grille, proximity and ambient light sensor, and 1.9 MP front facing camera. At bottom is the other interesting design consolidation for SGS3 - all five USA variants include the three button scheme that was previously basically only used in international phones. At left is menu, middle is home, and right is back. This is different from the three button scheme that HTC has adopted (back, home, and task switcher) and means that Samsung doesn't need to use an on-screen menu button for applications which haven't fully depreciated its use. These buttons disappear completely when they're not backlit, which is awesome but can be initially confusing for users getting used to the three button scheme. Personally, I appreciate how they completely disappear on both the white and pebble blue variants.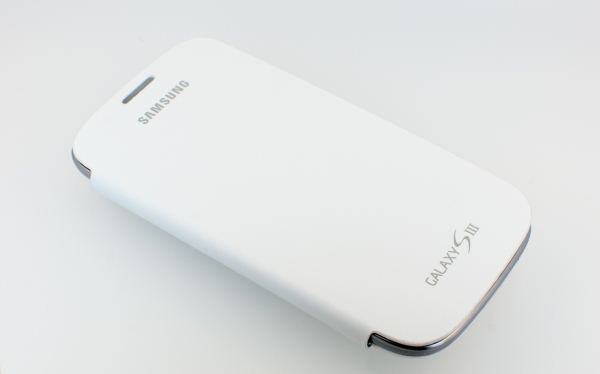 Like Samsung did with the Galaxy Note, they're also making a battery cover with an attached folding front cover. The inside material is soft felt, the outside is a lightly ribbed pleather. I liked the cover when I saw it the Galaxy Note, and like it on the SGS3 a whole lot. I hate screen protectors, but at the same time protecting the display against dirt (or other phones…) scratching it by using something makes sense when it's in your pocket.
That pretty much wraps up my thoughts on the aesthetics of the SGS3, and the USA variants completely mimic the international version. It's a design which has grown on me in the month and a half since I saw it officially unveiled and will no doubt be wildly successful in spite of not mapping 1:1 to the enthusiast wish list.