Two weeks ago NVIDIA formally launched the retail GeForce GT 640, catching up to their OEM and laptop offerings with their first GK107 based video card for the retail desktop market. GT 640 is designed to be NVIDIA's entry-level Kepler video card, joining several Fermi rebadges as the members of the GT 6xx series. With the enthusiasm behind Intel's Ivy Bridge in the laptop market and the boost in sales it has provided for NVIDIA's mobile GPUs, NVIDIA is hoping to accomplish the same thing in the desktop market with GT 640.
Today we'll finally be taking a look at the GT 640 in action. We're expecting NVIDIA will launch a GDDR5 variant at some point, but, for the first round of cards, GT 640 is exclusively DDR3. This has important performance repercussions. Meanwhile, as is common with entry-level video cards, there is no reference design intended for retail sale and NVIDIA isn't sampling any such card. However, NVIDIA's partners are stepping up to sample cards to the press. Our sample comes from Zotac, who sent over their single slot based Zotac GeForce GT 640.
| | | | | |
| --- | --- | --- | --- | --- |
| | GTS 450 | GT 640 DDR3 | GT 630 GDDR5 | GT 630 DDR3 |
| Previous Model Number | N/A | New | GT 440 GDDR5 | GT 440 DDR3 |
| Stream Processors | 192 | 384 | 96 | 96 |
| Texture Units | 32 | 32 | 16 | 16 |
| ROPs | 16 | 16 | 4 | 4 |
| Core Clock | 783MHz | 900Mhz | 810MHz | 810MHz |
| Shader Clock | 1566MHz | N/A | 1620MHz | 1620MHz |
| Memory Clock | 3.6GHz GDDR5 | 1.782GHz DDR3 | 3.2GHz GDDR5 | 1.8GHz DDR3 |
| Memory Bus Width | 128-bit | 128-bit | 128-bit | 128-bit |
| Frame Buffer | 1GB | 2GB | 1GB | 1GB |
| GPU | GF106 | GK107 | GF108 | GF108 |
| TDP | 106W | 65W | 65W | 65W |
| Transistor Count | 1.17B | 1.3B | 585M | 585M |
| Manufacturing Process | TSMC 40nm | TSMC 28nm | TSMC 40nm | TSMC 40nm |
| Launch Price | $129 | $99/$109 | N/A | N/A |
Diving right into the GT 640's specifications, this is the same GK107 GPU as the 640M and other laptop/OEM GK107 products, so we're looking at the same basic features and specifications. GT 640 ships with all of GK107's functional units enabled, which means 384 CUDA cores organized into 2 SMXes sharing a single GPC. Further attached to that lone GPC is a pair of ROP blocks and memory controllers, giving the GT 640 16 ROPs, 256KB of L2 cache, and a 128-bit memory bus. All of this is augmented by the common features of the Kepler family, including the NVENC hardware H.264 encoder, VP5 video decoder, FastHDMI support, and PCIe 3.0 connectivity.
Thanks to the fact that this is a retail desktop product the GT 640 will ship at a fairly high clockspeed of 900MHz, which puts its clockspeed ahead of its OEM DDR3 counterpart but behind the GDDR5 version. Like the laptop and OEM versions boost clock is not present, so performance is rather straightforward here. Similarly, for those of you looking to make Fermi comparisons, GT 640 and other Kepler based video cards do away with the separate shader clock in favor of additional CUDA cores, so GT 640 has a much lower shader clock and far more CUDA cores than its predecessors.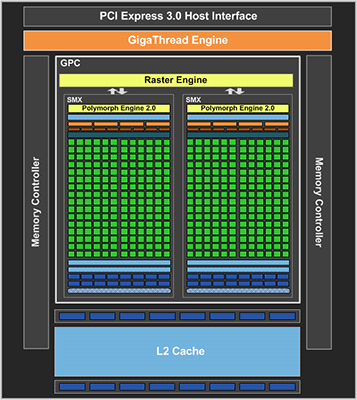 Unfortunately things don't look nearly as good on the memory front. NVIDIA is launching with DDR3 here, which means that even with the 128-bit memory bus this card is extremely memory bandwidth starved. At just shy of 1.8GHz it only has 28.5GB/sec of memory bandwidth. DDR3 versus GDDR5 has been a recurring issue in this market segment, and as both GPU performance and GDDR5 performance have increased over time the gap between DDR3 and GDDR5 card variants has continued to grow. By the time we're up to this many ROPs and shaders the memory bandwidth requirements are simply enormous. In traditional fashion these DDR3 cards are outfitted with more memory overall – the DDR3 GT 640 ships with 2GB – so it has a memory pool every bit as large as the GTX 680's but lacks the memory bandwidth to make effective use of it. So expect the obligatory 1GB GDDR5 version to be much faster here.
As for physical specifications, the official TDP on the GT 640 is 65W, putting this card distinctly into the PCIe slot powered category. Idle power consumption on the other hand is spec'd at 15W, which at least on paper is actually a bit worse than GT 440 and competing 28nm cards. Meanwhile the die size on GK107 is 118mm2, virtually identical to the 116mm2 die size of GF108. Product naming aside, due to the similar TDP and GPU die sizes the GT 640 is clearly going to be the direct successor to the GT 440 from a hardware perspective.
All things taken into account, GT 640 (or rather GK107) is a rather powerful video card given the entry-level market segment it will be occupying. GT 440 (GF108) only had 4 ROPs so NVIDIA is no less than quadrupling their theoretical pixel throughput here. At the same time the CUDA core count is greatly expanding thanks to the smaller manufacturing process and Kepler architectural changes, and after compensating for those architectural changes NVIDIA has effectively doubled their shading and texturing performance. A healthy boost in the number of functional units is of course typical with any new manufacturing process, but because NVIDIA pared down Fermi so much for GF108 the additional functional units on GK107 should significantly improve performance.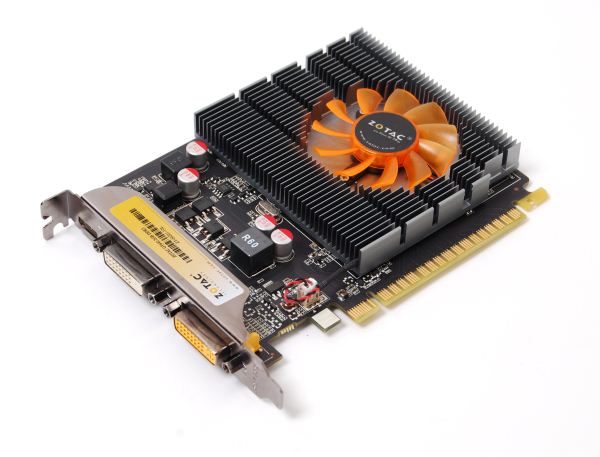 NVIDIA's official guidance on performance is that GT 640 should come in just behind GTS 450, which makes sense given the similar theoretical shader and ROP performance of the two cards. Ultimately we wouldn't be surprised if a GK107 card surpassed GTS 450 thanks to the former's higher clockspeeds, but that will have to wait for a GDDR5 GT 640 or something similar. As it stands the DDR3 performance handicap will keep GT 640 from catching up to the GTS 450, even with the clockspeed advantage. Consequently while NVIDIA is pitching GT 640 as a solid performer at 1680x1050 it can really only achieve this at lower quality settings. So for most of our readers GT 640's real strength is going to be HTPC usage thanks to its combination of video features (VP5/NVENC), ample shader performance for post-processing, and its sub-75W TDP.
Wrapping things up, let's quickly talk about pricing and availability. NVIDIA's goal for the GT 640 DDR3 was for it to be a $99 card, however with their partners free to design their own cards and set their own prices, they have for the most part not gone along with this. Currently only a single GT 640 is available at Newegg for $99, with everything else (including the Zotac card we're reviewing today) going for $109. The better news here is that unlike the GTX 670/680 availability shouldn't be an issue here as GK107 is far easier for NVIDIA to produce in volume even with TSMC's capacity constraints. Cards have readily been available for over 2 weeks now and that's not expected to change.
Finally, because of its de facto price of $109 the GT 640 DDR3 is in direct competition with AMD's equally priced Radeon HD 7750, along with last-generation cards such as the GTS 450, GTS 550 Ti, and Radeon HD 5750. Unfortunately for the GT 640 it's the only card packing DDR3 at this price, so it should come as no great surprise that its performance is significantly lagging its competition. As we alluded to earlier, any significant success for GT 640 is going to have to rely on its role as a sub-75W card, where it's one of the more powerful cards in that segment.