Last year at Computex, we had the opportunity to have a group interview with David Chien, VP of ECS' Channel Business Unit. This year, ECS have also wheeled out their VP for some more Q&A. This year's focus is on ECS' Golden Brand, of which we have one of their motherboards in for review. Unfortunately the meeting took place in the middle of the Computex Hall which was difficult to get exact word-for-word responses for each question, however I will summarize the key points from ECS.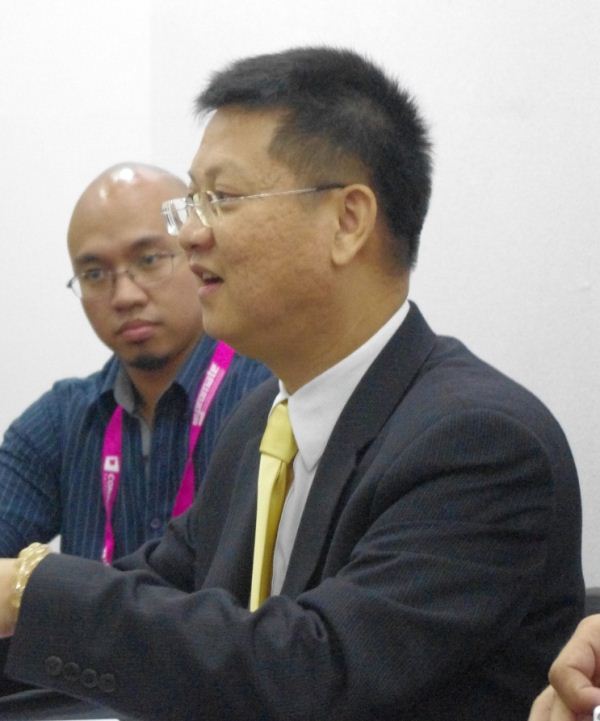 Q: What key innovations is ECS promoting at Computex 2012?
A: Here at Computex 2012, we are the first company to design and launch a Z77 Golden Board, and also coupled with this is our ECS Golden NVIDIA GTX 680. Each year ECS brings new products and new technologies for end users to enjoy. ECS has several major product lines – motherboards, ODM devices, and AIOs.
ECS as a brand attempt to focus on unique products and testing. This is why this year we are announcing our new Nonstop testing system – motherboards with this certification are tested beyond the standard to ensure stability in obscure climates. Our motherboard focus is in several areas – gaming (as the gaming market is still increasing), motherboards to ODMs, and motherboards for AIOs, as the ODM AIO market has been booming over the past two years.
At ECS rather than highlight overclocking, we highlight stability, especially with our NonStop testing regimen. This consists of a 50 degree Celsius environment whereby the motherboard is tested under load for 72 hours. We also include our Super Alloy Choke technology, with increased efficiency and a 20-25% increased temperature range. Also of note is our Qooltech technology (a temperature responsive color pad on the chipset heatsink) and EZ Charger, which allows users to charge USB devices when the system is switched off.
As part of our Golden Series brand, we should note that the CPU socket is coated in actual gold, rather than gold colored. Our Golden Series will be focused on our high end products, but we offer a full range of SKUs for Ivy Bridge.
In terms of our AIOs, we offer ODMs and users an easy system to upgrade with our screwless design. This also offers AIOs to customers who require a secure system – such that the hard drive could be removed from our AIOs easier than our competitors.
ECS is also designing an ultrabook as an ODM design. We currently have interest in Turkey and Russia for this device. ECS is also moving into wireless routers and devices of that nature to encourage integration.
Q: With the gold plated socket, how will that withstand power user abuse?
A: In our experience, very few users will change CPUs within our machines – as such in motherboards we expect the pins are more likely to end up damaged than the socket cover.
Q: In Indonesia, our local ECS distributors give a 5 year warranty on certain products. Why is ECS so confident to give a 5 year warranty?
A: Today we find that most of the components on a motherboard are very durable. Given that users are likely to upgrade every few years, we feel that this warranty is applicable in those regions.
Q: How are sales going compared to predictions to last year?
A: We see that the global instability in the market month to month, and the nature of the market is very aggressive. However, 2-3% growth is expected. Last year we sold 7 million units, and this year we are aiming for 8 million – a better than market growth rate. To achieve this, we are expanding into new markets and products – for example in IPC we have users who want to power 20 monitors, so we design products to meet their requirements.
Q: ECS sell a lot of systems to resellers and OEMs. In the future would you enter the market with your ODM products as ECS?
A: Anything is possible! ECS is still a component company. 70% of our motherboards are still to OEMs. Big brands are still selling our components in their pre-built systems. It is possible in the future that we may sell to consumers under a different brand name.
Q: Z77 as a chipset has a lot of high end motherboards, and most of your competitors try to advertise themselves as a good overclocking brand. Will ECS support overclockers in the future?
A: 3 or 4 years was good for overclocking, but today most people enjoy the regular speeds of the high end products already. Motherboards today are good enough. Gamers and Power Users enjoy fast reactions and responses provided by current products anyway. The focus for gamers is the environment in which they play, which today is pretty good. ECS does not want to join the overclocking trend at this time - we want to highlight our design as a focus of stability, rather than perhaps unstable overclocking scenarios.
Q: What is next? You have a Golden Board, are we going to see Silver and Bronze, or Platinum?
A: Nonstop testing, second generation.
We would like to thank David for his time in answering the media questions.