As part of Computex, Intel invited the worlds media to discuss Thunderbolt. While nothing much new was said over what Anand has already discussed and public, we did come away with some information and an interesting look at some of the future Thunderbolt enabled devices.
A lot of the discussion was about Windows certification, given how TB has been an Apple only technology until fairly recently. In the Q&A, I asked specifically about hot-plug capabilities. I was told that Windows certification will only be given if the device or the host in the thunderbolt chain can fully support hot-plug. Given the results we have seen with the current certified motherboards with pre-certification Windows drivers, it seems there is still some way to go to support this feature.
We got a glimpse at the Thunderbolt controllers to be part of 2012 :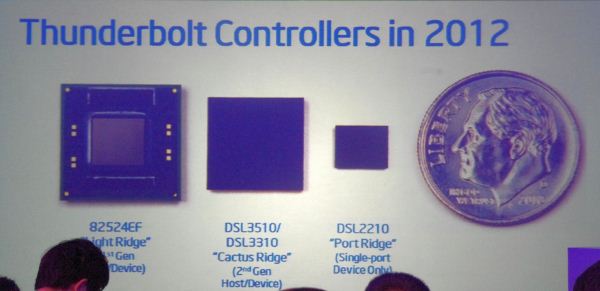 The final device only Thunderbolt controller measures 5.6mm across.
On display were a few motherboards that will feature Thunderbolt technology. Anand has already probed the MSI Z77A-GD80, the ASUS P8Z77-V Premium and the Intel DZ77RE-K75, but on display were a pair from Gigabyte (Z77X-UP5 TH, UP4 TH), an unnamed Foxconn board, and a pair from ASRock (Extreme6/TB), one with a pair of Thunderbolt ports however judging by the chip layout it only has one TB controller.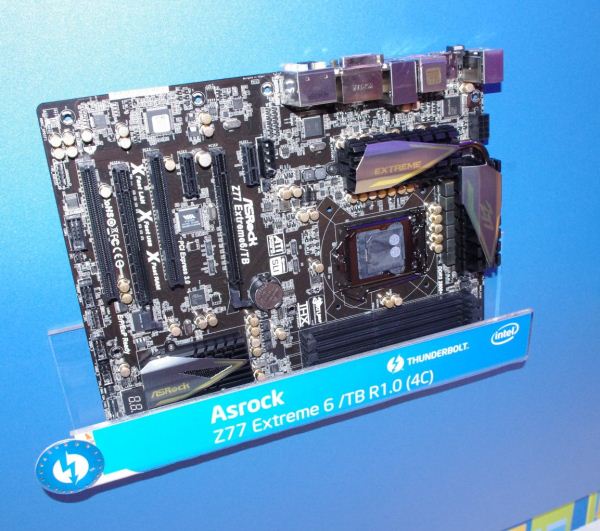 Several TB-enabled ultrabooks were on display, including models from Gigabyte, ASUS and Toshiba, as well as an All-In-One from MSI. Storage was also shown, with ODM models as well as RAID devices from Promise, QNAP and Areca. We were also told that Belkin announced today that it will be selling via etailer their Thunderbolt cables.