Closing out the month of May, Microsoft gave everyone an early present by putting up the final preview version of Windows 8, the Windows 8 Release Preview. Originally expected in the first week of June (i.e. next week), this is a hair earlier than expected and get the OS preview out just in time to show off at Computex and E3 next week.
Traditionally as Microsoft moves farther along with their OS builds their focus changes from adding new features to refining those features and bug hunting, and the Windows 8 Release Preview is no different. Most of the functionality we saw in the Consumer Preview remains untouched – including Metro and most of the ways to interact with it – so if you're familiar with the Consumer Preview then you'll be right at home with the Release Preview. What remains is Microsoft's final feature development efforts as that begins to wind down, which means a smaller number of new features for the Release Preview alongside a more comprehensive shakedown of the OS.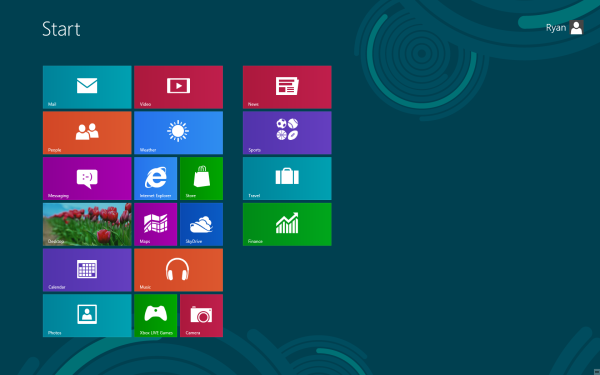 We won't reiterate all the new features of the Release Preview (this is what MS's blog is for), but we'll quickly touch upon the major ones. Multiple monitor users who found themselves frustrated with how the Consumer Preview didn't even try to meaningfully handle multiple monitors will be happy to see that Microsoft has finally tackled multiple monitors and implemented proper control interfaces for multiple monitors, though like everything else about the Windows UI it's distinctly different from Windows 7. Meanwhile laptop users will be releved to find that Microsoft has finally implemented support for trackpad gestures (à la Mac OS X) for multi-touch trackpads that are supported. And everyone will be happy to see that Microsoft has fully implemented the new and greatly improved Check Disk utility, which can now avoid having to take a filesystem down to do most verification operations.
As for the application side of things, Microsoft has continued to work on their default Metro applications, which were in an early state in the Consumer Preview. In surrender to sites that can't/won't drop Flash, IE10 now integrates Adobe's Flash Player for use with pre-approved sites, in a process that sidesteps the fact that IE10M doesn't allow plugins. Elsewhere the Mail, Video, Messenger, and Photos applications have all been overhauled, and News and Sports applications have been added.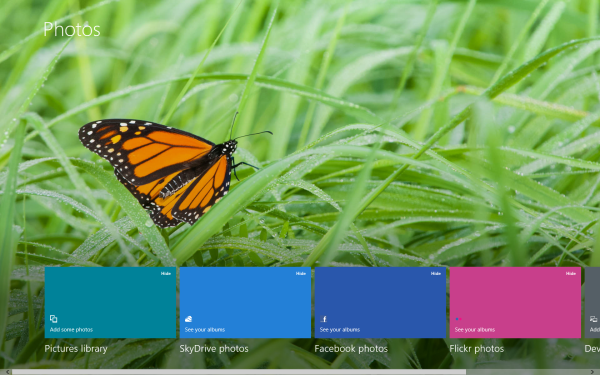 The only known feature addition you won't find in the current Release Preview is the new desktop UI. The Release Preview still uses Aero Glass, however MS has announced that for the release version of Windows 8 they will be switching to an unnamed, lightweight UI that does away with the glassy features of Aero in favor of something closer to a very flat version of Microsoft Office 2010. The only other features not currently exposed in the Release Preview are a few Pro features, such as Windows Media Center, which is remaining unchanged anyhow.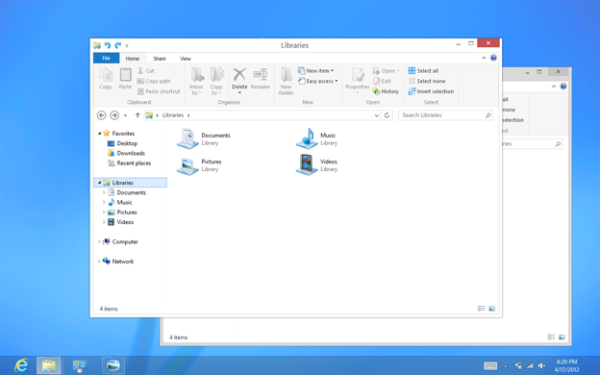 The New Unreleased Windows 8 Desktop UI
Wrapping things up, as is customary Microsoft is offering a Windows upgrade program to new computer buyers in order to keep computer sales from grinding to a halt ahead of Windows 8's launch later this year. New computers purchased from Microsoft's partners after June 2nd will be able to upgrade to Windows 8 Pro for $15. This is a slight deviation from the past, as previously Microsoft would offer a straight upgrade (e.g. Home Prem to Home Prem) for free. Instead every computer buyer is getting Windows 8 Pro, but they also have to pay $15 for it. Compared to the retail price of an upgrade this is cheap, however it'll be interesting to see how buyers react since there's a big philosophical difference between free and not-free regardless of the price.
Assuming all goes according to schedule, Microsoft is looking at hitting RTM in a few months. For reference, the release version of Windows 7 was built on July 13th; Windows 8 won't be ready quite that soon, but as long as it stays on schedule we'd expect it to be finished this summer. Microsoft still intends to launch it into retail for the holidays this year, so consumers can look forward to a shorter gap between when the OS hits RTM and when it actually shows up in stores.
Finally, for anyone on the fence about Windows 8 and whether they should bother to test or evaluate it at this point in time, Windows guru Paul Thurrott sums things up nicely: "it's time to start evaluating Windows 8 as it is, now, in the Release Preview, and not looking forward to some future where whatever forces will come together and deliver some more complete vision. There's no more complete vision coming. This is it. This is Windows 8".
New Video Drivers
Alongside the release of the Windows 8 Release Preview, AMD and NVIDIA are both in the process of releasing new video drivers for Windows 8. As you may recall, Windows 8 introduces WDDM 1.2, which both companies will be supporting with their DX11 generation hardware. The good news is that both AMD and NVIDIA have gone from a work in progress to competition very quickly; in NVIDIA's case their first display driver will be WHQL certified, and AMD should be closely behind.
For AMD users AMD has upheld their promise to deliver new drivers on the day of Windows 8 release previews, offering up a new Windows 8 driver that supports the Radeon HD 5000, 6000, and 7000 series, along with their respective FirePro counterparts.
NVIDIA on the other hand will be releasing their drivers next week, presumably due to the hold-up on WHQL certification. In the meantime testers will be in a bit of a bind; they will either need to use NVIDIA's existing Consumer Preview drivers, use the out-of-the-box Windows 8 drivers, or forcibly install Windows 7 drivers.