AMD's Manju Hegde is one of the rare folks I get to interact with who has an extensive background working at both AMD and NVIDIA. He was one of the co-founders and CEO of Ageia, a company that originally tried to bring higher quality physics simulation to desktop PCs in the mid-2000s. In 2008, NVIDIA acquired Ageia and Manju went along, becoming NVIDIA's VP of CUDA Technical Marketing. The CUDA fit was a natural one for Manju as he spent the previous three years working on non-graphics workloads for highly parallel processors. Two years later, Manju made his way to AMD to continue his vision for heterogeneous compute work on GPUs. His current role is as the Corporate VP of Heterogeneous Applications and Developer Solutions at AMD.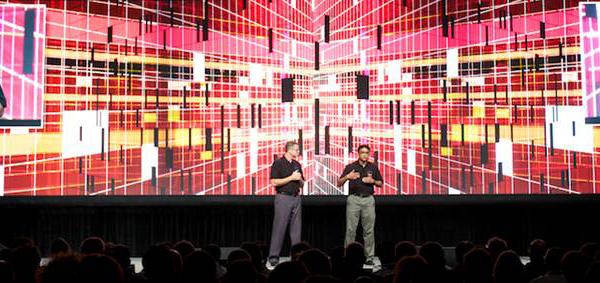 Given what we know about the new AMD and its goal of building a Heterogeneous Systems Architecture (HSA), Manju's position is quite important. For those of you who don't remember back to AMD's 2012 Financial Analyst Day, the formalized AMD strategy is to exploit its GPU advantages on the APU front in as many markets as possible. AMD has a significant GPU performance advantage compared to Intel, but in order to capitalize on that it needs developer support for heterogeneous compute. A major struggle everyone in the GPGPU space faced was enabling applications that took advantage of the incredible horsepower these processors offered. With AMD's strategy closely married to doing more (but not all, hence the heterogeneous prefix) compute on the GPU, it needs to succeed where others have failed.
The hardware strategy is clear: don't just build discrete CPUs and GPUs, but instead transition to APUs. This is nothing new as both AMD and Intel were headed in this direction for years. Where AMD sets itself apart is that it is will to dedicate more transistors to the GPU than Intel. The CPU and GPU are treated almost as equal class citizens on AMD APUs, at least when it comes to die area.
The software strategy is what AMD is working on now. AMD's Fusion12 Developer Summit (AFDS), in its second year, is where developers can go to learn more about AMD's heterogeneous compute platform and strategy. Why would a developer attend? AMD argues that the speedups offered by heterogeneous compute can be substantial enough that they could enable new features, usage models or experiences that wouldn't otherwise be possible. In other words, taking advantage of heterogeneous compute can enable differentiation for a developer.
That brings us to today. In advance of this year's AFDS, Manju has agreed to directly answer your questions about heterogeneous compute, where the industry is headed and anything else AMD will be covering at AFDS. Manju has a BS in Electrical Engineering (IIT, Bombay) and a PhD in Computer Information and Control Engineering (UMich, Ann Arbor) so make the questions as tough as you can. He'll be answering them on May 21st so keep the submissions coming.