Assembling the SilverStone GD07
Given the relatively logical internal layout of the GD07, assembly was for the most part fairly simple and straightforward. That said, being that this is a SilverStone case, there are still some kinks and idiosyncrasies that the end user is going to want to watch out for.
I actually made the mistake of running into a pretty big one early on, an issue that most users who do their homework won't run into but someone with my poor eyesight and general autopilot mentality will slam into face first. It wasn't until after I'd mounted our standard case testbed that I realized something: there's very minimal CPU heatsink clearance. Our primary testbed actually doesn't fit into the GD07 due to the height of the Cooler Master Hyper 212 Evo; that means that most tower-style CPU coolers are right out the door, which in turn threatens to limit the overall performance potential of the case. There also isn't enough clearance between the motherboard and the side panels to mount a closed-loop radiator, so cooling options are going to be fairly limited overall.
At this point I was forced to make a judgment call before moving forward. This is something that was the subject of a bit of debate between Jarred and I, and is most certainly going to be something a decent portion of you will disagree with. I was left with two options, essentially. The first was to test the GD07 as an ATX/Micro-ATX enclosure and swap out the Hyper 212 Evo for a stock Intel heatsink, but the problem there is that the GD07's test results wouldn't actually be comparable to the other ATX/Micro-ATX cases since one of the major components had changed substantially for the worse. That would mean that in each subsequent review, if I was going to compare the GD07 to other cases, I'd always have to include an asterisk and explain why the GD07 sticks out from the group.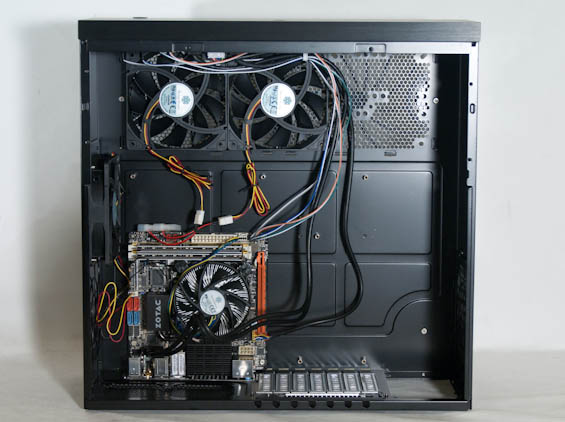 The second choice, and the one I went with, was to use our freshly minted Mini-ITX testbed. This testbed was engineered to fit in much smaller enclosures, but as a result everything would fit perfectly fine. It would be roomier than usual, but it would also leave us with test results that could be compared to other enclosures using the same testbed without having to make any special notes. Undoubtedly some of you are going to be displeased with this decision, or wonder why I didn't just do both options. The fact is I simply didn't have enough time to assemble and test using both testbeds, and I made the call.
As I mentioned before, assembly was fairly easy but there were some hiccups. The removable drive cage uses six screws, which is a minor nuisance, but removing it does make things much easier and is essential for mounting any of the drives.
Clearance between the side intake fan and the motherboard is borderline nonexistent. The GD07 fits things together about as tightly as it can before assembly becomes too much of a chore. Smaller motherboards aren't going to have too many issues in assembly (specifically motherboards that aren't particularly deep), but I'm not sure I'd recommend putting a full-sized board inside the GD07. A seven slot ATX board, sure, but not one with the full ATX depth. The power supply goes in just as easily as the motherboard does.
I understand why the case uses an extrusion and cover for the expansion slots, but I've nonetheless always hated dealing with this type of solution because it adds extra steps to swapping expansion cards in and out, and it almost always requires the end user to carefully re-align the cover plate. There has to be an easier way to handle this kind of design choice to keep it from being so needlessly onerous.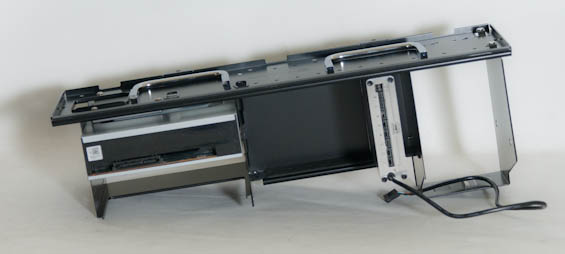 Finally there's the drive cage. The drive cage isn't necessarily badly designed, but there's definite room for improvement here. For the 5.25" drives, you'll want to remove the bay shields in the front first before mounting the drives. There's some give to how far out or in the drive can be mounted (three notched steps to be exact) and no easy guide for what it needs to be. 3.5" drives are easier to figure out; they slide in vertically and are screwed in twice on one side and once on the other. This leaves the bottom of the cage open for fresh air from the intake fan to blow over the drives and be guided out towards the back of the case.
Unfortunately the 2.5" drive mounting system leaves a lot to be desired. 2.5" drives are mounted side-by-side between the topmost optical drive and the top of the drive cage, and while there are holes in the top to help guide cabling, they're nowhere near enough. Clearance between the 2.5" drive and the 5.25" beneath it is so poor that the bog standard L-shaped SATA power lead won't actually fit; you'll need to essentially use either an extension or a molex-to-SATA adaptor. If there's one thing I feel like SilverStone really needs to go back and change, this is it. Kill the extra vertically-mounted 5.25" drive bays (since you're more liable to use them to stash cable) and put some proper 2.5" drive mounts in their place.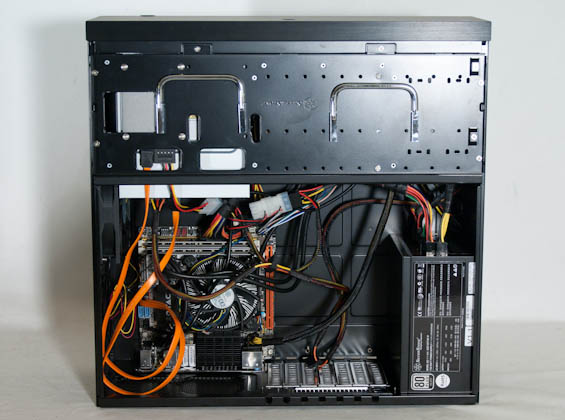 Cabling is relatively easy otherwise, but it should come as no surprise that the GD07 doesn't make any real allowances for cable management outside of politely suggesting you use the vertically-mounted 5.25" bays. One major loss in the move from the GD04 to the GD07, though: the GD04 had internal fan grilles that kept cables from getting caught in the fan blades. Without these it's much, much easier for cables to get stuck in the fan blades in the GD07.
There was a lot to like in assembling the GD07; it's more straightforward than I'm used to seeing from SilverStone, and it never felt too cramped. Yet I still feel like we're kind of in "rough draft" territory with the interior. Better allowances should've been made for 2.5" drives, and the inside fans do need fan grilles. The drive cage should also be at least a little easier to both remove and secure, and there has to be an easier way to handle the expansion slot cover. I'm not expecting a toolless chassis design here, but small changes could make all the difference in assembly and make the GD07 much easier to build and service. Finally, given the size of the chassis, a slightly taller design would have allowed for tower CPU coolers, which have proven in the past to be very effective without requiring a lot of airflow (i.e. noise)--two things that many media center PCs would benefit from.