We talk about networking quite a bit on AnandTech, covering everything from the upper end of home routers to WiFi stacks in smartphones and extending all the way up to 10GbE in the enterprise. What we haven't really talked much about is some of the open source networking software that's out there to improve and manage your network.
As router hardware is effectively general purpose hardware running a specific OS/application workload, it's possible to load custom firmware on your router provided it meets the right hardware requirements. It's akin to loading a custom ROM on a smartphone, all you need is a compatible platform. In some cases, that's limited to Broadcom or Atheros, but there are other solutions that run on embedded x86 as well.
The upside to loading a custom firmware on your router is a potentially significantly expanded list of features and improvements. Much finer grained QoS, packet filtering, OpenVPN support, local storage (SMB or FTP shares) from USB, better stability, control over WiFi power amplifier Tx power, and now of increasing import - tracking bandwidth usage. Many home/SMB routers simply don't offer good network monitoring tools, security features or just decent management, and the alternative is to go for some open source based firmware with many more options. Ultimately the tech-savvy home networker will buy a router for the platform and features (eg. CPU speed, RAM, WiFi options like 2.4/5 GHz or number of spatial streams), and choose a firmware to run atop that platform.
Over the years, I've personally tried m0n0wall and pfSense on embedded x86 platforms like PC Engines' ALIX and WRAP, as well as the more common options including OpenWRT, DD-WRT and Tomato on a variety of Broadcom based routers. I generally end up drifting back and forth, but usually use Victek's mod of Tomato-USB on either a WRT54G-TM or more recently a Netgear WNR3500L. I've been wanting to try out and review ASUS' RT-N16 router which seems to be gaining considerable developer traction in the DD-WRT and Tomato communities as well.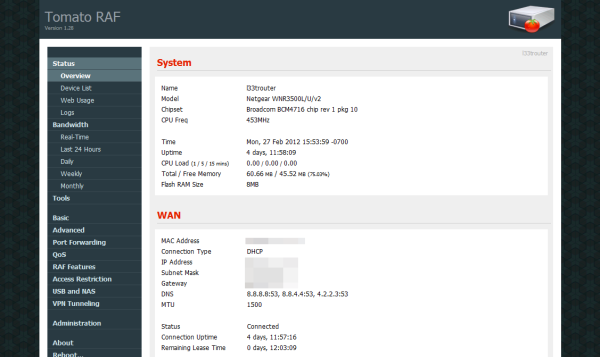 Tomato USB - Victek's Mod
I've tossed around the notion of doing a comparative look at all the open source home/SMB router platforms and thought it might be useful to get some feedback on whether this is something that you guys would be interested in, and if so whether there were any specific topics. Of course that would also be alongside a look at some of the newer 802.11n/GigE routers that are still compatible with the popular open source firmware distros all vying for the now somewhat aging WRT54G/GS/GL's crown.
I've shared a bit about what I use in my personal setup - but what about you guys? How many of you are using custom firmware on your router? If you are, what are you running?