In The Box
For a product that costs $390, we would hope for a bundle of accessories included in the box. MSI has heeded our call, and I am not disappointed:
Driver CD
User Guide
Software Guide (?)
IO Back Panel
USB 3.0 back panel / front 3.5" panel
Four flexible SLI connectors, various sizes
Front Panel easy connectors
8 SATA cables
eSATA back panel, power connector, and locking eSATA cable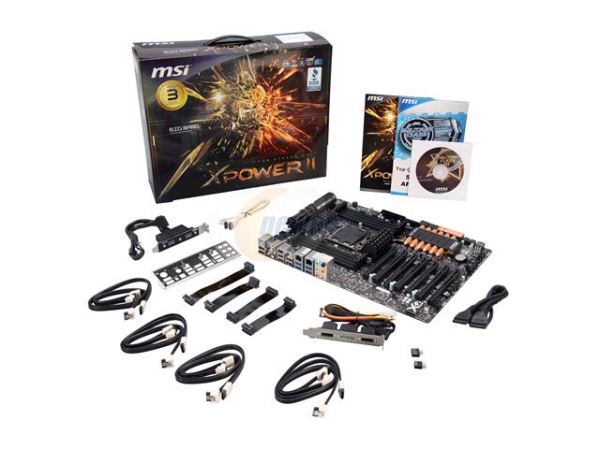 Image courtesy of Newegg
First things first. The eSATA back panel looks like a great bit of kit, so I have to give kudos to MSI on this one. It is a back panel which connects into a 4-pin power and two SATA ports on board. This gives access to 4-pin power and two eSATA ports on the back. MSI has included a durable cable which transforms the 4-pin molex to two SATA power connectors outside the case, to connect to two SATA hard drives. Included is also an eSATA locking SATA cable, making quick work of any eSATA issues you may want at the back of your case.
Also of note is the Software Application manual – having a flip through, it takes you through all the software on the board, including Virtu which is not an X79 feature, which is odd. There are also internal references to iGPU, which may confuse some people. The manual also has not been updated for X79 and Military Class III advertising, as it sports a Military Class II front page. However it does go into more detail than I will below for covering the software on board, so could be worth a flip through if you want to get the most out of your MSI product.
Board Features
MSI Big Bang-XPower II
Size
ATX
CPU Interface
LGA2011
CPU Support
Intel Second Generation Core i7 Sandy Bridge E
Chipset
Intel X79
Base Clock Frequency
100 MHz
Core Voltage
Auto, 0.800 V to 1.800 V
CPU Clock Multiplier
Auto, 12x to 60x
DRAM Voltage
Auto, 1.05 V to 2.445 V
DRAM Command Rate
Auto, 1T or 2T
Memory Slots
Eight DDR3 DIMM slots supporting up to 128 GB
Up to Quad Channel
Support for DDR3, 1066-2400 MHz
Expansion Slots
4 x PCIe Gen 3 x16/x8
3 x PCIe Gen 2 x1
Onboard SATA/RAID
2 x SATA 6 Gbps, Support for RAID 0, 1, 5, 10
4 x SATA 3 Gbps, Support for RAID 0, 1, 5, 10 4 x SATA 6 Gbps (ASMedia)
Onboard
4 x SATA 3 Gbps (PCH)
6 x SATA 6 Gbps (2 PCH, 4 Controller)
6 x Fan Headers
1 x 6-pin PCIe CFX/SLI Power Connector
2 x USB 2.0 Headers
1 x USB 3.0 Headers
Power/Reset Buttons + Debug LED
1 x Clear CMOS jumper
1 x Front Panel Audio
2 x DirectOC Buttons
1 x IEEE 1394 header
1 x OC Genie Button
DIP Switches for PCIe Slots
Onboard LAN
Dual Intel (82579V and 82574L)
Onboard Audio
Realtek ALC898
Power Connectors
1 x 24-pin ATX connector
2 x 8-pin 12V connector
1 x 6-pin PCIe connector
Fan Headers
1 x CPU Fan Header (4-pin)
5 x SYS Headers (4-pin)
IO Panel
1 x Keyboard/Mouse PS2 Port
1 x Clear CMOS Button
1 x Optical SPDIF Output
1 x Digital SPDIF Output
4 x USB 2.0
6 x USB 3.0
2 x eSATA 3 Gbps
2 x Gigabit Ethernet
1 x IEEE1394/Firewire
Audio Outputs
BIOS Version
1.2
Warranty Period
3 Years
In terms of features, we are very glad to see two Intel network controllers on board – they fit in nicely with where the board is in terms of price. Having a substantial number of SATA ports helps, although the ASMedia ports are not available for RAID according to the specifications. As I noted before, the audio is not anything special above MSI's competition, but options like the DirectOC are a bonus for overclockers to have.
Software
MSI's software for X79 is across a wide range of utilities: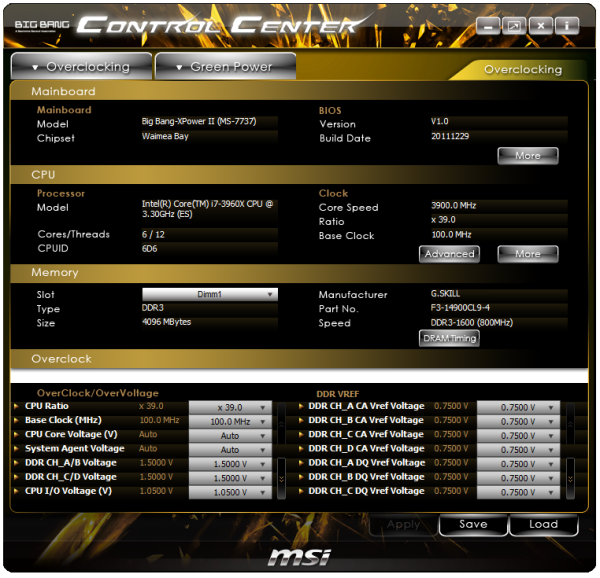 ControlCenter: A series of overclocking options (CPU Ratio, Base Clock, Voltage), green power options, and an option to turn the LEDs on the board off. To enable the features here, the relevant BIOS settings need to be enabled. In terms of changing the CPU ratio on the fly, the user is limited by the max ratio to which the board was booted. Changes here will directly affect BIOS settings as well. To be honest, while it looks nice, it could be laid out a little easier – MSI seem to have created this software on limited horizontal and vertical space, and thus have tried to cram everything in on as few screens as possible. It may be worth separating them across a few more to provide a better user experience.
SuperCharger: One of the USB headers on board has been altered to be able to provide 1.6 A rather than the standard 0.5 A, which allows USB devices to be charged quicker. However, this implementation requires both hardware and software to work in unison, so the MSI software calls the revised power configuration, allowing the user to use the SuperCharger mode when the computer is on or in a shutdown state.
Winki III: Do you ever feel you want to boot into a basic OS with limited functionality very slightly quicker than you can with a typical Windows installation on X79? If you did, then MSI has Winki III – a MSI developed Linux distribution providing update tools, internet browser, instant messaging, Skype, and a photo viewer. This was a feature MSI introduced a few chipsets ago, when taking 30+ seconds to get into the main OS was the norm. Now in the land of X79 and SSDs, it barely seems relevant. However, the option is there if it is needed.
Audio Genie: Provides speaker location settings and THX mode selections.
Video Genie: MSI's Video Genie software aims to provide automatic color enhancement, saturation enhancement and intelligent gamma correction for static images and video playback.
Teaming Genie: With the use of dual Intel network controllers on the board, they are able to be teamed together to act as one connection with the throughput of both. This is enabled through the Teaming Genie software, which will also support additional suitable network connections as required.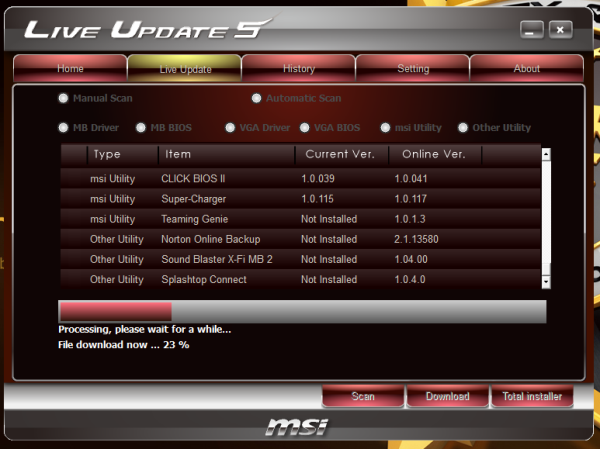 Live Update 5: MSI has handily provided a piece of software to aid in updating the MSI proprietary software – this is Live Update 5. I initially had issues running the version that came with the board; however the website has the latest edition. Through Live Update, the software will detect relevant software and drivers on the board, contact MSI's servers, and inform you of updates. You then have the option of picking and choosing which ones to download and install. This is all well and good, although there is room for improvement – the system never informed me of the size of the files to be downloaded, or time to completion. So having to wait 30+ minutes for the system to download and update was a bit of a pain.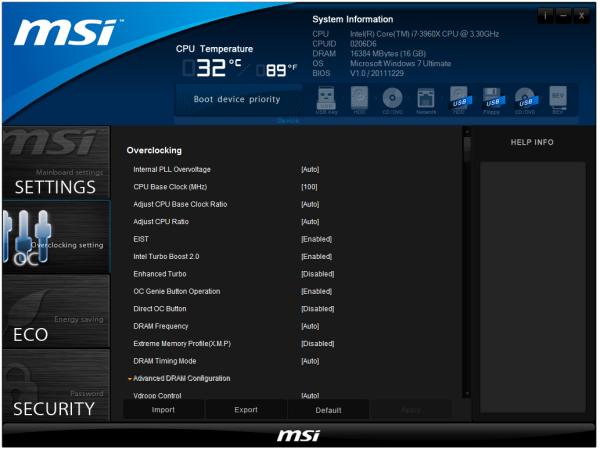 ClickBIOS II: As motherboard chipsets develop, so do manufacturers' ideas of how to support them. One current trend is to provide OS software which mimics the BIOS so users do not have to deal directly with the BIOS on boot. In MSI's case, this comes into force through their ClickBIOS software. For all intents and purposes, the software represents a good facsimile of the BIOS itself with very minor changes in layout. The only major difference I have a gripe with is that in these systems the fonts always seem to look out of place. However, a user can interface with the BIOS settings via ClickBIOS with ease.