When you pay more for a product, you expect a better level of everything - performance, features, support. In a motherboard, I'd want all the upgrades - top line audio, overclockability, superior software, better USB 3.0 / SATA 6 Gbps controllers, and so on. The ASRock X79 Extreme9's party piece is the bundled 'Game Blaster' - a PCIe x1 card with Creative Sound Core3D Audio powered by a quad core audio processor and an additional Broadcom Gigabit LAN port. All in at $360 MSRP, today we review the Extreme9 to see if it fits into the enthusiast of enthusiast price segments.
Overview
It's hard to place the X79 Extreme9. I have reviewed the Extreme4 and Extreme4-M, both of which were good X79 budget boards for consumers or enthusiasts who wanted to jump into Sandy Bridge-E as cheaply as possible. The X79 Extreme9 comes in around +50% more than those boards ($360 vs. ~$240), meaning I would expect 50% more when it came to the Extreme9. And to a certain extent, we have obvious improvements:
ASRock X79 Series
X79 Extreme4
X79 Extreme9
Price
$235
$360
Size
ATX
ATX
Power Phase
6+2
16+2
Memory
4 x DDR3
8 x DDR3
PCIe
x16/x16/x8
x8/x8/x8/x8/x8
x16/-/x16/-/x8
CrossfireX
2x, 3x, 4x (Dual GPUs only)
2x, 3x, 4x (Dual GPUs only)
SLI
2x, 3x, 4x (Dual GPUs only)
2x, 3x, 4x (Dual GPUs only)
Audio
ALC 898
Creative Sound Core3D
LAN
Single
Dual
SATA 6 Gbps
5
8
USB 3.0
4
8
USB 2.0
12
12
XFast Software
Yes
Yes
Digital PWM
Yes
Yes
Dr. Debug
Yes
Yes
Power delivery has increased from a 6+2 to a 16+2 phase, we have the full complement of 8 DIMMs for X79 (two per channel), 5 PCIe (but still limited to 3-way SLI/CFX unless dual GPU cards are used), a dedicated audio processor, dual gigabit connections (which can be teamed) rather than a single, more SATA ports (8+4 rather than 5+4), and more USB (8+12 rather than 4+12). So in terms of functionality, we've got a lot of upgrades here for our extra 50%.
However after testing, I wasn't all that impressed. Performance is not at all noticeably different, and automatic overclocking wasn't at all 'better' for 24/7 use. On the positive, the manual overclocking was highly successful, and I was able to breeze through my regular suite of tests without a major hitch - no initial turbo or memory issues - which usually happens when testing a motherboard. Only when it came to overclocking and DDR3-2400 support did I feel let down in any way. But the competition comes from the cheaper boards, either ASRock or other - it all boils down to functionality.
The last board I reviewed, the ECS X79R-AX, while it didn't have 8 DIMM slots, dual gigabit Ethernet or improved audio, came with the same 12 SATA ports, built in wireless and Bluetooth, and was up to $80 cheaper. The first X79 I tested, the ASUS P9X79 Pro, performed well, offers a range of extra features, has a first-rate BIOS and is $30 cheaper. The ASRock X79 Extreme9 has some serious competition when compared to these boards.
Visual Inspection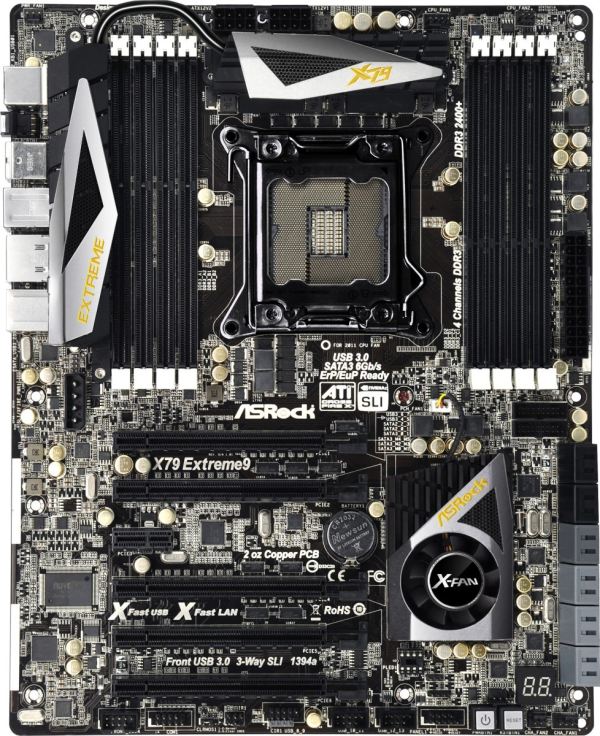 I really like the ASRock coloring scheme of black, silver and gold - not only is it pleasant to look at, but the detail of also making the capacitors gold means that with some good lighting, it would look nice in the window of a case. It's a shame then the board seems to fill every nook and cranny with resistors and chips.
Into the meat of the design, and the first thing to notice is the extended power delivery heatsink, connected from the top to the left hand side via a heatpipe. The heatsinks themselves are fairly beefy affairs, with a modest attempt to balance brute mass of heat transferable material with surface area for cooling. This, combined with the 8 DIMM slots and dual 12V 8-pin connectors leaves little room in the CPU socket if all 8 DIMM slots are filled - if you only have four memory sticks, the recommended filling doesn't include the ones nearest to the CPU, meaning a little extra memory for big air coolers.
There are three fan headers along the top - on the top right, a 3-pin power fan header, and to the right of the 8-pin 12 V power connectors are two CPU fan headers - one 4-pin and one 3-pin. The other fan headers on board are in the bottom right of the board, where we find three chassis headers (one 4-pin and two 3-pin). What we usually see on boards these days is another one by the 24-pin ATX power connector, but ASRock have filled the area around it with resistors and two USB 3.0 headers. The USB 3.0 headers are designed for front case USB 3.0 brackets, of which one is included with the X79 Extreme9.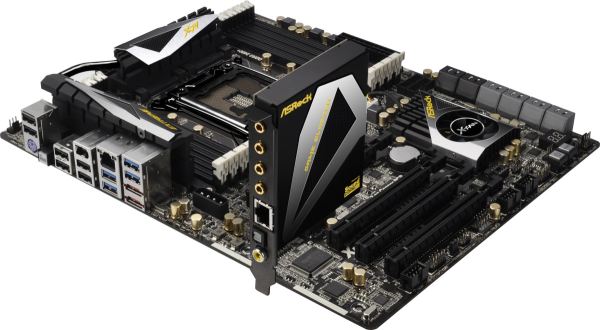 The SATA ports are numerous down the right hand side - the first two in black are the SATA 3 Gbps from the PCH, followed by two SATA 6 Gbps from the PCH in dark grey. Below this are six SATA 6 Gbps ports powered by three controllers - two ports from one Marvell SE9220 controller, and four ports from two Marvell SE9172 controllers. It might seem odd to use two different controllers for these ports - one could assume that the 9172 is cheaper than the 9220, or there were implementation issues with three SE9220s, but the real reason is SSD caching. The SE9220 has a hardware based caching mechanism when an SSD+HDD are used. This is all enabled through software provided on disk. Next to the SATA ports, we find the power/reset button combo as well as a debug LED - useful for finding memory boot errors (among others)!
The PCH heatsink at the bottom is small, and unlike other non-ASRock X79 boards, comes with a small fan attached. The beauty of this system is that the fan will only rotate if the PCH goes above 50ºC. One of the criticisms is that fans like these make a lot of noise, especially when they are about to die - as this fan will spin infrequently (most likely only during gaming when heat is being heavily produced inside a case), this isn't really an issue here, at least in my perspective.
The ASRock board has 5 full-length PCIe slots, which default to either x16/-/x16/-/x8 or x8/x8/x8/x8/x8 depending on how they are filled. There is a solitary x1 port after the first two PCIe full length ports, designed for the ASRock Game Blaster card as shown in the stock image above. The Game Blaster lights up red when powered (which is obscured by any second GPU installed), and the audio outputs also light up when powered for their different functions, making it easier to see if you have to fiddle in the dark behind a case.

As we don't have direct onboard audio with the X79 Extreme9, this would perhaps give ASRock an opportunity to surprise us on the back panel. Nothing really special here though - a PS/2 Keyboard only port, six USB 2.0 ports, four USB 3.0 ports (blue), two eSATA 6 Gbps ports (red), a Clear CMOS button, a gigabit Ethernet port, and a Firewire/IEEE 1394 port. We're not seeing many X79 boards with Firewire/IEEE 1394 of late, perhaps due to the prevalence of USB.