In and Around the Precision PS07
Whoa, deja vu. If you were paying attention to our review of the Temjin TJ08-E, SilverStone's Precision PS07 is going to seem very familiar once you pop it open. The differences between the two largely start and stop at the front fascia.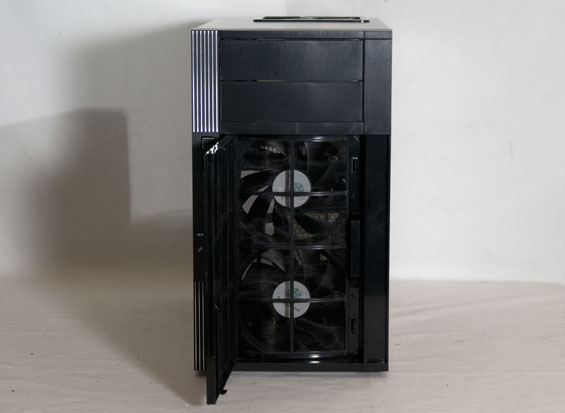 That's unfortunate, too, because while the PS07's face is certainly attractive enough on its own, it undeniably feels cheaper than its progenitor. Gone is the black brushed aluminum, replaced by matte black plastic with silver accents along the left side. What we do get, though, is a solid front finish, with ventilation along the sides instead of directly in front of the fans. There's also a door that hinges out, allowing you to access the filter for the two 120mm intake fans. All of the plastic is still of fine quality, and SilverStone kept the USB 3.0 connectivity, but it's hard not to miss the classy exterior of the TJ08-E.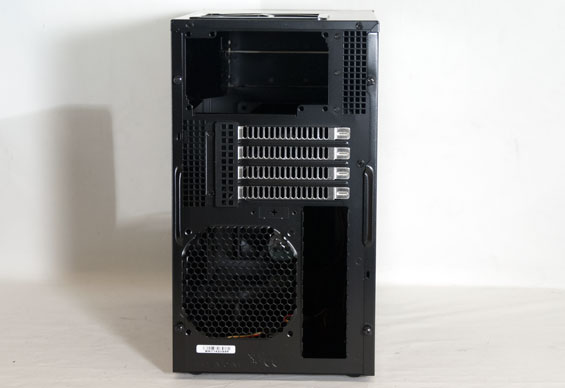 The differences between the PS07 and TJ08-E pretty much end there. For a refresher, though, when you circle to the back you'll notice the power supply is where it used to be in older style enclosures: at the top instead of the bottom. This is coupled with an inverted motherboard design, placing the board against the left side of the case instead of the right. The net result is that the intake fans create a wind tunnel that fires straight through the enclosure, making the PS07 particularly ideal for tower-style coolers.
SilverStone uses thumbscrews to secure the side panels, and when you pop them off you'll see virtually nothing internally has changed. I'd venture to guess SilverStone is actually using the exact same chassis for the majority of the PS07. The top panel is still fastened by six screws, unfortunately, and you still need to remove it to assemble the system. The motherboard tray is removable, as is the drive cage, and drives are oriented front-to-back instead of laterally.
For better or worse, this is the same internal design as the TJ08-E, with the major change being the switch from a single 180mm Air Penetrator fan to two 120mm fans. That's also the change I'm least happy with, though I understand why it was made. The problem is that the Air Penetrator fan's unique grille design also ensured cabling would never get caught in the fan blades, something you'll have to watch out for with the more open 120mm fans.