We were big fans of SilverStone's Temjin TJ08-E when we reviewed it back in August. Who wouldn't be? Even SilverStone was surprised at just how effective the little enclosure was, producing better cooling and acoustics than their own substantially more expensive Fortress FT03. Today SilverStone comes to us with a modified Temjin TJ08-E--modified for a lower price point. The Precision PS07 is almost identical to its predecessor internally, but SilverStone has cut some corners to shave about $20 off the end retail cost. Was it worth the sacrifice?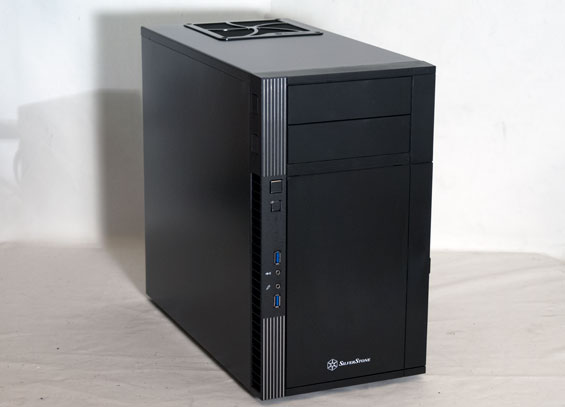 It's easy to be a little underwhelmed by the PS07. The difference between $79 and $99 just doesn't feel like a very big one, but when you're working on a budget, every little bit can help. SilverStone has also moved a couple of things around in the fascia and changed the internal fan configuration in the process. The result is a case that feels very similar but it has a few differences, some more important than others.
SilverStone Precision PS07 Specifications
Motherboard Form Factor
Micro-ATX, Mini-ITX
Drive Bays
External
2x 5.25"
Internal
5x 3.5", 1x 2.5"
Cooling
Front
2x 120mm intake fan
Rear
1x 120mm fan mount
Top
-
Side
-
Bottom
-
Expansion Slots
4
Front I/O Port
2x USB 3.0, headphone and mic jacks
Top I/O Port
PSU vent
Power Supply Size
ATX
Clearance
13.25" (Expansion Cards), 150mm (CPU HSF), 160mm (PSU)
Weight
11.47 lbs.
Dimensions
15.75" x 8.27" x 14.73"
Price
$79
Spec wise, the Precision PS07 is virtually identical to its predecessor, although SilverStone kills the dedicated external 3.5" bay entirely. That's not a major sacrifice; placement of the bay was so awkward to begin with that I wouldn't expect it to have seen much use. The one major change is SilverStone has removed the 180mm Air Penetrator (I challenge anyone with a juvenile sense of humor not to giggle at the name) fan and replaced it with two generic 120mm intake fans.