Random Read/Write Speed
The four corners of SSD performance are as follows: random read, random write, sequential read and sequential write speed. Random accesses are generally small in size, while sequential accesses tend to be larger and thus we have the four Iometer tests we use in all of our reviews.
Our first test writes 4KB in a completely random pattern over an 8GB space of the drive to simulate the sort of random access that you'd see on an OS drive (even this is more stressful than a normal desktop user would see). I perform three concurrent IOs and run the test for 3 minutes. The results reported are in average MB/s over the entire time. We use both standard pseudo randomly generated data for each write as well as fully random data to show you both the maximum and minimum performance offered by SandForce based drives in these tests. The average performance of SF drives will likely be somewhere in between the two values for each drive you see in the graphs. For an understanding of why this matters, read our original SandForce article.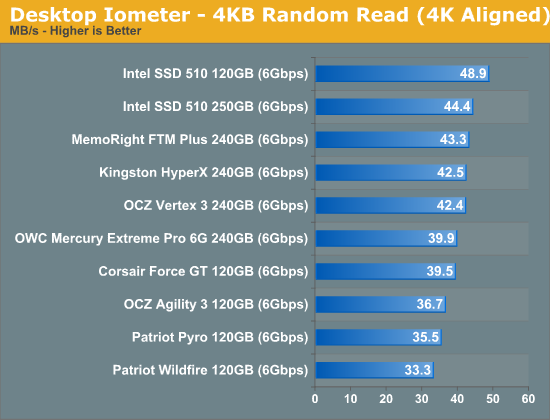 Random read performance is pretty consistent across all of the SF-2281 drives. The Patriot drives lose a bit of performance thanks to their choice in NAND (asynchronous IMFT in the case of the Pyro and Toggle NAND in the case of the Wildfire).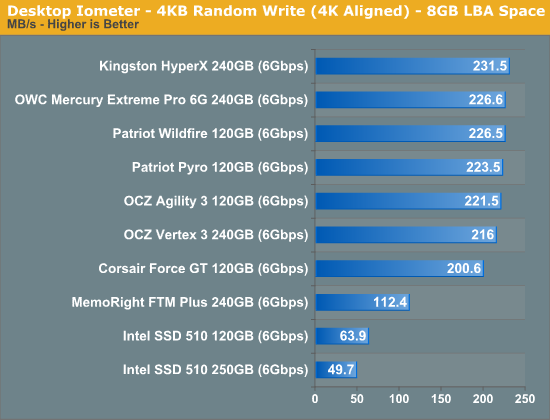 Most random writes are highly compressible and thus all of the SF-2281 drives do very well here. There's no real advantage to synchronous vs. asynchronous NAND here since most of the writes never make it to NAND in the first place. The Agility 3 and Vertex 3 here both use their original firmware while the newer drives are running the latest firmware updates from SandForce. The result is a slight gain in performance, but all things equal you won't see a difference in performance between these drives.
The MemoRight FTM Plus is the only exception here. Its firmware caps peak random write performance over an extended period of time. This is a trick you may remember from the SF-1200 days. It's almost entirely gone from the SF-2281 drives we've reviewed. The performance cap here will almost never surface in real world performance. Based on what we've seen, if you can sustain more than 50MB/s in random writes you're golden for desktop workloads. The advantage SandForce drives have is they tend to maintain these performance levels better than other controllers thanks to their real-time compression/dedupe logic.
Many of you have asked for random write performance at higher queue depths. What I have below is our 4KB random write test performed at a queue depth of 32 instead of 3. While the vast majority of desktop usage models experience queue depths of 0 - 5, higher depths are possible in heavy I/O (and multi-user) workloads: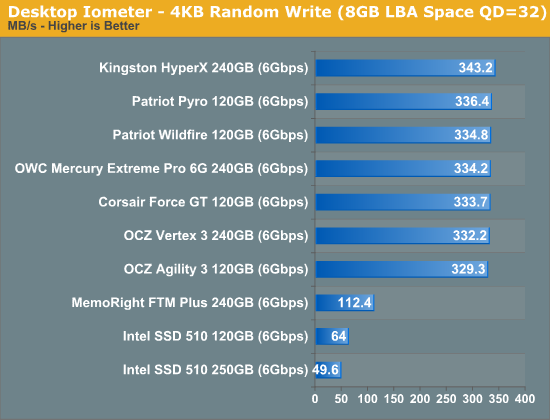 All of the SF-2281 drives do better with a heavier load. The MemoRight drive is still capped at around 112MB/s here.
Sequential Read/Write Speed
To measure sequential performance I ran a 1 minute long 128KB sequential test over the entire span of the drive at a queue depth of 1. The results reported are in average MB/s over the entire test length.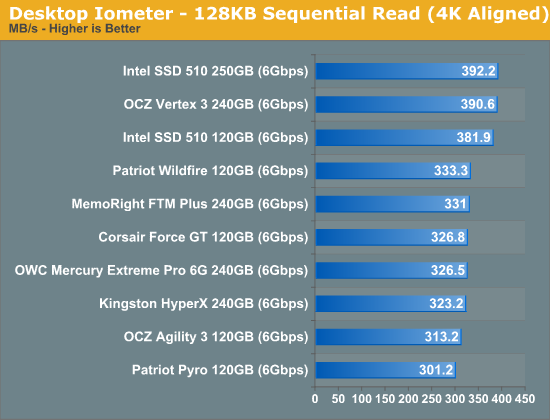 The older SF-2281 firmwares did a bit better in some tests than the newer versions, hence the Vertex 3 being at the top here. All of the newer drives perform pretty similarly in our sequential read test.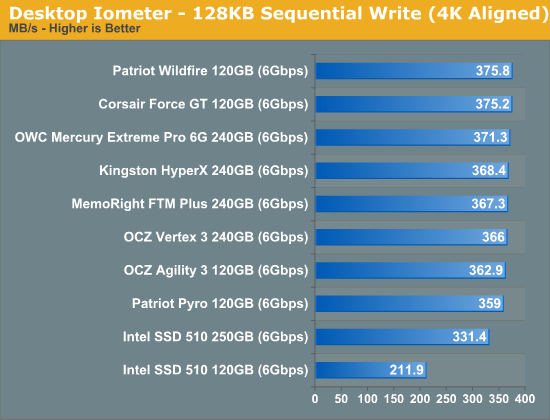 The same goes for our sequential write test - all of the SF-2281 drives perform very similarly.