This one's definitely in the "catching up with the competition" category: iOS notifications are currently super annoying. If you're in an app, they interrupt what you're doing. If you see a group of them on your home screen, that list disappears when you unlock the device. No more.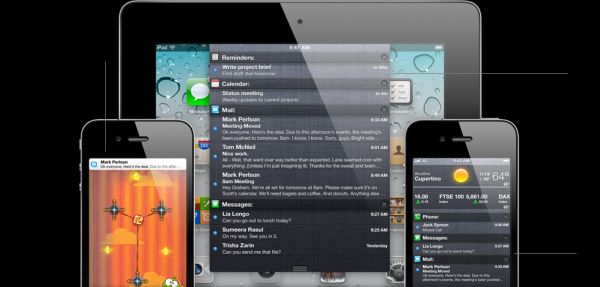 The Notification Center, invoked by a downward swipe from the top of the screen, groups all of your notifications from all of your apps together into one place, and lets you clear them away at your own pace. When you're in another app, new notifications appear at the top of the screen so that you know they're there, but you don't have to stop what you're doing to attend to them unless you want to. Clicking a notification will take you to the app that generated it.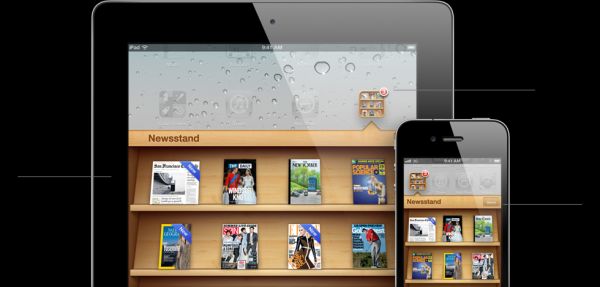 Next up is Newsstand, which takes an iBooks-like approach to managing your digital newspaper and magazine subscriptions. It also increases the visibility of digital publications by grouping them together in one place away from the rest of the apps in the App Store. I'll be interested to see whether this increased visibility will result in higher sales for these publications, as those have been slow by most accounts. Newsstand also supports background downloads of your subscriptions, which can be read offline - no more having to open an app to trigger content updates.
Twitter integration is also coming to iOS 5 - this is going to be a love-it-or-don't-care-about-it feature, depending on how addicted to Twitter you are. Twitter is now an integrated app that supports single sign-on at setup, and any app setup to take advantage of it can now post to Twitter without invoking the app itself. You can share pictures using Camera and Photos, you can tweet pages from Safari, videos from YouTube, and you can also store peoples' Twitter information in your Contacts list. It's a pretty impressive list if you're a Twitter user, and while most platforms sport an official Twitter app at this point, none of them can boast such deep integration with the service.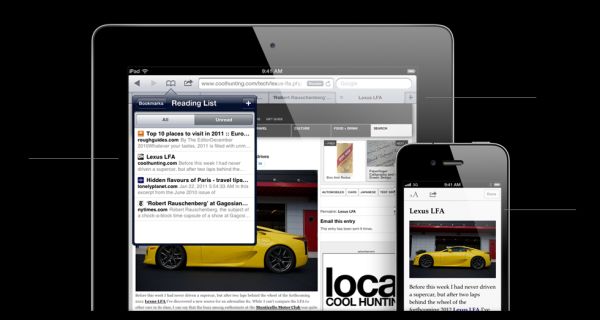 Speaking of Safari, it's also getting a sizable face-lift thanks to its new, fully-tabbed interface (that, ironically, makes it look more like the Mac version of the browser). This brings it more in line with the Android Honeycomb browser, which impressed us when we reviewed it on the Motorola Xoom. Another Safari feature of note is the Reading List, which allows you to mark webpages to be read later. This is kept separate from your Bookmarks, which is a list of sites you want to access on a more permanent basis. Your Reading List will sync between iOS, Mac, and Windows copies of Safari associated with your Apple ID, meaning that pages you add on your iPhone while riding the train will be waiting for you when you get home and boot up your Mac.
Coming in at number five is Reminders, which allows you to store reminders on your phone and have the phone remind you to do them at certain times or when you arrive at a certain location. The former is something you can do just as easily using the built-in Calendar app, but the latter is sort of neat - you could, for example, have the phone set to remind you to get the mail when it sees that you've gotten home from work, which (like many technical innovations) is sort of cool and scary at the same time. Reminders will sync with calDAV/iCal and also Exchange.