More than Meets the Eye
Alongside the original iPad, Apple sold a keyboard dock for users who wanted to do a lot of typing on their new tablet. The keyboard dock turned the iPad into a mini iMac running iOS. What the iPad keyboard dock lacked however was a pointing device—all navigation still had to be done via the touch screen. As Apple has correctly pointed out in the past, the notebook usage model doesn't work very well if you have to keep reaching across your keyboard to touch the screen.
ASUS expands on the idea of a keyboard dock with the Eee Pad Transformer dock. The $149 add-on adds not only a keyboard, but a trackpad and integrated 24.4Wh battery (the same size as the unit in the Eee Pad itself). You are getting a lot for your money, but given how cheap the Eee Pad is, a $149 accessory will always be a tough sell.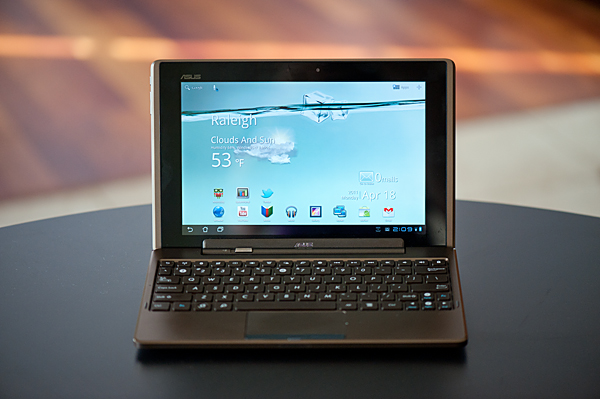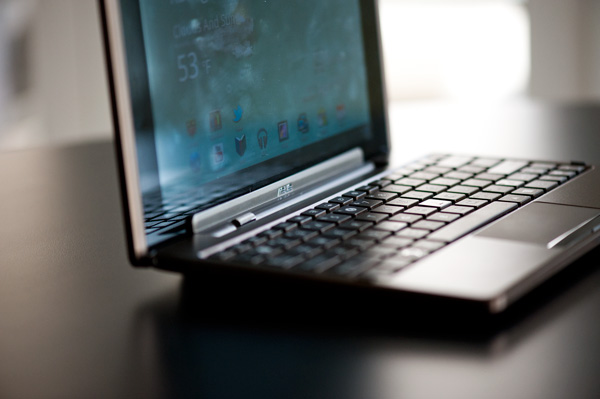 The dock is made of two pieces—a half metal/half plastic base and an all metal hinge that houses the dock connector. Simply slide the Eee Pad into the hinge, lining up the dock connector and its two latches, and press into place to dock the unit. If you do it correctly you'll hear a nice click as both latches grab on to the Eee Pad. There's a silver eject slider switch for removing the Eee Pad from the dock.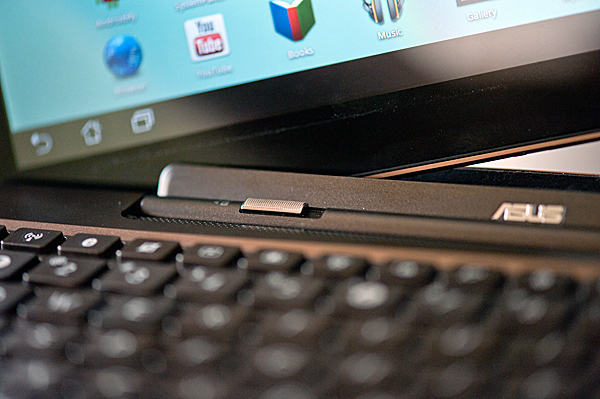 When you dock the Eee Pad two things happen. The dock immediately starts charging the tablet as soon as its battery life drops below 100%. Only after the dock's battery has been exhausted will the tablet's internal battery begin discharging. Note that even on tablet power alone, the dock's keyboard and trackpad will continue to work.
Android isn't aware that there's a second battery at work here, and sometimes this dock-charging-the-tablet process trips up the battery status indicator in Honeycomb as you can see from the screengrab below: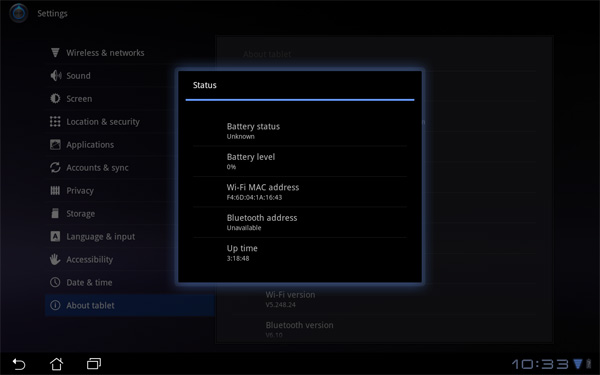 Confusing the battery status indicator aside, the dock works as expected as a giant external battery. You do get some indication of battery discharge on the dock itself through a blinking LED, however what it really needs is either a software reporting mechanism or a string of LEDs to accurately communicate how much power you have left on the dock.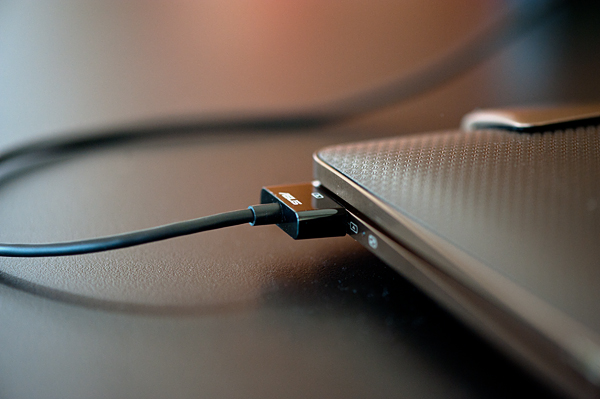 Charging works the same way. Plug the dock in and it'll charge itself then the tablet. There's enough current drawn to charge both the dock and tablet in tandem so you'll actually feed both, although the dock will charge quicker.