Build, Noise, Heat, and Power Consumption
It's at this juncture that I really want to get into the meat and potatoes of how Puget Systems goes about selecting parts to offer in their Obsidian tower, because this is where they really shine. The build itself is solid, well made, and at least appears to use excellent hardware, but there's much more going on than is immediately obvious.
One of the keys with the Obsidian (and to a lesser extent the rest of Puget Systems' machines) is constant review and revision of the hardware available. The staff of Puget Systems meets weekly to go over existing support tickets and checks on every system that needs some form of repair or hardware replacement, looking for trends or bad batches of parts. Second is a tendency towards simplicity; you can't augment the Obsidian as much as you can other builds, and that's built on the basic principle that the less there is in the system, the less that can go wrong. Third, they have a tendency to lag the technology in this line behind some of the other ones to give extra lead time in case bad batches of parts do creep through and to ensure Obsidian systems are based on mature hardware. Finally, the Obsidian line has a unique service point that the other machines Puget Systems offers don't: they keep what you could basically call a hot spare on hand of every Obsidian they sell. If something goes wrong with one in the field, they have a backup immediately ready to replace it.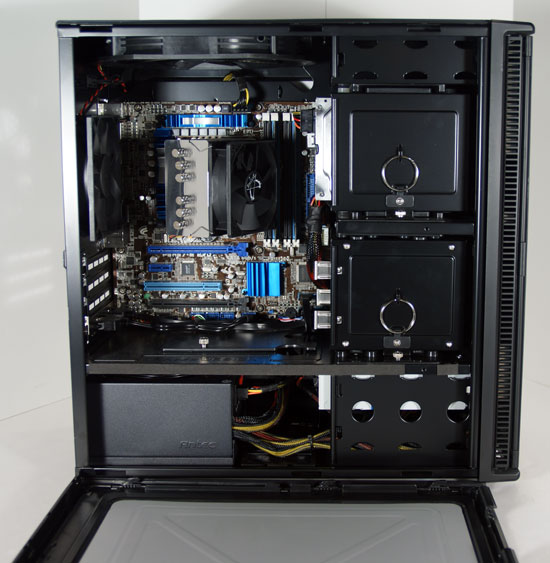 The funny thing is that I've really only scratched the surface of the kinds of reliability testing and checks and balances Puget Systems has for the Obsidian (much less their others). I've had the opportunity to actually take a look at some of their raw data, where they burn in hardware, do thermal imaging to check for hot spots, and keep track of failure rates. The end result of all of this testing is that their CEO Jon Bach claims (and I wouldn't be surprised if this were true) they've only ever had to actually advance replace two Obsidian towers in the three years the line has been available. Granted, there aren't nearly as many Obsidian systems in the wild as their are Dell Optiplex or HP Compaq business PCs, but large OEMs seem to focus at least as much on on-site repair and extended warranties as they do on overall reliability.
What we're left with on the Obsidian line is systems that are configured fairly modestly but are maximally reliable. As a result of these modest builds (overclocking isn't offered on this line for what should be obvious reasons) and smart component choices, it won't surprise you to see thermals are incredibly good.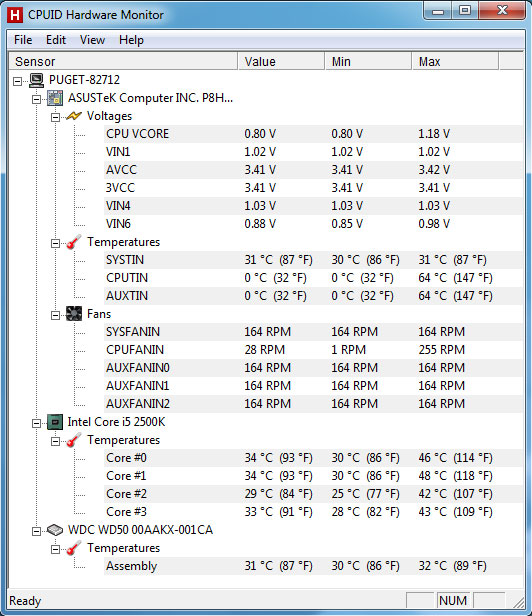 Under heavy load the i5-2500K doesn't even hit 50C. To be fair, the processor is about the only part in the case short of the motherboard chipset generating heat, and Puget Systems has equipped it with the silent but effective Scythe Katana 3.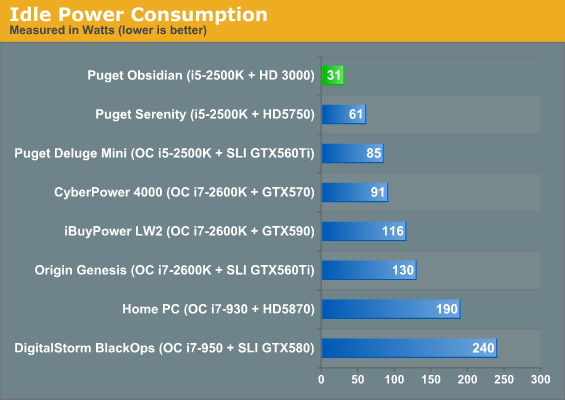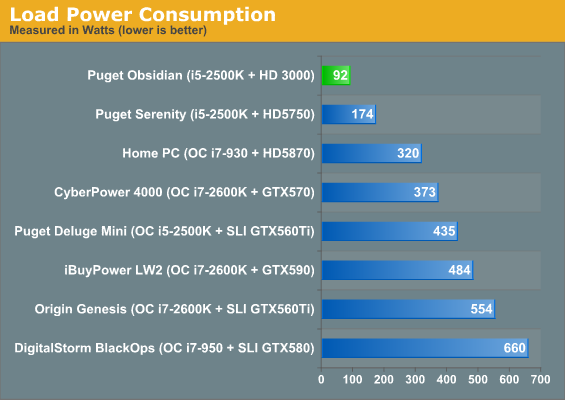 And under load, the Obsidian doesn't even pull 100 watts. At this point it's fair to suggest the Antec TruePower 650-watt power supply that ships standard with the Obsidian is complete overkill, but that power supply is actually the least expensive and least powerful one they offer in any build. Simplicity wins out here: system power draw at idle and load is impressively low. Puget's attention to detail is worth noting here, too: in our idle power their towers occupy the entire top of the chart. Even their overclocked SLI rig, the Deluge Mini, idles lower than CyberPower's Gamer Xtreme 4000...with a single card.