The Apple TV as a Cable TV Replacement
This is where the Apple TV is more of a hobby and less of an Apple product. Apple doesn't like letting its flagship products out of Cupertino incomplete, it reflects poorly on the company. I believe by referring to the Apple TV as a hobby, Apple somehow attempts to exempt it from this policy.
If Apple were to build a box capable of replacing your cable TV subscription, it would have to at least deliver the functionality you'd get from said subscription. The Apple TV however, does not.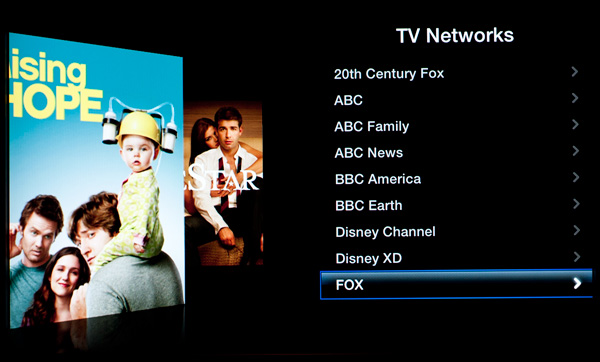 The UI is inherited from the rest of the Apple TV interface. It's clean and to the point.
The rental process is simple. You can find shows by network, genre, popularity or your own favorites. You can also manually search for TV shows. TV shows are available for rental 24 hours after they air. To rent a TV show in 720p it's $0.99. You have 30 days to begin watching and 48 hours to watch the show (unlimited times) once you press play.
The pricing isn't even the problem. At $0.99 a show you'd have to watch over 60 shows a month just to equal how much it costs to have Digital Cable through Time Warner in Raleigh, NC. The issue is selection.
Apple only carries shows from Fox, ABC and BBC America. Most of which you can get through a basic cable package for around $15 per month, or over the air for free. Adding insult to injury is the fact that most of these shows are also available for streaming a day after they air on the Network's websites and Hulu.
Then there's also the fact that you can't channel surf on the Apple TV. You have to find a show, manually preview it and then move on to the next one if you're bored and looking for something to do. It's just not something you can do without a live TV stream.
Apple's pricing model would work very well if you could watch anything you wanted on the Apple TV. You effectively get DVR on every show and at $0.99 per show you can watch a ton before even breaking even with what a decent digital cable package would cost. Not to mention there aren't any strange taxes or fees lopped on at the end of the month.
That would be in an ideal, non-hobby world of course. The Apple TV today just doesn't deliver that. You get an incomplete cable TV experience at best, at worst you end up paying for things that you can get for free.