Apple TV Movie Rental
The Apple TV isn't just for streaming content you have stored in iTunes, you can also rent TV shows and movies directly on the device. The pricing structure is similar to other á la carte streaming services online:
Apple TV Rental Pricing
Content
Price
Days to Start
Time to Watch Once Started
TV Show
$0.99
30
48 hours
Movie
$3.99 - $4.99
30
24 hours
To rent a new movie release it's a one time fee of either $3.99 or $4.99. You have 30 days to start the movie and 24 hours to watch it once you've started. That's expensive compared to Red Box or, well piracy, but the idea is that you get new releases and you get them legally.
There's no ability to purchase movies on the Apple TV, you'll need to do that on your Mac/PC and stream it over to the ATV. This box is rental-only.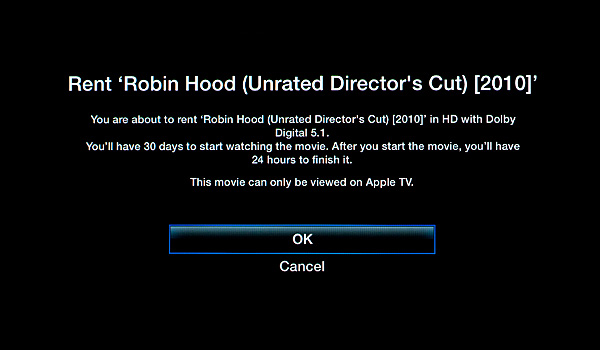 The fee structure works but if you rent a lot you'll quickly rack up more charges than you would with a service like Netflix or Blockbuster. The former is good for older titles, while the latter can get you the same things the iTunes store can - you just have to wait for a DVD to come in the mail. As far as an instant service goes, Apple is relatively competitive. The pricing and movie availability is comparable although I did notice that Iron Man 2 was available to rent via Amazon's Video on Demand service, but not on the Apple TV. Other new releases like Get Him to the Greek were on all competing streaming platforms.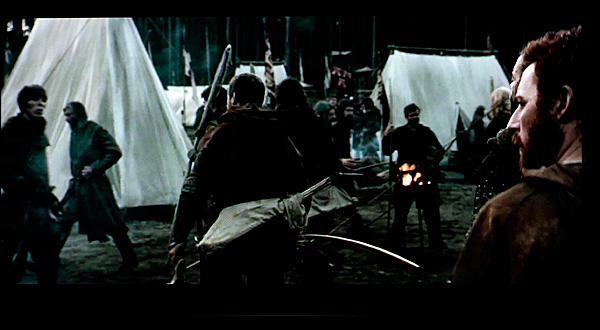 The image quality of the rentals is determined mostly by bitrate. Thankfully with H.264 you can get pretty decent quality out of low bitrate video. I rented Robin Hood in HD and based on the rate of streaming and the estimated time to completion I calculated the total file size for the 155 minute film at somewhere between 4 - 5GB. If we do the math that works out to be 3.5 - 4.4Mbps. That's significantly higher than a standard definition rental through Amazon's Video on Demand or even through iTunes (1.3Mbps and 1.5Mbps respectively). As a result, the Apple TV movie rentals actually look reasonably good. I picked out some macroblocking so it's not going to be perfect. Note that Blu-ray discs can offer an order of magnitude higher bitrate so the Apple TV may be good, but it's no Blu-ray replacement. Even most illegal content you can find online is encoded to higher specs.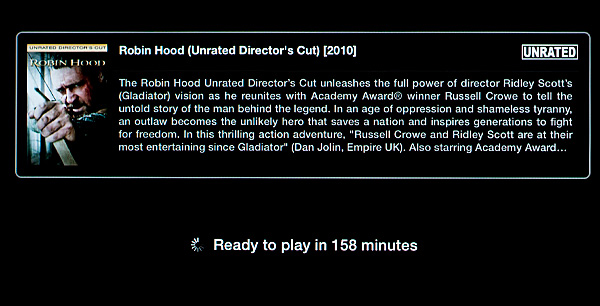 Preparing to stream, the actual process took far less than 158 minutes
You can start watching your movie once the Apple TV has downloaded at least 5% of it based on my experience. That translates to around 256MB in the worst case scenario, not too bad assuming your internet and Apple's servers are both behaving properly.
The Apple TV store is technically separate from anything you do on your Mac/PC. If you rent something in iTunes on your Mac/PC it doesn't appear as rented on your Apple TV. There's no concept of moving your movies to the Apple TV, despite the device having 8GB of storage. The NAND is strictly used as a cache for movies you rent on the Apple TV. Instead you have to stream any iTunes rented content over or rent again on the Apple TV.