I don't know the last time I was this excited about AMD's roadmap. Zacate and Ontario are due out in a quarter, and both promise to bring competition to an area where we haven't seen much from AMD.
Llano is slated for release near the end of Q2 next year. While it won't be a big step forward in CPU performance, we should see a huge increase in integrated graphics performance.
Sampling in Q4 of this year and shipping sometime next year is AMD's next-generation microarchitecture: Bulldozer.
Within the course of twelve months we will see AMD introduce three drastically different microprocessors into the market's eager hands. We've been dying for more competition and AMD is planning on giving us just that. But that's the future, what about the present?
| | | | | | |
| --- | --- | --- | --- | --- | --- |
| Processor | Clock Speed | L2 Cache | L3 Cache | TDP | Price |
| AMD Phenom II X6 1090T BE | 3.2GHz | 3MB | 6MB | 125W | $295 |
| AMD Phenom II X6 1075T | 3.0GHz | 3MB | 6MB | 125W | $245 |
| AMD Phenom II X6 1055T | 2.8GHz | 3MB | 6MB | 125W | $199 |
| AMD Phenom II X4 970 BE | 3.5GHz | 2MB | 6MB | 125W | $185 |
| AMD Phenom II X4 965 BE | 3.4GHz | 2MB | 6MB | 125W | $165 |
| AMD Phenom II X4 955 BE | 3.2GHz | 2MB | 6MB | 125W | $145 |
| AMD Phenom II X2 560 BE | 3.3GHz | 1MB | 6MB | 80W | $105 |
| AMD Phenom II X2 555 BE | 3.2GHz | 1MB | 6MB | 80W | $93 |
| AMD Athlon II X4 645 | 3.1GHz | 2MB | 0MB | 95W | $122 |
| AMD Athlon II X4 640 | 3.0GHz | 2MB | 0MB | 95W | $100 |
| AMD Athlon II X3 450 | 3.2GHz | 1.5MB | 0MB | 95W | $87 |
| AMD Athlon II X3 445 | 3.1GHz | 1.5MB | 0MB | 95W | $76 |
| AMD Athlon II X2 265 | 3.3GHz | 2MB | 0MB | 65W | $76 |
| AMD Athlon II X2 260 | 3.2GHz | 2MB | 0MB | 65W | $69 |
| AMD Athlon II X2 255 | 3.1GHz | 2MB | 0MB | 65W | $66 |
Today AMD announced speed bumps to nearly every processor in its desktop lineup. Everything from the dual-core Athlon II to the six-core Phenom II gets a new family member today. And they're all very attractively priced.
A Third Phenom II X6
We'll start at the high end. The Phenom II X6 line expands to include a 3.0GHz 1075T. Smack in the middle of the other X6s, the 1075T will set you back $245 and can turbo up to 3.5GHz if three or fewer cores are in use. You get a 6MB L3 and a 3MB L2 (512KB per core).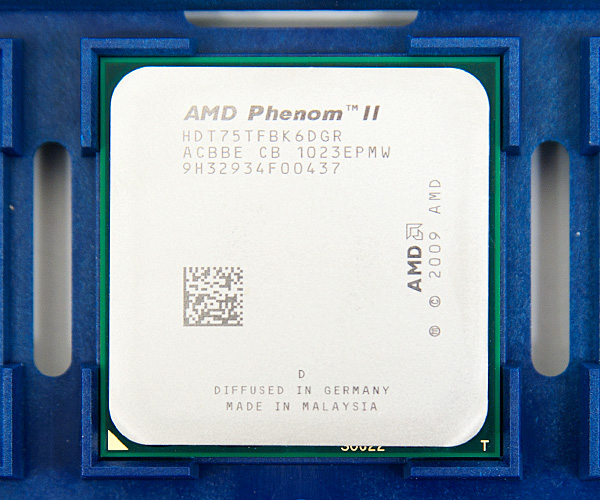 The Phenom II X6 1075T has no competitively priced answer from Intel. The Core i7 860 is priced at $284, while the Core i5 760 will set you back $205. The default clock speed of the 1075T should bring it close to the Core i5 760 in many tasks, while anything threaded will for sure favor the 1075T. Remember the quad-core i5s lack Hyper Threading so this is a 6 core/6 thread chip matched up against a 4/4. Intel's cores get better performance per clock, but not that much better. Single threaded performance and power consumption are both advantages of the Core i5, but the rest will easily fall in AMD's favor.
A 3.5GHz Quad-Core
It's not all about more cores from AMD. The new Phenom II X4 970 Black Edition pushes quad-core clock speed to 3.5GHz. The 970 ships with all cache enabled, so that's 6MB L3 and 2MB total L2.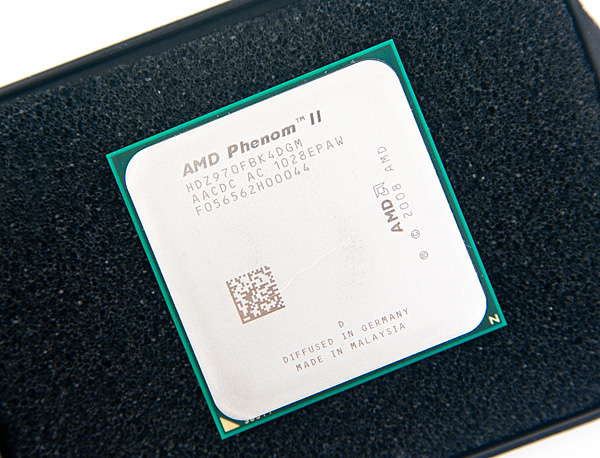 This is still a Deneb so you get no core turbo support, but you do get a great value. At $185 the Phenom II X4 970 only has to compete with the Core i5 750 or a bunch of dual-core Clarkdale CPUs. Without Hyper Threading, the matchup can be close. AMD and Intel trade blows here, with Intel typically ending up on top. Single threaded performance is close as AMD has a huge clock speed advantage. AMD gets the nod for slightly lower price and better upgrade path as you'll can stick a Phenom II X6 in the same Socket-AM3 motherboard. Bulldozer is out of the question however, AM3+ chips aren't backwards compatible with AM3 motherboards (although the opposite is true, you will be able to use your 970 in an AM3+ motherboard).
Value Quad-Core at 3.1GHz
Next on the list is a value quad-core offering, the Athlon II X4 645 is a speed bump of one of the most attractive quad-core CPUs we've ever reviewed. The Athlon II X4 does away with an L3 cache in order to keep costs down while keeping the same 512KB private L2 per core (2MB total). The 645 runs at 3.1GHz and will set you back $122.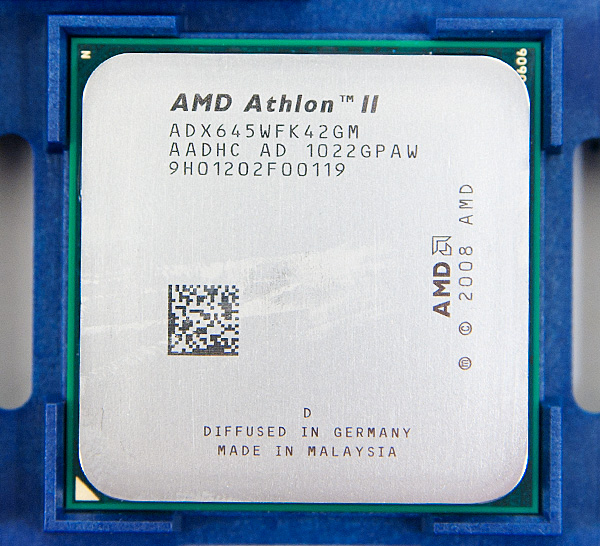 Intel has no competition for this processor. The Core i3 540 is priced similarly but you only get two cores. Intel is faster in lightly threaded apps and games, but AMD is faster everywhere else. If you're a multitasker my vote goes for the Athlon II X4 645. Intel does offer lower power consumption and on-chip graphics if you're looking to build a HTPC.
High-End Dual-Core
AMD's Phenom II X2 560 gives you two cores running at 3.3GHz and a full 6MB L3 cache. You only have to pay $105 to play.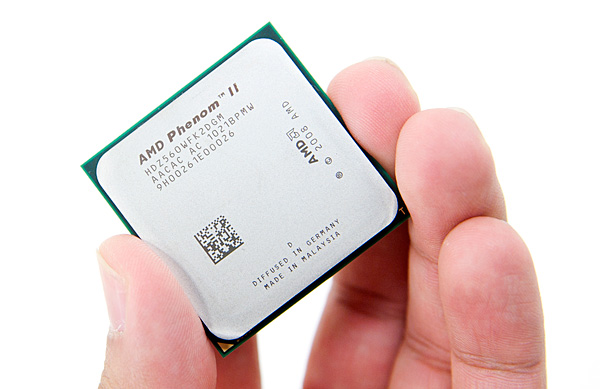 In a stock fight, the 560 will easily lose to Intel's Core i3 530. Both chips have two cores and the larger L3 cache doesn't do much for AMD given Intel's IPC advantage. The 560 however might come from a die harvested part. It may just be a Phenom II X4 but with two cores disabled. Assuming you get a good chip and have a motherboard with core-unlocking support, you might just find yourself with Phenom II X4 "960" and save $50. Proceed at your own risk. We could unlock three of the four cores on our chip but the system wasn't stable enough to enter Windows with the extra unlocked core.
The Athlon II X3 450: A Pentium G6950 Killer

While AMD no longer lists a triple-core Phenom II on its price list, the Athlon II X3 is still alive and well. The new 450 gives you three cores at 3.2GHz for $87. This is a harvested part taken from quad-core chips, as a result you get no L3 cache and 1.5MB of total L2 on chip (512KB per core x 3). The closest competitor from Intel is the Pentium G6950.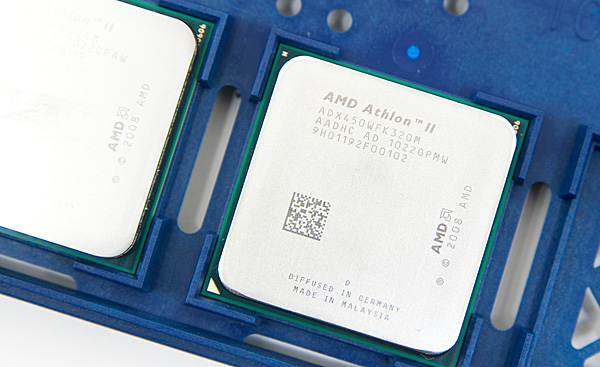 AMD has the clock and core advantage, although Intel has a single threaded performance advantage. AMD wins across the board virtually regardless of application. The Athlon II X3 450 gives you more bang for your buck than the Pentium G6950.
Affordable Dual-Core
Last, but not least, we have the new Athlon II X2 265. Running at 3.3GHz and priced at only $76 you have to look at Intel's previous-generation Penryn based processors to find a suitable competitor for this chip. There's no L3 cache but the L2 gets a bump to 2MB total (1MB per core).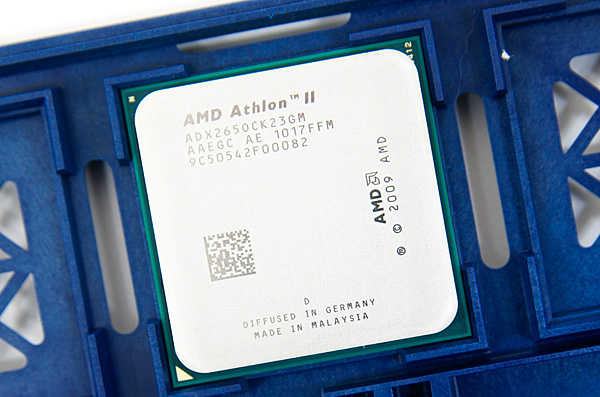 Personally I'm not terribly interested in the 265. For an extra $11 you get an additional core and only lose 100MHz, a tradeoff that I believe is more than worth it.
The Test
To keep the review length manageable we're presenting a subset of our results here. For all benchmark results and even more comparisons be sure to use our performance comparison tool: Bench.
We've moved all of our AMD CPU testing to the 890GX platform. While nearly all numbers are comparable you may occasionally see some scaling that doesn't quite add up compared to lower clocked versions of the same chips running on a previous motherboard.
Motherboard:
ASUS P7H57DV- EVO (Intel H57)
Intel DP55KG (Intel P55)
Intel DX58SO (Intel X58)
Intel DX48BT2 (Intel X48)
ASUS M4A89GTD Pro/USB3 (AMD 890GX)
Chipset Drivers:
Intel 9.1.1.1015 (Intel)
AMD Catalyst 8.12
Hard Disk:
Intel X25-M SSD (80GB)
Memory:
Corsair DDR3-1333 4 x 1GB (7-7-7-20)
Corsair DDR3-1333 2 x 2GB (7-7-7-20)
Video Card:
eVGA GeForce GTX 280 (Vista 64)
ATI Radeon HD 5870 (Windows 7)
Video Drivers:
ATI Catalyst 9.12 (Windows 7)
NVIDIA ForceWare 180.43 (Vista64)
NVIDIA ForceWare 178.24 (Vista32)
Desktop Resolution:
1920 x 1200
OS:
Windows Vista Ultimate 32-bit (for SYSMark)
Windows Vista Ultimate 64-bit
Windows 7 x64