iAds: More Significant Than You'd Think
This is quite possibly the feature with the most impact out of anything Apple announced in recent history. What's the obvious next step when you've got the majority of the smartphone and tablet browsing populace using your closed OS? Show them ads.
On the iPhone it's easier to read content in a well designed app than it is to use Mobile Safari to browse a web page. Once you're in an app however you lose all web advertisements, but your attention is still held captive by whatever is going on in the app. This is where iAds come in.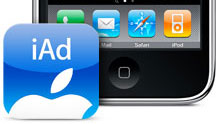 Apple now has its own advertising network and it's a big one at that. There are nearly 100 million devices that run iOS in the world today and no other non-independent (read: Google, HTC or Microsoft owned) network is allowed to run ads inside iOS apps. All the developer has to do is allow ads and the rest is handled by Apple. Apple will sell the ads and share some percentage of the revenue with the developer.
The idea here is that iAds could allow developers to keep the prices of their apps low while still making enough money to continue to operate. Assuming the revenue is high enough, iAds could eventually be a significant source of advertising revenue for content providers as well.
If it wanted to Apple could even sell ads in books. It's not too far fetched to see a contextually relevant iAd popping up while you're reading something in the iBook reader. And Apple controls the entire platform so there's no hope for an iAd blocker.
Given Apple's focus on maintaining user experience I wouldn't expect the company to sell tacky ads or make iAds too distracting. In fact, out of all of the ad networks out there, I'd trust Apple to have the end user's experience/interests at heart more than anyone else.
If iAd revenue gets high enough, Apple could eventually drop the price on iPhones in order to get more advertising eyeballs.
This is a huge middle finger to Google. There's no room for Google's contextual ads within iPhone apps and Apple has already announced that Google-owned AdMob is forbidden from displaying ads in the iOS. If Android doesn't equal the iPhone's popularity Google will be at a significant disadvantage in the advertising space. By now it should be very clear why the two biggest smartphone platforms are competing so aggressively here. It's not about selling phones, ultimately it's about controlling mobile eyeballs for advertising. This is also what makes me the most uncomfortable about Apple. If we plot out a future where Apple controls the majority of the mobile market, controls all mobile advertising, and controls what apps you can run we're yielding as much power to it as we have been giving Google.
Hating on Microsoft for being big brother was the thing to do in the 1990s, but what we're creating here with Apple and Google has the potential to be much worse. I don't need to point out the irony but we actually need more players in the smartphone space now to make sure that no one company gets too powerful. I'd say we're already at that point with Apple and Google, we need Windows Phone 7 and MeeGo more than ever.