Mobile Gaming Showdown
The 4GB of Kingston DDR3 coupled with the second-fastest quad-core in Intel's mobile lineup should ensure an extremely capable showing in our regular benchmarks. What we're really going to be interested in is seeing who winds up with the fastest mobile graphics part, barring the value-adds from vendors. Here's a refresh of the configurations of our review units:
AVADirect Clevo W860CU Testbed
Processor
Intel Core i7 820QM
(4x1.73GHz, 45nm, 8MB L3, Turbo to 3GHz, 45W)
Memory
2x2GB DDR3-1333 (Max 2x4GB)
Graphics
ATI Mobility Radeon HD 5870 1GB GDDR5
(800 Stream Processors, 750MHz/4GHz Core/RAM clocks)

NVIDIA GeForce GTX 285M 1GB GDDR3
(128 CUDA Cores, 576MHz/1.5GHz/2GHz Core/Shader/RAM clocks)
Display
15.6" LED Glossy 16:9 1080p (1920x1080)
Hard Drive(s)
Corsair 128GB Nova Series SSD
Optical Drive
Blu-ray and DVD+/-RW Drive
Battery
3-Cell, 12V, 42Wh battery
Operating System
Windows 7 Home Premium 64-bit
Pricing
$2477.12 (Radeon HD 5870)
$2555.60 (GTX 285M) as configured from AVADirect
These are gaming notebooks, so let's cut straight to the meat and run some gaming tests. For gaming-level hardware, we're going to need settings that really push these GPUs. Mercifully, the W860CU comes with a beautiful 1080p screen that allows us to see just how far these solutions can go. At the top of the line, the GeForce GTX 285M and Mobility Radeon HD 5870 should both produce fluid gameplay at the W860CU's native resolution. We'll also run 1600x900 results to see how dropping down to HD+ affects performance.
We used the built-in benchmarks for every game except Mass Effect 2, which we measured using FRAPS by playing through a section of the game. For games that support DirectX 11, we also ran benchmarks using it on the Mobility 5870 to see if there was a performance benefit or hit.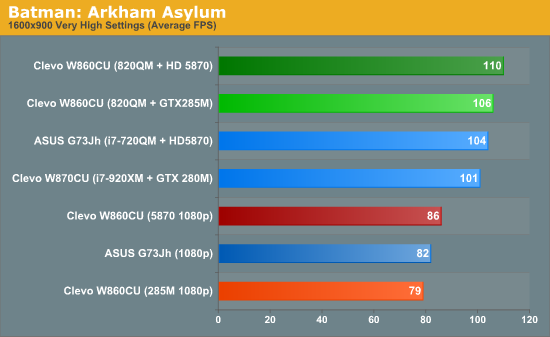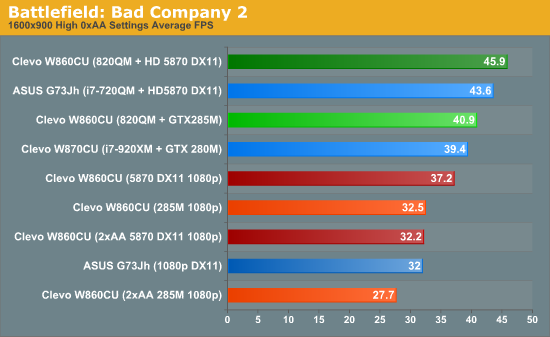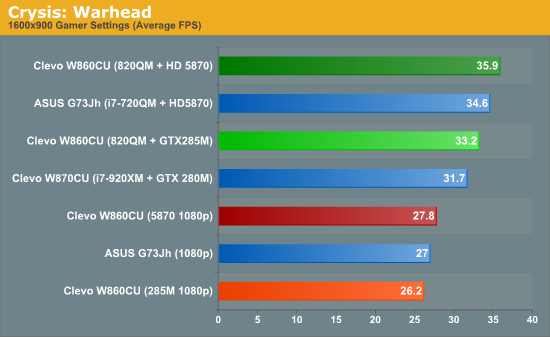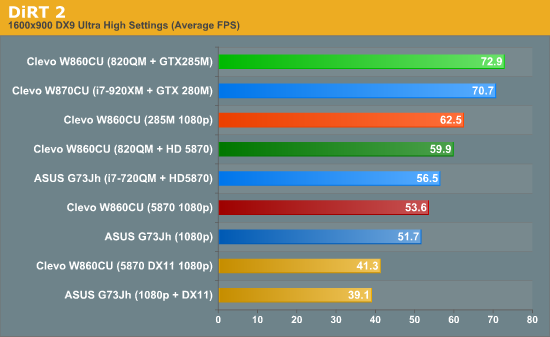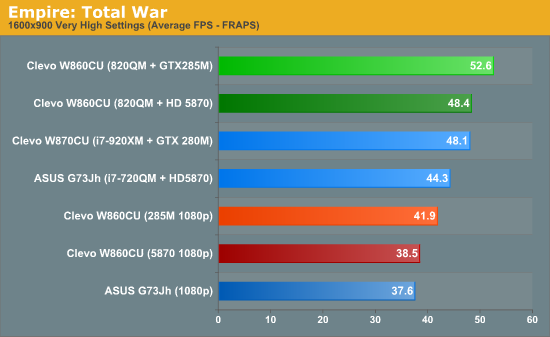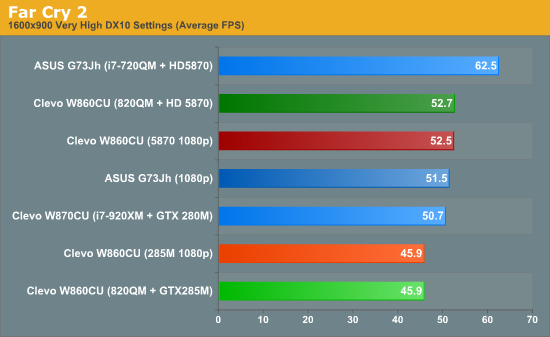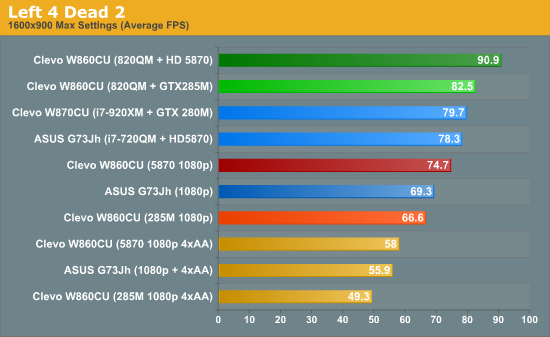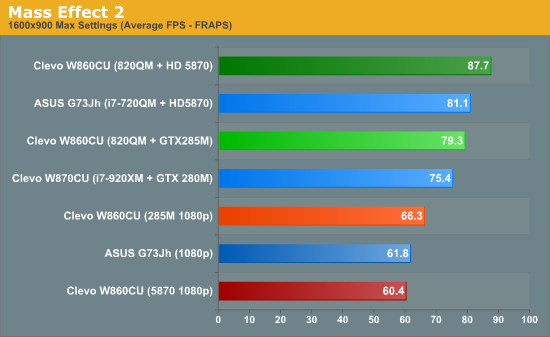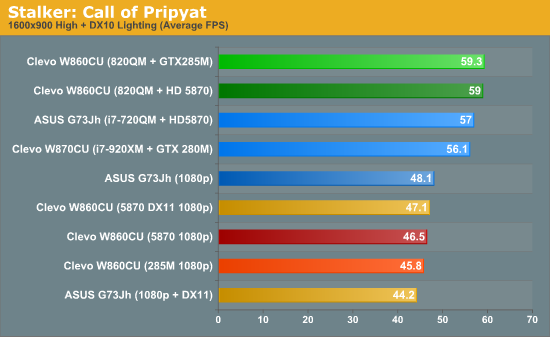 In every case except for DiRT 2, the Mobility Radeon HD 5870 meets or beats the performance of the GeForce GTX 285M, and in DiRT 2 the 5870 remains perfectly playable even when DirectX 11 is enabled.
Though we average the scores of the four benchmarks in S.T.A.L.K.E.R., it does bear mentioning that while the GTX 285M produced higher numbers in the first three, the 5870 consistently hit 30fps in the Sunshafts benchmark, a feat the 285M could not pull off.
Unfortunately, the news isn't as good as we'd like. Crysis: Warhead still remains the outlier; at "Gamer" settings and 1080p, neither GPU can make it over the 30fps hurdle. A difference between notebook and desktop hardware is expected, but Cypress-based desktop cards can handle Crysis: Warhead at Enthusiast settings at 1080p with performance to spare. These notebook chips are still sitting on the low-end of the last generation's top of the line.
Likewise, one can't help but be underwhelmed by the performance of the Mobility Radeon HD 5870. The performance of NVIDIA's mobile graphics parts has been a sitting target for a long time now, and while the victory is still technically decisive, it's really not the supreme triumph it ought to have been. G92 has been around for a long time now, with NVIDIA resting on its laurels. Anyone hoping AMD's new chip would shock NVIDIA out of its complacency has to be disappointed by these results. Needless to say, GTX 480M shouldn't have too much trouble reclaiming the mobile crown (albeit with higher power requirements that might make it difficult to fit into a 15.6" chassis).