Pulling its Weight
In preparing for this review I spent quite a bit of time with Samsung's Blackjack, and honestly it still takes the cake as far as form factor and weight are concerned. Apple's iPhone is slightly thinner (-0.4mm) and 1mm longer/wider than the Blackjack, making it pretty darn close to what felt to me like the perfect smartphone form factor. Where the iPhone falls short is in its weight; while the Blackjack weighs in at 3.5 oz (99g), the iPhone is a hefty 4.8 oz (135g). While we're talking fairly small numbers here, the difference is noticeable. The added weight is by no means a deal breaker, but keep in mind that the iPhone is heavier than the Blackberry Curve in a device that's about the same size as the Blackjack; in other words, it's dense.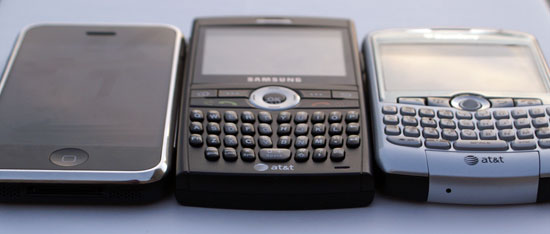 From left to right: Apple iPhone, Samsung Blackjack, Blackberry Curve
The heft of the device makes one handed operation difficult, something that is made even tougher by the touch-screen interface. In comparison, the Blackjack feels far more natural with only a single hand, just like a plain old cell phone.


From front to back: Apple iPhone, Samsung Blackjack, Blackberry Curve
Thankfully Apple went with a brushed aluminum exterior for the back of the iPhone, meaning we don't get the fingerprint ridden mess that has plagued some of the flashier iPods. The shiny metal rim around the glass screen does collect its fair share of grease, nicks and scratches, but there's not much you can do about that.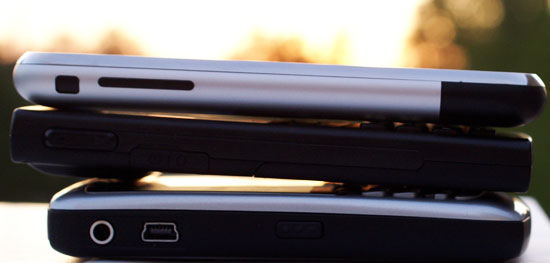 From Top to Bottom: Apple iPhone, Samsung Blackjack, Blackberry Curve
The device itself looks quite stylish, making even recently released smartphones and Blackberries seem archaic by comparison. A perfect marriage of a gorgeous screen and great industrial design, the iPhone is the first mobile phone I've used that feels like it was truly designed for 2007.