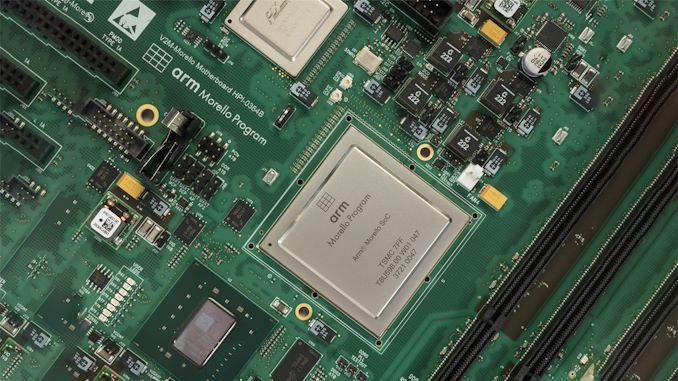 According to fresh SEC filings from Arm, the chip IP designer has secured a slew of industry investors ahead of the company's impending IPO. Aiming for a strong start to what Reuters reports is projected to be a $52 billion IPO valuation, Arm has been seeking out major industry customers as cornerstone investors, successfully lining up nearly a dozen companies from their efforts. Altogether, AMD, Apple, Cadence, Google, Intel, MediaTek, NVIDIA, Samsung, Synopsys, and TSMC have signaled an interest to purchase up to an aggregate of $735 million of Arm's American Depositary Shares (ADS), SoftBank, the owner of Arm, disclosed in a filing with the Securities and Exchange Commission.
While the exact number of shares to be purchased has not been disclosed – and may very well change ahead of the IPO as the current inquiries are non-binding – at the upper-end price of $51/share, a $735 million purchase would represent just over 15% of the 95.5 million Arm shares that SoftBank intends to offer as part of the IPO. Or, measured against the projected $52 billion valuation of the company, this would leave the cornerstone investors owning a collective 1.4% of Arm.
The list of companies that plan to purchase Arm shares is pretty impressive as it contains not only Arm's partners and clients like Apple, Cadence, Google, Samsung, and TSMC, but also customer-rivals, such as AMD and Intel, who both use Arm IP in some of their chips while competing with Arm designs in other chips. Meanwhile, some of Arm's other big customers are notably absent from the cornerstone investor group, including Qualcomm and Amazon.
Overall, the cornerstone investors represent a mix of fabless chip designers and tool vendors, as well as all three of the world's leading fabs themselves. For Intel's part, the company is establishing its Intel Foundry Services group to produce chips for fabless chip designers, and virtually all of them use Arm's cores. Therefore, close collaboration with Arm is something that IFS needs to have, and a good way of making friends with Arm is to own a piece of it.
"80% of TSMC wafers have an Arm processor in them," said Stuart Pann, Senior Vice President and General Manager of Intel Foundry Services, at the Goldman Sachs Communacopia & Technology Conference, reports Tom's Hardware. "The fact that our organization, the IFS organization, is embracing Arm at this level, investing in Arm, doing partnerships with Arm should give you a signpost that we are absolutely serious about playing this business. Because if you are not working with Arm, you cannot be a foundries provider."
Interestingly, the head of Intel's foundry unit even said that IFS will have to focus more on Arm and RISC-V going forward as both instruction set architectures are going to drive chip volumes and volumes is what Intel wants at its fabs.
Meanwhile Apple, one of the founders of Arm back in the 1990, extended its license agreement with Arm beyond 2040, which is a testament that the company is confident of the ISA and its development, at least for now. Keeping in mind that for now all of Apple's products use at least one Arm's CPU core, it is not reasonable that the companies are going to remain partners for the foreseeable future.
Source: Arm (SEC Filing)