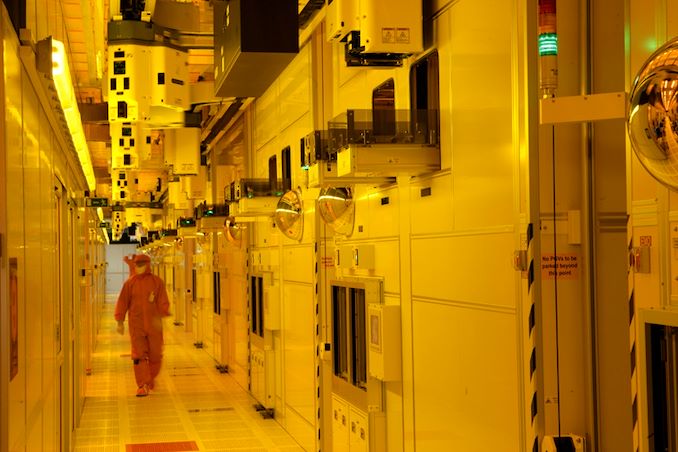 The top 10 contract makers of chips saw their Q1 2023 revenue decline by 14.6% year-over-year and 18.6% quarter-over-quarter, according to the most recent report by TrendForce. The market intelligence firm attributes falling sales of foundries to ongoing sluggish demand in the end-market demand and seasonality. TSMC and Samsung Foundry retained top positions, whereas GlobalFoundries is back to No. 3, surpassing UMC for the first time in a while.
The world's 10 largest foundries earned $27.3 billion in Q1 2023, a 14.6% drop year-over-year (YoY) and an 18.6% drop quarter-over-quarter (QoQ), based on TrendForce data. The revenue decrease resulted from a weakened demand for mass-market applications that use leading-edge fabrication technologies, such as client PCs and smartphones, and was particularly noticeable at TSMC and Samsung Foundry. Meanwhile, UMC and DB Hitek suffered even more than TSMC.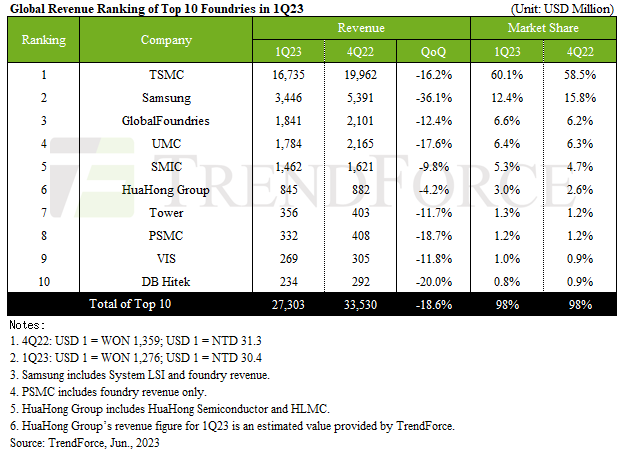 TSMC, the world's largest contract maker of chips with a 60.1% revenue share, earned $16.74 billion, reflecting a 16.2% decrease from the previous quarter and a 4.5% decline from the same period last year. Soft demand for client PCs and smartphones caused lower utilization of TSMC's N7 (7 nm-class) and N5 (5 nm-class) process technologies, according to TrendForce. Consequently, TSMC's revenue attributed to its N7 family of production nodes decreased by 20%, whereas the foundry's earnings from its N5 lineup of fabrication technologies declined by 17%.
TrendForce believes that although urgent orders in the second quarter may provide a brief relief for TSMC, their facilities' enduringly low usage rate suggests that the earnings will keep dropping, though more gradually than in the first quarter. TSMC expects its Q2 earnings to be below those in Q1, mainly due to seasonality and market uncertainties.
Samsung Foundry suffered dropping utilization both for 200-mm and 300-mm fabs, resulting in a 36.1% QoQ and 35.25% YoY plunge in Q1 revenue, the highest in the industry, bringing it down to $3.45 billion, according to TrendForce. The market researchers now expect Samsung Foundry to land additional occasional orders for specific components in Q2. Still, these orders are expected to be fueled by brief inventory restocking and may not necessarily indicate a resurgence in end-market demand. Also, TrendForce believes that increasing orders for SF3E (3 nm-class) chips will also be a revenue driver for Samsung's contract chipmaking division.
GlobalFoundries's in Q1 2023 totaled $1.84 billion, reflecting a 12.4% reduction from the previous quarter and a 5.2% drop from the same quarter a year ago. GlobalFoundries focuses on specialized process technologies and serves sectors like automotive, aerospace, defense, IoT, and industrial, where demand is relatively stable. This sustained stability has enabled GlobalFoundries to overtake UMC, securing the third spot in revenue rankings in Q1. As for Q2 projections, GF anticipates benefiting from steady orders and maintaining capacity usage, thus keeping revenue at par with the first quarter.
UMC earned $1.78 billion in Q1 2023, a 17.6% sequential drop and a 21.4% decline year-over-year. TrendForce claims that this decrease was especially apparent in the 28/22 nm and 40 nm processes, each falling by a minimum of 20%. The company anticipates the utilization rate of its 200-mm fabs to drop below 60% in the second quarter of 2023 due to fewer customer orders for PMICs and MCUs. By contrast, the 300-mm fab utilization rate is set to benefit from immediate orders for 28/22 nm products like TV SoCs and LCD panel timing controllers, leading to an anticipated 80% utilization rate. Given the steady ASP, UMC predicts its revenue will either maintain the current level or see a slight uptick in the upcoming quarter.
SMIC's Q1 2023 revenue reached $1.46 billion, a 9.8% decrease from the previous quarter and a 20.8% decline from Q1 2022. The interesting part is that while demand for the foundry's 300-mm wafer processing services remained stable and increased by 1% – 2%, the company's revenue attributed to 200-mm fabs plummeted by 30% QoQ, according to TrendForce. The analysts believe that steady 300-mm orders were driven by a diverse product portfolio and backing from local demand in China. TrendForce projects that SMIC will continue to benefit from increased orders for products like Driver ICs and NOR Flash and maintain advantages from China's demand.
TrendForce predicts that the revenue of the Top 10 foundries will drop further in Q2 2023. Although supply chains are expected to build inventory gradually in response to peak season demand in H2 2023, the slow consumption and inventory accumulation have led to more cautious stockpiling. As a result, the market intelligence firm predicts a relatively stable Q2 for foundries with only modest increases in capacity utilization rates. Yet, some rush orders for products like TV SoCs, WiFi 6/6E, and TDDI can noticeably increase the utilization of fabs.
Source: TrendForce