Earlier today we reported on the most interesting element of Justin Rattner's keynote: Intel's research project to bring a CMOS voltage regulator and North Bridge/GMCH on-chip. Now we bring you two of the other (less) interesting items that he talked about in his keynote, starting with: diamonds.
The Diamond Project
The first demo of the day was of Intel Research's Diamond Project. The Diamond Project is an Interactive Data Exploration project, and to put it plainly, the project addresses the problem of finding unorganized, unlabeled digital photos.
Despite the introduction of desktop search and technologies like Apple's Spotlight, finding digital photos on your PC is still a problem because, for the most part, they come in unlabeled. The Diamond Project demo offered another solution to the problem, instead of searching based on an index, the demo searched for pictures based on visual aspects of the pictures.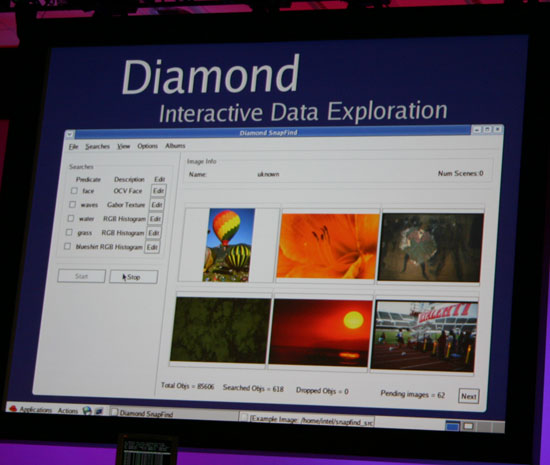 The demo during the keynote featured a computer with 85,000 unlabeled, unorganized photos. The goal was to find a picture of Intel's Justin Rattner from his first IDF keynote speech back in the Spring. The search was done, not by searching for labels or file names but by what Justin Rattner looked like in the picture.
For example, a face recognition filter was run to find all pictures that looked like they were of a person. Obviously sometimes you end up seeing faces where none exist (e.g. in the clouds), so the accuracy of the filter isn't all that great.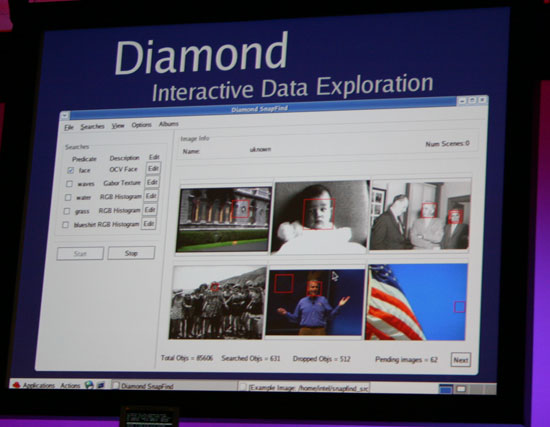 The demo also showed how the technology can be configured on the fly, as a new filter to find pictures that featured a blue IDF shirt was created alongside the face filter.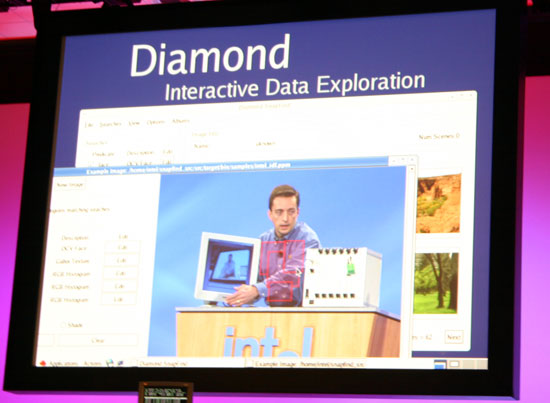 Selecting the filter criteria
The results of that filter ended up being mostly pictures of keynote speakers at past IDFs, which was exactly the type of pictures the user was looking to find to start with.