More on VIIV
We also sat down with Intel and got more information on their new VIIV (pronounced vive) digital home platform.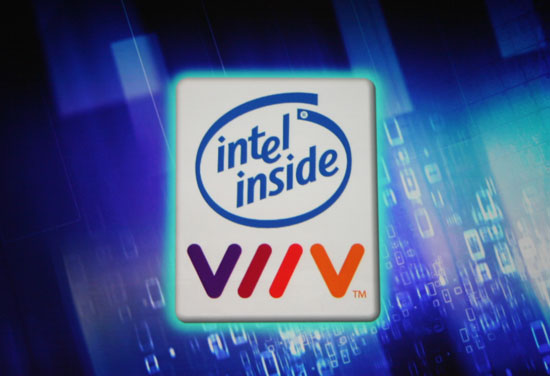 For a laptop to be called a Centrino it must feature three basic components: a Pentium M processor, the appropriate Intel chipset and the appropriate wireless solution. For a desktop to be called a VIIV, it must meet a number of hardware requirements:
1) It must use either a Pentium D, Pentium Extreme Edition or Pentium M (Yonah) processor. All of which are dual core, but in the future dual core may not necessarily be a requirement.
2) It must use either a 945G, 945P or 955X chipset or Intel's Calistoga chipset for Yonah.
3) It must use either an Intel PRO/1000 PM NIC or a PRO/100 VE/VM NIC. Wireless is not a requirement.
4) Intel HD Audio is a requirement, as well as the appropriate jacks (either 6 RCA connectors or a single SPDIF, no word on whether the latter supports 5.1 channel audio).
5) All VIIV PCs must come with a remote control that works with Windows XP Media Center Edition and can work with the media shell used on the system by default (e.g. MCE's 10 ft UI).
Along with those hardware requirements, the following software requirements are in place:
1) All VIIV PCs must use Intel's driver stack, including HD Audio, RAID, Graphics (if applicable) and LAN drivers. They must also use Intel's Instant on/off drivers (more on this in a moment).
2) The system must run Windows XP Media Center Edition (and obviously meet its requirements).
3) The system must feature Intel's network software, which when used with VIIV certified network products you are able to setup a home network or configure any VIIV certified network device entirely from the remote control.
4) All VIIV PCs must use Intel's Integrated Media Server software. The media server software features a transcoding engine that will automatically transcode audio and video from a number of "popular" formats to a DLNA compliant format for transmission to digital media adapters, portable devices, etc... without worrying about maintaing compatible codecs. The media server software will also find all content on your network and give you access to it from the VIIV PC, even if you are remotely accessing the VIIV PC.
Note that there are no requirements for noise, thermals, form factor or anything of that nature. Intel says that VIIV PCs will ship in a number of form factors, including desktop, all-in-one, as well as slim set-top box form factors.
We asked Intel how the Instant On/Off worked, and got an answer very different than we expected. The Instant On/Off truly is instant, but it isn't exactly turning the machine on or off. When you hit the Instant On/Off button on the remote, the VIIV PC goes into what is known as a "visual off state." Basically, the computer looks like it is turned off, but in reality it is not. The monitor and all LEDs on the system will shut off, but the system can continue to operate as normal.
So if you were copying files over the network or streaming video to another user and you were to hit the instant off button, those processes would continue. Eventually if you left the system untouched it would power down, but until that point the instant on/off is little more than a visual trick. With a quiet machine instant on/off will be believable, but noisier ones may not be.
Intel says they will have more information about VIIV as the launch of the platform grows near, until then this is what we've got.