So, which Intel CPUs will Apple be using?
Steve Jobs stated that they'd be shipping Intel based Macs by June 2006, so let's consult the handy Intel roadmaps and see what will be available by June 2006.
On the desktop side, two new 65nm cores will be introduced in Q1 2006 - well before Apple's June 2006 deadline: the dual core Presler and the single core Cedar Mill processors.
We saw Presler running at last year's Fall IDF, albeit only at 2.0GHz. When Presler makes its debut early next year, it will be clocked at 2.8GHz at the low end and 3.4 - 3.6GHz at the high end. The chip will also feature a 2MB L2 cache per core and we're guessing that a number of architectural enhancements didn't make their way into Prescott. As is the case with the current Pentium D, Presler will not have Hyper Threading enabled by default, although the Extreme Edition based on Presler may have HT enabled.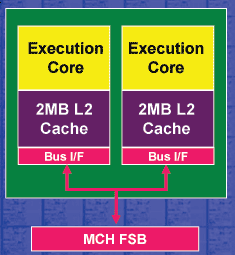 Intel's Presler, most likely the first high end Powermac candidate for Apple next year.
Cedar Mill is essentially a single core version of Presler, and we'd expect Apple to be using that core as well. Note that both cores support EM64T, meaning that Apple will still support 64-bit memory addressing and execution on their Intel platforms. Both chips are also LGA-775 CPUs and will be supported by the existing 945 and 955X chipsets.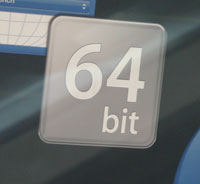 We would expect Apple to use a combination of both cores,
Cedar Mill for their entry level Powermacs, Presler for their high end SKUs and potentially even a HT enabled Extreme Edition for their highest end Powermac
. Given the strong brand that Apple has created with the Powermac G5 name, we do wonder what they will call this next-generation of Intel based Powermacs; somehow, the Powermac P4 just doesn't sound right, not to mention that the name Pentium 4 has been left behind since the move to dual core.
With Intel's dual core processors, Apple can effectively offer the same TLP as their current dual processor G5s with only a single CPU socket in next year's Intel solutions. If you've ever looked at the cooling solutions required for Apple's 2.5GHz or 2.7GHz G5 systems, being able to cut that down by a half would definitely help lighten up and reduce the cost of producing/shipping their machines. One advantage that the G5 does currently have is that its die is extremely small, measuring only 66 mm
2
compared to the 206 mm
2
Pentium D die. The move to 65nm will help Intel, but the G5 definitely has a size advantage. However, with Intel's volumes, it is unlikely that the die size advantage will translate into any pricing advantage for the PowerPC chips over Intel's solutions for Apple.
The most excitement appears to be around Apple's ability to get their hands on the Pentium M next year - not to mention that in Q1 2006, Intel will begin shipping Yonah, their first dual core Pentium M processor. In our review of the PowerBook G4, we talked about the bulk of the unit and how it would be nice to get something smaller. Well, with the Pentium M, Apple will be able to produce a truly thin and truly light PowerBook without sacrificing performance.
But, let's not get caught up in the next year alone. Clearly, Apple is interested in the long haul, as you don't make this sort of a commitment without looking at the 5-, 10- and 15-year futures for your partner. Presler and Cedar Mill weren't the cores that won Apple over; it is Intel's Platform 2015 vision, the NetBurst successor and their ability to learn from their mistakes with the Pentium 4 that are what won Apple over. As many of you have pointed out, Apple may very well just skip over the NetBurst generation of desktop processors and initially begin the switch to Yonah on the mobile side - arguably where Apple needs a refresh the most. Then, in line with Intel's roadmap, introduce Intel's replacement architecture for NetBurst later in 2006 or by the middle of 2007.
Why not AMD? Much of Apple's success is due to marketing and branding, not necessarily technological leadership. That should sound a lot like Intel these days, whose processors essentially lag behind AMD in terms of technology, but outsell AMD by huge margins, thanks to strong marketing and branding. The Intel brand is much stronger than AMD's, and that is the sort of partner that Apple is interested in.
The ability to supply Apple's volumes isn't a huge deal, as many have pointed out. AMD could most definitely handle Apple's volumes. Intel's pricing to Apple is most likely far more attractive than anything AMD could put together, however, and when existing as a premium PC manufacturer is already quite difficult, any breaks on CPU pricing that you can get are definitely worth it.
So, why not support both AMD and Intel? Apple may in the future, although it is highly unlikely anytime soon - especially given whatever sort of pricing arrangement that Apple and Intel have worked out. Right now, Apple has no intentions of confusing their marketplace. Let the transition from PPC to x86 take place, and then worry about Apple supporting AMD. If Intel does indeed embrace an on-die memory controller and a Hyper Transport-like interface by 2007 in a cooler running architecture, the demand for Apple to support AMD may in fact diminish.
Intel needs a partner like Apple. For the longest time, Intel has been promising usage models and concept PCs that we all wanted, but would never surface. PC vendors focused on producing the cheapest system possible, while dealing with backwards compatibility and standards compliance with a huge install base - effectively, making change difficult. Look at how long it has taken us to transition away from the Parallel and Serial ports on PC motherboards or the move to SATA drives. With Apple, Intel finally has a partner that is willing to adapt to change at a much more rapid pace and one that can implement new technologies extremely quickly, thanks to a small, agile user base.
The Apple/Intel relationship will definitely change the dynamics of many business relationships spanning the entire PC industry. The question is no longer "if...", but rather "how...".